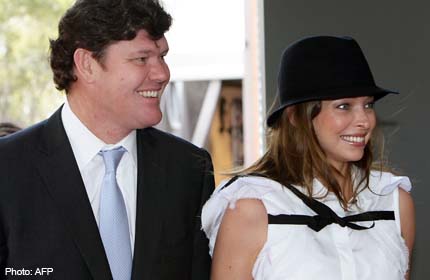 SYDNEY - Australian billionaire James Packer and his second wife Erica Baxter have announced their separation after six years of marriage.
The casino mogul married the singer in a 2007 French Riviera ceremony reported to have cost Aus$6 million (S$7.06 million), attended by Hollywood and sporting stars including actor Tom Cruise and cricketer Shane Warne.
"It is with great sadness that Erica and James Packer announce their separation," said a statement released late Friday.
"We remain deeply close friends and incredibly proud parents and our children are our priority going forward." The Sydney Daily Telegraph reported Saturday that the couple, who have just finished renovating a Aus$50 million mansion in Sydney's exclusive ocean-front suburb of Vaucluse, signed divorce papers this week.
Fairfax Media said Baxter, 36, is living in Los Angeles with their children, Indigo, five-years-old, Jackson (three), and Emmanuelle, who turns one this month.
The pair signed a pre-nuptial agreement worth millions of dollars, the Telegraph said.
Packer, who spent his 20s dating a string of models, ended a three-year marriage to swimsuit model Jodhi Meares in 2002.
The son of the late media baron Kerry, Packer is one of Australia's wealthiest men with a personal fortune estimated at Aus$6 billion, making him the third richest person in Australia.
Packer, who turns 46 on Sunday, recently won approval to open Sydney's second casino, a Aus$1.5 billion facility targeting Asian high-rollers.
Since his father's death in 2005, he has moved the family business away from its traditional media operations and focused on creating Crown, a worldwide gambling empire.
He operates casinos in Melbourne, Perth and Macau and is also planning complexes in Manila and Sri Lanka, with Japan also in his sights.