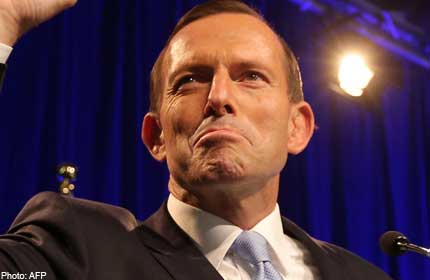 CANBERRA - Australian Prime Minister Tony Abbott defended his harsh first budget Wednesday which saw swingeing cuts to health, education and welfare payments in a bid to slash the country's massive budget deficit.
The moves triggered anger and claims of broken election promises, but conservative Abbott said his administration was being upfront with the public about the state of the nation's finances.
Australia looks set to remain in deficit for at least the next four years with Abbott saying he inherited the monetary woes from Labor on his election win in September.
"This budget is not about making the government popular," he told morning television.
"This budget is about doing the right thing by our country and that, in the end, is what the voters want."
The plan released Tuesday aims to bring the deficit down from its current Aus$49.9 billion (S$58.56 billion) to Aus$29.8 billion next year with the government planning to reach a surplus around the end of the decade.
It includes federal cuts of Aus$50 billion to health funding and Aus$30 billion to education over the next 10 years, leaving state governments to pick up the slack.
A new tax will be levied on high income earners while welfare and family benefits will be tightened and young people will have to wait six months before claiming the dole.
The pension age will rise to 70 by 2035 and people will have to pay a modest fee to visit the doctor, with some of the revenue raised directed towards a medical research fund.
'Kick in the guts'
Abbott faced a barrage of questions on whether he had broken a pre-election promise of no new taxes as he attempted to sell the policies on Wednesday. "This is a fundamentally honest budget," he said.
"The most fundamental commitment I made was to get the budget back under control."
The cuts to health and education have prompted a furious reaction from state governments, who now face shortfalls in funding these services.
"What we saw last night from Canberra was a kick in the guts to the people of New South Wales," state Premier Mike Baird, a fellow conservative, told reporters in Sydney.
"What services would (they) like us to cut here in New South Wales on the back of the funding cuts that we've seen overnight?"
Queensland Premier Campbell Newman called for an emergency meeting of state and federal governments, saying Abbott had not been transparent about what he termed "unacceptable cuts".
Labor has vowed to vote against some of the government's decisions, including a Aus$7 payment to see the doctor, as well as plans to lift an excise on petrol and raise the pension age.
Labor's treasury spokesman Chris Bowen said while a medical research fund was a good idea, it should not be funded by a fee charged at the doctor's door.
"It should not be funded by Australia's sick and vulnerable people," he told Sky News, adding that Labor would also oppose lifting the pension age to 70.
"Not one country in the OECD has a pension age of 70," he said.