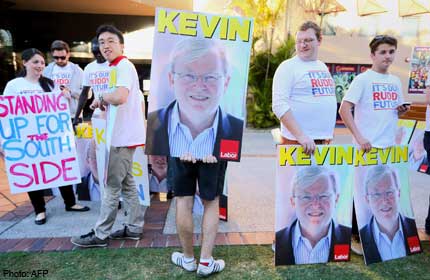 SYDNEY - Australian Prime Minister Kevin Rudd Wednesday attacked election rival Tony Abbott, questioning his suitability to be a world leader handling complex international crises such as Syria.
Labor's Rudd, a former foreign minister who is trailing his conservative opponent in the run-up to September 7 polls, gave a scathing assessment of Abbott's temperament and ability to deal with difficult diplomatic issues.
He said he had observed Abbott over a 20-year period in parliament, "19 years as an exceptionally aggressive and negative politician, by any standard in Australian political history".
"And suddenly in the 20th year, as we get near to an election, we try to tone all that down a bit and play the statesman.... I just think Australians see through that," he said.
Rudd and Abbott are due to face off in a third leaders' debate on Wednesday evening with the prime minister switching his campaign focus from jobs and the economy to diplomacy and national security as the situation in Syria unfolds.
Australia assumes the presidency of the United Nations Security Council in September and Rudd has had telephone conversations with the leaders of the United States, Britain and France in recent days on what action needs to taken against the Bashar al-Assad regime.
"I really do question, having known Mr Abbott for a long, long time, if he really has the temperament for that sort of thing," he said.
"You've got to sit back, think calmly, reflect and then work through what the best decision is. And temperament, judgement and experience are quite important.
"He doesn't have a background in this field."
Asked if he was qualified to take the reins at a time when Australia might be asked to help take action against Syria, Abbott said he was a member of former leader John Howard's cabinet "and matters of war and peace, of life and death, were before the Howard cabinet on a number of occasions".
"I'm not going to get into a competitive character assassination with Mr Rudd," he added.
"I will leave Mr Rudd to engage in that kind of personal attack. I would simply suggest that if you want to know my character, ask my colleagues. If you want to know Mr Rudd's character, ask his colleagues."