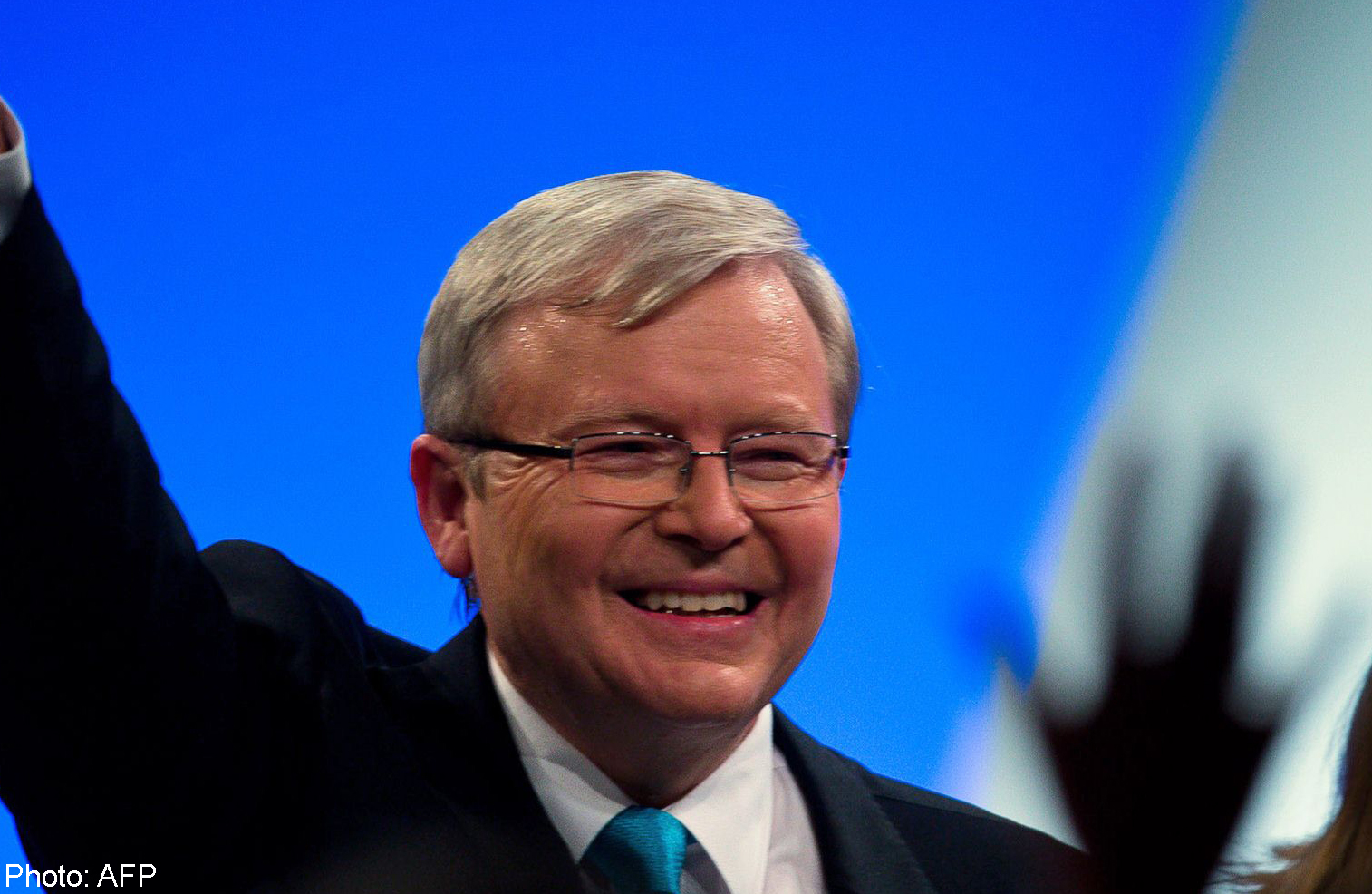 SYDNEY - Rupert Murdoch's clout in Britain and the United States might have diminished, but in Australia he dominates the media landscape, playing a prominent role in undermining Kevin Rudd's dream of retaining power, analysts say.
While the ruling Labor party has long trailed the Tony Abbott-led conservative opposition in opinion polls, Rudd's ousting of Julia Gillard to re-take the prime ministership in June reignited hopes that he could pull off an unlikely upset in the September 7 general election.
But Rudd quickly found that he was battling not only undecided voters but also Murdoch, who controls about two-thirds of the press in the country where he established his powerful global media empire.
Few other countries have media concentrated in such a way and the day after Rudd announced the election date, Murdoch's Sydney tabloid The Daily Telegraph made clear its stance, running a picture of Rudd on its front page under the headline "Kick This Mob Out".
Around the country, publications under News Corp - which backed Rudd during his successful 2007 election - have launched a series of scathing headlines with Murdoch himself taking to Twitter to attack Labor and throw his support behind Abbott.
To ram home the point, The Sunday Telegraph at the weekend splashed a picture of Abbott on its front page under the headline "Australia Needs Tony", less than a week away from polling day.
"You can see by the reaction of the politicians that the media is obviously influential. It can set the agenda," said David McKnight, of the University of New South Wales and author of the book "Rupert Murdoch: An Investigation of Political Power".
"Given that he (Murdoch) controls 70 per cent of the capital city newspaper circulation in Australia, his moods and beliefs are a material factor during elections in Australia," McKnight told AFP.
"Prime ministers and opposition leaders seek his favours but are grateful if they can just have his neutrality."
Debate has raged over why Australian-born Murdoch would want to influence the outcome, with Rudd pointing to the tycoon opposing Labor's national broadband (NBN) network.
He suggested this threatened the business model of News Corp's pay-TV arm Foxtel, which is one of the company's key assets, generating decent profits in a difficult media age where traditional newspapers are losing money.
The argument is that consumers could opt to use fast NBN speeds to download their own visual entertainment rather than pay for a Foxtel subscription.
But McKnight said Murdoch was a political animal and his backing of Abbott could not be explained simply through commercial interests.
"Newspaper ownership in Australia is among the most concentrated in the world and it is very significant that it is controlled by a highly political proprietor," he said.
"Murdoch has a history of influencing governments. It's something he can and does do. People look for commercial reasons but he has a profound belief in certain political philosophies."
How successful his campaign will be remains to be seen.
During the US presidential election last year, the mogul, whose empire includes Fox News and The Wall Street Journal, used Twitter to savage the Obama-Biden campaign - to no avail.
News Corp has long played a role in politics. Famously in Britain, in 1992, Murdoch's newspaper The Sun ran a triumphant front-page headline proclaiming,
"It's The Sun Wot Won It", after the Conservatives unexpectedly kept office.
Tom Watson, the British Labour MP who played a big part in helping expose the News of the World phone-hacking scandal that led to Murdoch shutting down his mass-market paper, agrees he can have a strong impact.
"It insults Australians when they produce content like that," he told The Sydney Morning Herald, referring to the "Kick This Mob Out" front page and others depicting Labor politicians as clowns and Nazis.
"But they do it for a reason. If you traduce someone's character, even in a seemingly satirical way, it has a drip-drip effect. This stuff works."
Australia's other main media player, Fairfax, has taken a more balanced election line and in an apparent dig at News Corp started running full-page adverts mid-campaign touting its independence.
The head of advanced journalism at the University of Melbourne, Margaret Simon, said that people who want to buy a newspaper in most places in Australia, outside the cities of Sydney, Melbourne and Perth, have no choice but to read a Murdoch publication.
"The News Corp coverage will be quite damaging (for Rudd)," she said, adding: "Murdoch just likes to pick winners and influence outcomes."
Indeed, in Britain after 1992, Murdoch ditched his support for the Tories and backed Tony Blair - after a long campaign of courtship by the business-friendly Labour leader.