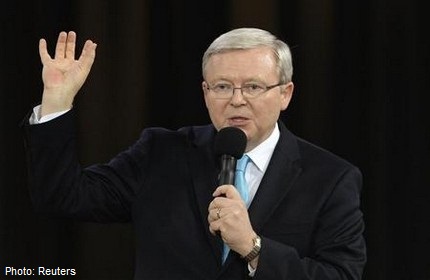 CANBERRA - Australia's Prime Minister Kevin Rudd, struggling to avert a landslide election defeat in six days, pledged tax breaks and education programmes on Sunday to counter a slowing economy in a last-ditch plea to voters.
Rudd, promising a "New Way" in his main campaign launch in the battleground state of Queensland, sought to capitalise on unease among voters about promised conservative opposition spending cuts, warning they would hurt jobs and confidence.
"In this election we are now engaged in the fight of our lives," he told thousands of cheering supporters.
"Never, ever, ever underestimate my fighting spirit as your prime minister. I have been in tougher spots before and come back from behind," said Rudd, the leader of Australia's first minority government in decades.
A Galaxy poll in newspapers belonging to media magnate Rupert Murdoch gave opposition leader Tony Abbott a 53 to 47 per cent lead over Labor, enough to deliver a convincing parliamentary majority to the conservatives on Saturday after six years in the wilderness.
Major weekend newspapers across the country also called for a switch in government. Sydney's mass-selling Sun-Herald criticised Rudd's centre-left Labor as "negative, incoherent, incohesive and, the worst of all, uninspiring".
The apparent malaise among a majority of Australia's 14 million voters, for whom voting is compulsory, comes despite the country being in its 22nd year of unbroken growth and with joblessness at a relatively low 5.7 per cent.
Australia under Labor steered safely through the 2008 global financial crisis, buoyed by a China-led resource export boom that transformed it into one of the world's best economies.
Much of the anger against Labor comes from a leadership fight that has simmered through its six years in power.
Rudd was toppled in 2010 by Julia Gillard, who became Australia's first female premier, but then pushed Gillard out again this year after long and bitter public infighting. Gillard did not attend Rudd's campaign launch on Sunday.
Abbott accuses Labor of being "dysfunctional" and of wasting the resource boom by running up record debt and budget deficits. He is promising $31 billion in spending cuts to bring a faster return to surplus.
Rudd appealed to voters with traditional Labor values such as universal healthcare, a pension system holding $1.5 trillion in savings, worker protections and support for a manufacturing sector struggling with a high Australian dollar.
The conservatives would unravel carbon taxes aimed at protecting the environment, he said, while scaling back an ambitious taxpayer-funded broadband network under construction.
Murdoch's tabloids, chastised by the media watchdog for bias in their election coverage, called for Australians to switch government. One front page had a picture of Abbott with a headline saying "Australia Needs Tony".
"Labor's fragile grip on parliamentary majority has created a shambolic, often comically inept administration that routinely undermines its own achievements and credibility," the Australian-born media mogul's Sunday Telegraph paper said.
Rudd's deputy Anthony Albanese described the front page as an "absolute disgrace", accusing the paper of having breached its code of ethics requiring balanced coverage.