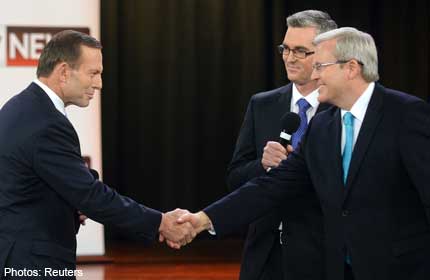 CANBERRA - Australia is poised to elect a conservative government on Saturday, but the minor Greens party is aiming to use its deciding votes in the upper house to block the new government's bid to throw out a carbon tax and a tax on mining profits.
Greens leader Christine Milne's campaign for the Sept. 7 election has been based wholly upon a likely conservative win, promising to "Abbott-proof" the upper house Senate and reject his central policies.
That means Abbott's main promises, to scrap the carbon tax and a tax on iron ore and coal mine profits, may be blocked in parliament, particularly in the first 12 months, unless the current Labor government abandons its position.
Adding to the cloudy political outlook is the fact Abbott, who has led his party since December 2009, has made no secret of his disdain for the Greens and their policies against mining and in favour of higher taxes on the wealthy and big business.
Milne is facing her first election as leader after she replaced long-standing Greens leader Bob Brown early in 2012. Brown's deal with Labor's then prime minister, Julia Gillard, to put a price on carbon was a landmark achievement for the party, and Milne is in no mood to see it scrapped.
"There is no way I will be repealing any of the clean energy package," Milne told Reuters.
"You'll see billions taken out of or stalled investment if Abbott gets in. I'm not going to stand there and allow that to happen."
Milne said she had never had a conversation with Abbott although she had met him once at a charity ball in mid-2012.
Opinion polls show Abbott's Liberal-National Party coalition will romp to a solid victory on Saturday, with the latest Newspoll giving the opposition 54 per cent of the two-party vote compared with 46 per cent for the ruling Labor Party.
STAND FIRM
The Greens are polling about 10 per cent of the primary vote, slightly down on the 2010 election. But only three of the Greens' nine Senators are facing re-election, meaning even a wipe out on Saturday would leave six Greens in the Senate.
The Senate voting system also means any Senators who lose will not leave parliament until July 1, 2014, meaning the Greens will control swing votes between the major parties for much of the next year, and possibly until July 2017.
Milne also said the Greens would stand firm on the repeal of the 30 per cent tax on iron ore and coal mine profits, adding she would seek to increase the tax to 40 per cent and expand it to other minerals, including gold.
"If he brings in a mining tax bill, we will oppose its repeal," she said.
For his part, Abbott is banking on the Labor Party to give him a clear run to abolish the carbon and mining taxes if he wins, even though he has rejected all of Labor's legislation since he became opposition leader in late 2009.
Abbott on Monday repeated that the election would be a referendum on the carbon tax, and Labor should respect the decision of voters. Labor is refusing to say what it will do should it lose power.
"It's unimaginable that a defeated Labor Party would persist with a carbon tax," Abbott told the National Press Club on Monday. "Within a year, the carbon tax will be gone."
Milne said her party would also push for stronger scrutiny of foreign investment and for a new government to reject the Archer Daniels Midland US$3.1 billion (S$3.95 billion) bid to buy grain handler GrainCorp GNC. AX . The rural-based National Party also opposes the plan.
She said the Greens also wanted to ensure Australia continues to oppose investor-state resolution measures in a new Trans-Pacific Partnership trade pact, currently under negotiation between 12 nations of the Pacific rim.