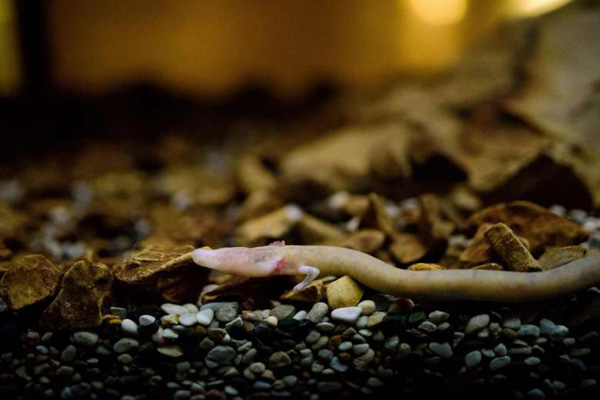 The olm is living proof that there are more wonders in nature that man can dream of.
The blind, amphibious cave dweller looks so alien, it was once thought to be the spawn of mythical creatures - dragons.
But its oddities are remarkably adapted to one of the most isolated living environments in the world - the underground caves of Slovenia and Croatia.
On Wednesday (June 1), the extremely rare hatching of two baby olms in Slovenia's Postojna cave have re-awakened interest in them.
Here's more about the slithery salamanders:
1. 'BABY DRAGONS'
With their frilly gills, the olm does resemble a miniature dragon, a fantastical animal often depicted with frills on its neck.
While they lived underground, they were sometimes washed out of the caves by rain. This probably gave mediaeval folk in the Balkans the notion that their mature counterparts, dragons, were hiding somewhere in the cavernous depths.
2. SUPER SENSES, BUT BLIND
Living in the dark means that the olms' eyes do not develop, but they have an array of other senses to make up for it.
They have a heightened sense of smell, powerful hearing and the ability to detect electric and perhaps even magnetic fields.
3. CAN LIVE UP TO 100 YEARS...
One of the longest lived among amphibian species, it has been estimated that they have a maximum lifespan of 100 years. A more conservative estimate puts their lifespan at 58 to more than 70 years old.
4. ... BUT NEVER REALLY GROWS UP
They exhibit neoteny - retaining in adulthood traits that can usually be seen only in larvae. The most notable of these are their red, feathery gills .
5. CAN SURVIVE YEARS WITHOUT FOOD
They can survive without food for up to 10 years, reducing metabolic activity, and even re-absorbing their own tissue.
6. CREATURE WITH MANY NAMES
Besides being mistaken for a dragon, olms are also known as the proteus, human fish, European cave salamander. Their scientific name is Proteus anguinus.
7. VULNERABLE SPECIES
Despite having no predators, they are threatened by pollution of the underground water they live in, and the disturbance of their habitats. They are classified by the International Union for Conservation of Nature as "vulnerable".

This article was first published on June 3, 2016.
Get a copy of The Straits Times or go to straitstimes.com for more stories.