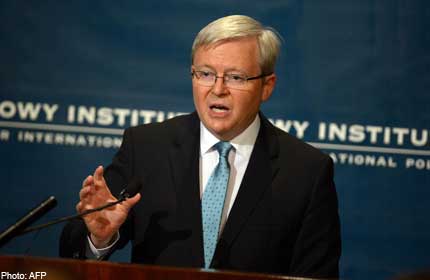 AUSTRALIA - As he waits for a lunch-time curry at a popular Indian eatery in Sydney's west, local resident Wayne Krzmenski rolls his eyes at the choices on offer in the upcoming Australian election.
"I don't like either of them," he said, referring to the two main candidates, Prime Minister Kevin Rudd and opposition leader Tony Abbott.
Mr Krzmenski, 36, a retail business manager and father of two, plans to vote for Mr Abbott's conservative Liberal-National coalition.
Though he prefers Mr Rudd as prime minister, he said he had not been happy with Labor's six years in power and believed Mr Abbott was better for businesses.
"I don't trust Tony Abbott..." he told The Straits Times. "I don't think he speaks for the people. I don't think he respects women.
But I don't believe in Labor." Speaking in one of the nation's most marginal electorates, the seat of Greenway, Mr Krzmenski's response represents the growing mood in a region that is likely to determine the outcome of the election on Saturday.
The sprawling suburbs in western Sydney contain about 10 per cent of Australia's 22 million population, but they cover a dozen of the most tightly fought seats in Australia's 150-seat Parliament.
The area was once staunchly working-class and known as a Labor heartland, but it has been growing more affluent and support has been drifting towards the Liberal Party.
The contests here have been getting closer in recent elections, as the Liberals have campaigned on the party's economic credentials and concerns about the growing number of asylum-seekers.
Mr Abbott and Mr Rudd have made numerous visits to shore up votes during the campaign - and former prime minister Julia Gillard was so concerned about Labor's falling fortunes that she once moved to western Sydney for a week and governed from a hotel room.
Of these bellwether seats, Greenway is the closest of them all. It is held by Labor by a margin of just 0.9 per cent, making it the tightest-held seat in the state of New South Wales and the sixth tightest in the nation. Only 700 of 80,000 voters would need to switch votes to hand the seat to the Liberal Party.
Known as a "mortgage belt electorate", the seat is filled with young families who have settled into large houses with debts that will likely take decades to repay. Its demographics reflect those across the nation: Average weekly incomes are A$1,593 (S$1,800) and the average number of children per family is 1.9.
But it is also one of the country's most ethnically diverse areas. About 58 per cent of the seat's population were born in Australia, compared with 73 per cent nationally.
For Labor, the prospects in Greenway and across western Sydney are looking bleak.
A Newspoll survey published in The Australian newspaper last Saturday found that Labor is trailing the opposition by 43 per cent to 57 per cent across Greenway and four neighbouring western Sydney seats.
At a national level, Labor's outlook is only slightly better, with Newspoll last week showing the party trailing by 47 per cent to 53 per cent.
The same poll showed Mr Rudd still leads Mr Abbott as the preferred prime minister by 44 per cent to 40 per cent, with 16 per cent undecided.
An expert on the people and politics of Sydney's west, Dr David Burchell from the University of Western Sydney said the area's voters reflected a nationwide "revolt of outer suburbia".
Residents feel they have not benefited from the decade-long mining boom, which was centred on the nation's west coast, he said.
"Australia has had a buoyant economy for the past few years but a lot of people don't feel it," he told The Straits Times.
"A lot of people in western Sydney are sitting on houses worth far more than they ever imagined.
But it can be stressful to live under a mortgage. It makes them more anxious about economic and social issues."
Concerns about asylum-seekers have been particularly strong in western Sydney, where some voters feel refugees have been unfairly taking jobs and draining public services.
Dr Burchell said the concerns in Sydney are largely not driven by racism but a perceived threat to jobs and economic security.
"These are not highly educated electorates and people are interested in their day-to-day economic concerns rather than global humanitarian concerns," he said.
On the ground in Greenway, Labor's best - and perhaps only - weapon has been the numerous blunders by the Liberal candidate, Mr Jaymes Diaz, a lawyer from a well-known Filipino family. Mr Diaz, 37, has been largely kept away from the media after an embarrassing TV interview in which he trumpeted his party's six-point plan to "stop the boats (of asylum-seekers)".
But he could not remember any of the points.
Still, the Labor MP, Mrs Michelle Rowland, 41, a former lawyer, faces an uphill battle. Judging from voters on the streets of Greenway, her best hope is her opponent.
An Indian-born taxi and truck driver, Mr Navdeep Singh, 34, said Labor is "better for poor people" and he prefers Mrs Rowland because he has "never seen the other guy". "I have seen her - she comes and listens to our problems," he told The Straits Times.
Asked about Mr Rudd and Mr Abbott, he said he had little trust in either.
"For me, they are two sides of the same coin."
Get a copy of The Straits Times or go to straitstimes.com for more stories.