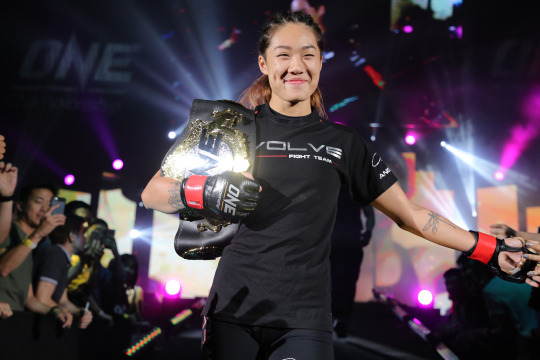 It is easy to see the end result and forget about the process. But "Unstoppable" Angela Lee remembers everything that got her to this point in her career.
The 20-year-old martial arts prodigy will step into the cage at ONE: DYNASTY OF HEROES on Friday Night, 26 May, as the ONE Women's Atomweight World Champion. As such, she has the ability to influence people everywhere, and that is exactly what she wants to do.
"My goal is to inspire other people through my own martial arts journey. I want to inspire and empower others, because I want them to chase their dreams, just like how I am chasing mine," she states.
That may be a heavy responsibility to carry, but the unbeaten Lee – who represents Singapore in the cage – is dedicated to her vision, and has been building towards that ever since her childhood.
As soon as she could stay on her feet long enough to throw punches and kicks, her father — lifelong martial artist and coach Ken Lee — started teaching her martial arts. She became well-versed in many striking disciplines, and evolved into a master grappler who eventually earned a brown belt in Brazilian jiu-jitsu.
Despite all of that, it has not always been plain sailing en route to the top, but Lee always found a path back to the martial way. Distractions came in different forms, one of those being an interest in soccer.
After being so fluid and competent in combat sports, however, it took all of a season for her to realize that life on the soccer pitch was not for her.
"All the other girls there had been doing it since they were little kids, and that is like me with the martial arts. They are sticking to what they know and what they are good at. Maybe I should do that," thought a young Lee.
Needless to say, Lee proved to be very good at martial arts indeed. She won a pair of world titles in Pankration at the age of 16, and followed that up shortly after by winning a Hawaii State Wrestling Title in her weight class. Lee's talent and potential was undeniable, but keeping it channeled in the right direction would prove to be tricky.
"I was the wild child, the rebel child. I gave my parents a lot of trouble in high school," she reminisces, again showing that it was not alway smooth sailing to the top. There were blips, but true athletes turn these experiences into learning tools, and find where their true passions lie.
Getting those rebellious teenage instincts out of her system early allowed Lee to reconnect with her competitive love of martial arts, and that is why she can say she is a world champion at just 20 years old, making history in the sport as the youngest-ever to achieve the accolade.
Today, it is the prestige of being champion that keeps her motivated. She does not need anything else to keep her on the right track. That journey continues on Friday, 26 May, when she faces Istela Nunes in the main event of ONE: DYNASTY OF HEROES. Lee is focused on defeating the Brazilian knockout artist in the Singapore Indoor Stadium, and continuing her training so she can remain on top for years to come.
"Now that I have the belt, I want to keep the belt," she continues. "I do not want anyone to take my place, so that is the motivation — just staying extremely focused and training really hard, because I totally feel like I was born for this. It is what I was meant to do."