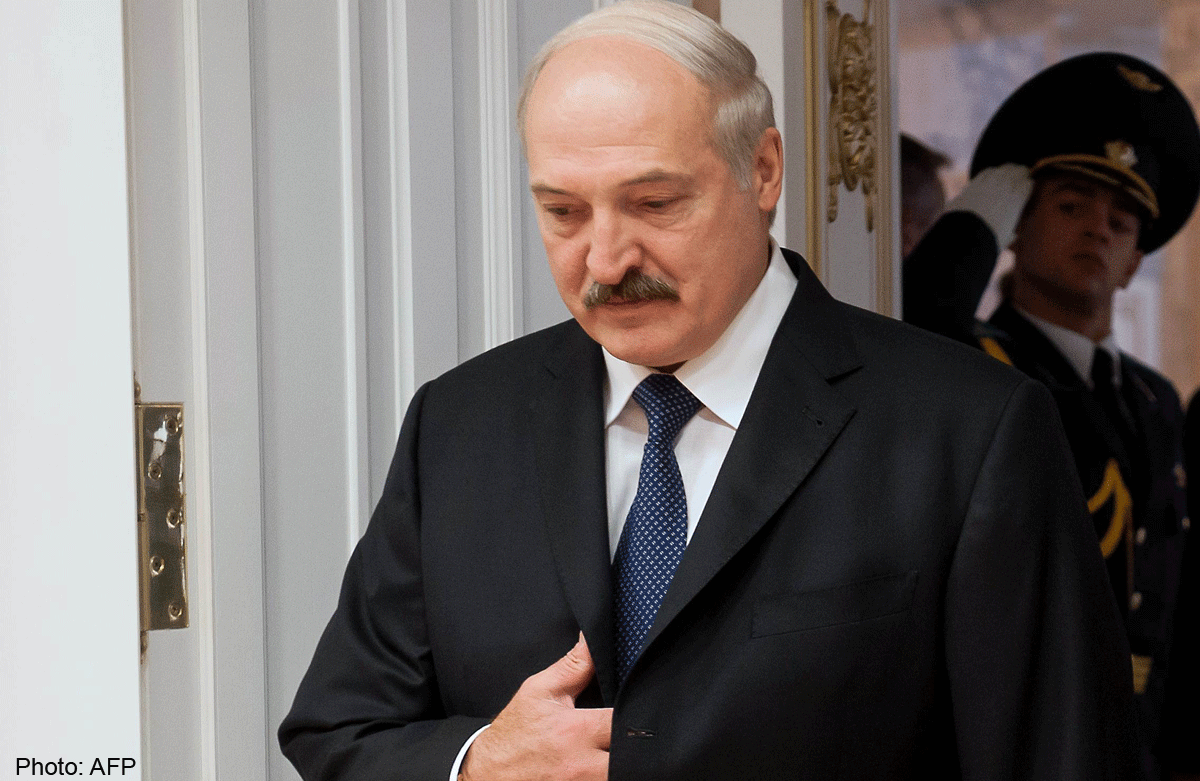 KIEV - The authoritarian leader of Belarus flew into Kiev on Sunday hoping to revive stalled Ukrainian peace talks he has been hosting to calm Europe's volatile eastern edge.
But a high-ranking Ukrainian official said Belarussian President Alexander Lukashenko was just as keen to use the trip to build bridges to Europe that ease his dependence on an increasingly isolated Russia.
Two major rounds of negotiations in the Belarussian capital Minsk in September produced deals on a truce and partial self-rule for the two Russian-speaking regions of eastern Ukraine that rebelled against Kiev in April.
The agreements stemmed the worst fighting but were still followed by at least 1,300 more deaths. The toll from Europe's worst security crisis since the Balkans wars of the 1990s now stands at 4,700 -- a figure UN officials warn is a conservative estimate.
The clashes left Ukraine in economic ruins and stigmatised Russia as an international pariah that foments conflicts in neighbouring countries with aspirations to break their Kremlin bonds.
Moscow denies backing the insurgents and calls Russian fighters in the war zone "volunteers". It also defends its annexation in March of Ukraine's Crimea region as the product of a referendum and not a covert deployment of troops.
Lukashenko's first visit to Kiev since its historic shift westward last winter comes as EU efforts to get the peace talks back on track are in full swing.
Ukrainian President Petro Poroshenko overnight held his third conversation with German Chancellor Angela Merkel since last weekend about the continued delay of the talks.
The conference was first pencilled in for September 9 and has since been stalled by Kiev's refusal to discuss the resumption of social payments to militia-run regions that Poroshenko cut off last month.
Poroshenko and Merkel agreed that the new talks should "produce a demarcation line and establish a roadmap for withdrawing troops and releasing hostages," the Ukrainian president's office said.
It added that Poroshenko still expected the meeting to happen "soon".
US Vice President Joe Biden also spoke with Poroshenko late Saturday, discussing the Minsk peace process and the financial situation in Ukraine and possible international assistance for the government's planned reforms.
"President Poroshenko thanked the United States for enacting additional restrictions on trade and investment with entities in Crimea, and for the President's signing of the Ukraine Freedom Support Act of 2014," a readout of the phonecall also disclosed.
EU heads of state and Poroshenko had most recently hoped to see the Minsk talks convened in the presence of European and Russian envoys on Sunday.
But two top rebel negotiators told AFP that no talks were scheduled for the immediate future.
"The Minsk date has still not been determined," separatist representative Vladislav Deynego said by telephone.
Bridges to Europe
A senior Ukranian government source told AFP that both Lukashenko and Kazakh President Nursultan Nazarbayev -- due in Kiev on Monday -- were now trying to make amends for deciding to join a political and economic union led by Moscow.
Russia is lurching through a financial crisis sparked by a plunge in the price of its oil exports and a punitive freeze on its firms' ability to raise money on US and EU markets.
But Lukashenko in particular has been shunned by the West for his intolerance of dissent and establishment of what Washington once dubbed "the last dictatorship in Europe".
Lukashenko and Nazarbayev "have sensed that (Russian President Vladimir) Putin is weak," the senior Ukrainian source said.
"They would like to see Ukraine help them improve relations with Europe."
The mercurial Belarussian has developed a reputation for making off-the-cuff and perplexing remarks that support his blue collar image.
Lukashenko kept up that tradition on Sunday during talks with Poroshenko that officials said lasted several hours.
He appeared to be referring to Putin when he suddenly told Poroshenko: "They keep saying that Lukashenko is afraid of someone. But I am not afraid."
Belarussian state media then quoted Lukashenko as saying that he supported holding "secret" negotiations about building stronger cross-border ties with Ukraine.
"Let's not say anything to anyone at all but do it in secret -- just as long as there is progress in this direction," Lukashenko was quoted as saying.
Belarus and Kazakhstan officially joined Russia in a customs union in 2010. Their alliance has since been strengthened into an "economic union" open to other countries.
Putin had hoped that Ukraine's own participation would give the group the clout needed to become a real competitor to the European Union that had room to grow in booming Asia.
But the February ouster of Moscow-backed president Viktor Yanukovych and Ukraine's subsequent ratification of a landmark EU trade and political association deal shattered Putin's ambitions.