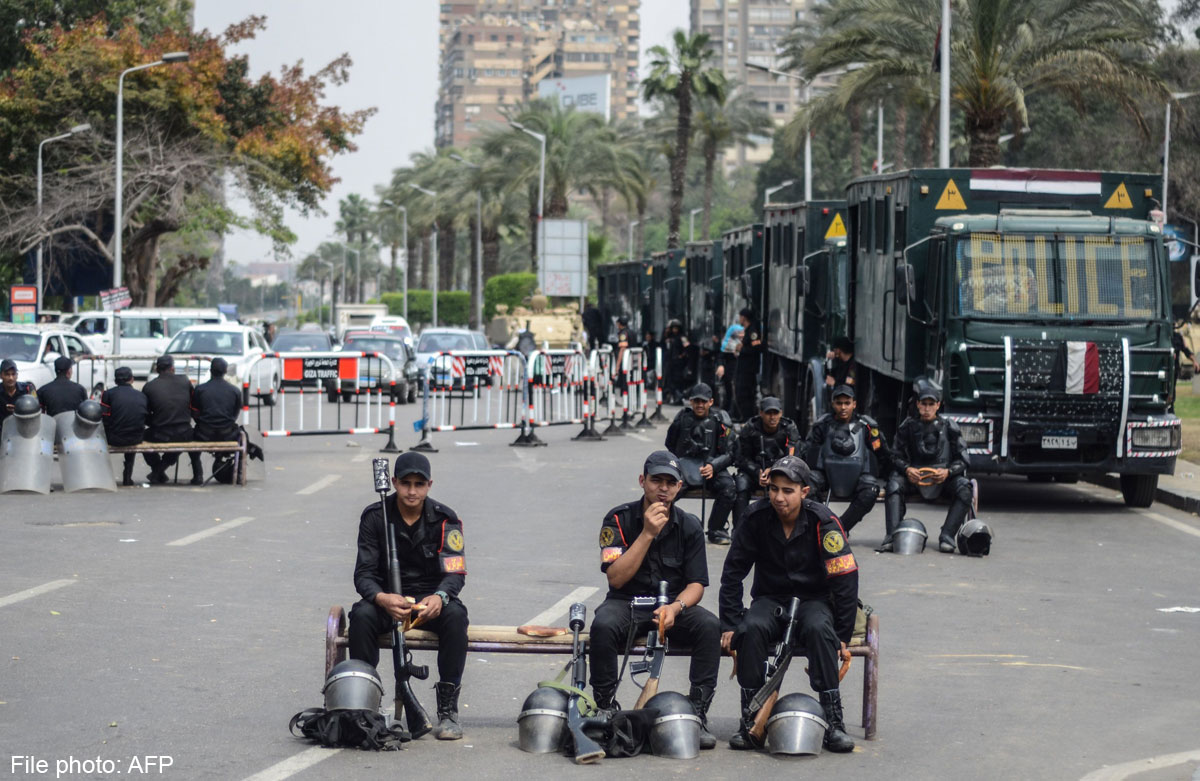 CAIRO - A police brigadier general was killed when a bomb exploded under his car in Egypt's capital on Wednesday, security officials said, in the fifth such targeted attack in Cairo within a week.
The blast in the upscale western suburb of October 6 killed Ahmed Zaki, a commander of Egypt's central security forces who have spearheaded a crackdown on supporters of ousted Islamist president Mohamed Morsi.
Militants have carried out scores of attacks mainly targeting security forces since the military deposed Morsi last July in the wake of massive protests calling for his resignation.
The general was fatally wounded in his car as was headed for work, security officials said, adding that two conscripts were wounded in the morning attack.
Video footage posted on newspaper websites showed the front of the car destroyed. It was painted light green and not the usual dark blue colour of police vehicles.
Police officers are increasingly having their cars repainted to avoid being easily identified and targeted by militants.
Zaki was the third senior police officer to be killed in attacks since the start of the year, with all three fatalities in Cairo. Three other police have been killed in four more attacks over the past week.
In the Mediterranean city of Alexandria on Wednesday, a police lieutenant was killed in a gunfight with wanted "terrorist elements", security officials said.
They said one "terrorist" was killed and another wounded, adding that police retrieved an explosives-laden belt and two home-made bombs.
Egypt's police, feared for decades, stirred public outrage over its brutality and deadly tactics during the 2011 uprising which toppled veteran president Hosni Mubarak.
It has rehabilitated itself in the eyes of the public by pursuing supporters of the unpopular Morsi after his ouster, but it has at the same time incurred the wrath of militants.
A little-known jihadist group, Ajnad Misr (Soldiers of Egypt), has claimed several attacks on police in Cairo, and warned of further retaliation for the crackdown on Islamist backers of Morsi.
But the deadliest attacks in Cairo and other parts of the country, including the restive Sinai Peninsula, have been claimed by Ansar Beit al-Maqdis (Partisans of Jerusalem), a jihadist group inspired by Al-Qaeda.
Official figures show about 500 people - mostly police and soldiers - have died in bomb attacks and shootings by militants since Morsi's ouster.
Amnesty International, meanwhile, says more than 1,400 people have been killed in the police crackdown on Morsi supporters.
More than 15,000 Islamists, mostly from Morsi's Muslim Brotherhood, have been jailed, while hundreds have been condemned to death after often speedy trials.
Morsi was ousted by his army chief, Abdel Fattah al-Sisi, who is now the frontrunner in an Egyptian presidential election next month.
The 59-year-old Sisi has been riding a wave of popularity after ousting Morsi. Leftist leader Hamdeen Sabbahi is his only declared rival so far in the May 26-27 vote.