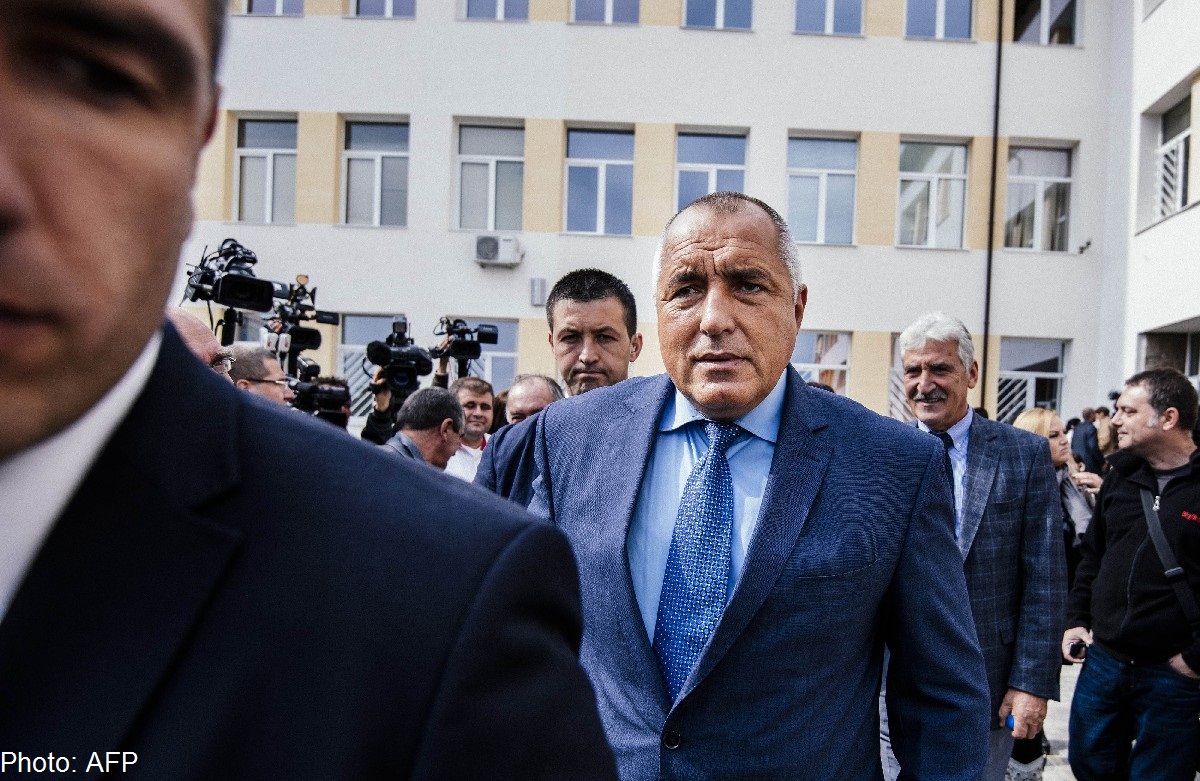 SOFIA - Fresh from bouncing back in elections, Bulgaria's ex-premier Boyko Borisov embarked Monday on the tough task of forming a government capable of ending a long-running political crisis and boosting the weak economy.
The last two years in Bulgaria have been marked by mass protests, with two governments collapsing after failing to boost living standards and root out corruption in the European Union's poorest country.
In Sunday's election, the second in 18 months, former bodyguard Borisov, who headed one of those governments that resigned, saw his right-wing GERB party win 33 per cent of the vote, near-complete official results showed Monday.
This however leaves GERB at least 30 seats short of a majority in a fragmented parliament, although karate black belt Borisov insisted late Sunday he would still try and form either a coalition or a minority government.
"I want to govern, in person," the burly Borisov told reporters, calling on other party leaders to take time to think "carefully" before ruling out working with him.
The "dark scenario" alternative, the 55-year-old added in dramatic fashion, would be "new elections" and "bankruptcy" for the southeastern European country.
In second place were the Socialists on 15.3 per cent, giving them an estimated 36-42 seats, closely followed by the Turkish minority party MRF on 35-39 seats.
Both backed the previous technocrat government that collapsed in July, and the head of the Socialists, Mihail Mikov, made clear Sunday that he would not form a coalition with GERB, saying voters wanted the party to "play an opposition role".
Five other parties appeared to have cleared the four-per cent hurdle to enter the legislature, making the formation of a government even more difficult.
Analyst Boriana Dimitrova from Alpha Research said that many of these small parties have no clear political stance and instead are "artificial constructs" of special interest groups.
"This makes it difficult to form a government," she said.
Winter of discontent
The new government, assuming it can be formed, will have its work cut out improving the sluggish economy, implementing unpopular reforms and tackling graft, cronyism and organised crime.
The average monthly salary in this Balkan country of 7.4 million is the equivalent of 400 euros ($500), and seven years after joining the EU every fifth household lives below the poverty line.
Dark clouds hang over Bulgaria's financial system with the country's fourth-biggest lender on the brink of collapse and accounts blocked since June.
Undermining faith in democracy in ex-communist Bulgaria - and earning it criticism from Brussels - is the perception that members of a well-connected clique are still lining their pockets and are above the law.
Anger at such corruption and poverty erupted in nationwide protests that saw several people die after setting themselves on fire two winters ago.
Borisov was in government at the time, resigning in February 2013.
The subsequent technocrat government installed by the Socialists and the MRF fared little better, and after 14 months of almost constant demonstrations it too threw in the towel in July, paving the way for this latest election.
The Organisation for Security and Cooperation in Europe (OSCE), which sent 41 observers for the vote, said Monday that the election was "well administered technically".
But it added that allegations of vote-buying and other irregularities, as well as a campaign that "lacked substance" had damaged "public confidence in the integrity of the process".
For analyst Vassil Tonchev, head of the Sova Harris institute, the "only solution" now will be a sort of grand coalition involving Borisov's party, the Socialists and several others.
"Public opinion will accept a government like this in the hope that it can stabilise the situation," Tonchev told AFP.
"It is the only option. Anything else would lead to chaos." The new government also faces the delicate job of keeping happy both Moscow, its traditional ally and its main gas supplier, and Brussels, whose relations with Russia have nosedived over the Ukraine crisis.