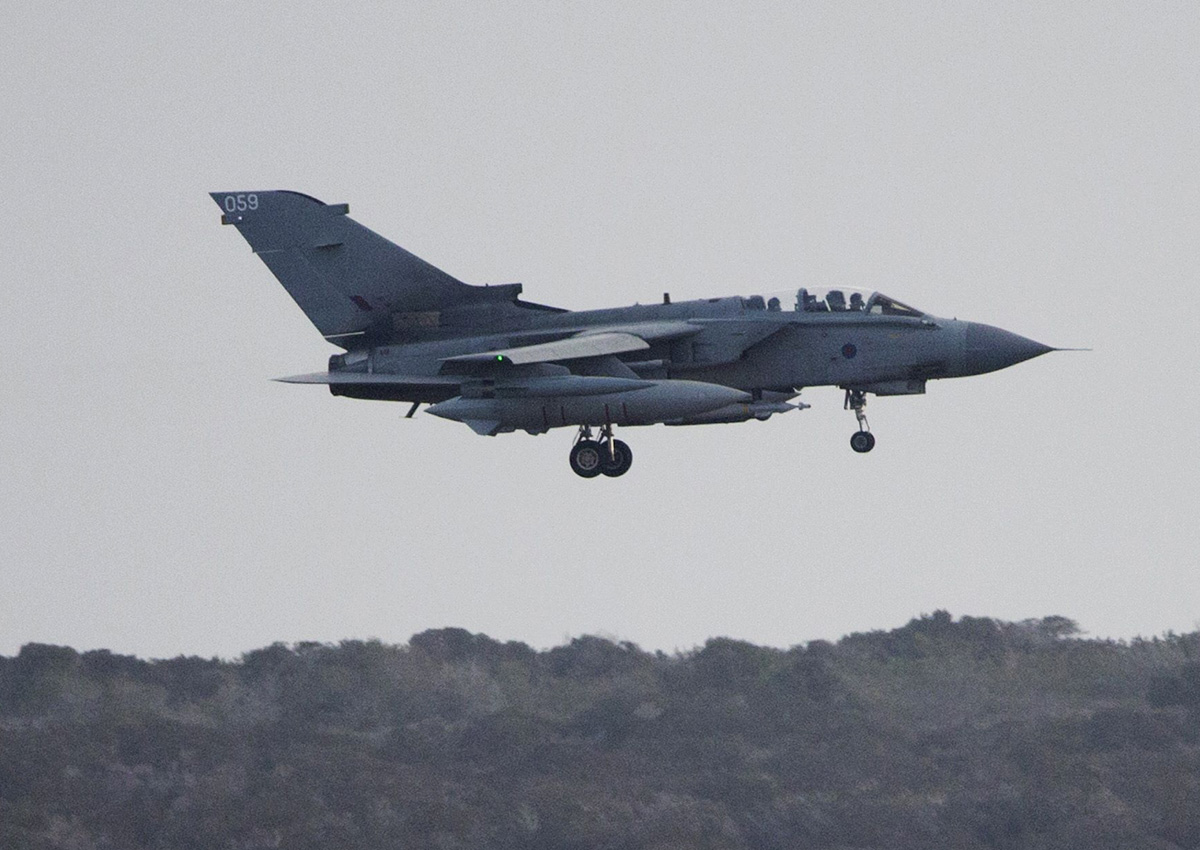 LONDON - Britain's parliament looks set to vote Wednesday in favour of joining the bombing campaign against the Islamic State group in Syria, despite growing doubts among the public and some MPs.
Prime Minister David Cameron, who stepped up pressure for air strikes after last month's Paris attacks, will lead the House of Commons into more than 10 hours of debate on joining the US-led action.
Cameron has reportedly told fellow Conservative MPs not to vote with "a bunch of terrorist sympathisers", while main opposition Labour leader Jeremy Corbyn warned against an "ill-thought rush to war".
Ministers are confident that MPs will ultimately say "Yes" in a vote expected at around 2200 GMT, while campaigners promised a new protest outside parliament after a demonstration on Tuesday drew around 4,000 people.
The vote comes after US Secretary of State John Kerry urged NATO allies to intensify the fight against the Islamic State group, at a meeting of the alliance in Brussels.
British support for strikes has dropped sharply in a week according to an opinion poll published Wednesday, with those in favour down to 48 per cent from 59 per cent, and those against rising to 31 per cent from 21 per cent in the YouGov survey for the Times.
"Voters are increasingly impressed by the case against war," YouGov president Peter Kellner wrote in an analysis.
"The likeliest explanation is that as the debate about air strikes has intensified, the issue has moved to the forefront of voters' minds." Britain is still scarred by the memory of unpopular wars in Afghanistan and Iraq and has played a smaller role in recent foreign military actions, leading to concerns that its global clout is diminishing.
Cameron insists military action is needed to prevent attacks like the gun and bomb rampage that killed 130 people in Paris, saying it it will be accompanied by a diplomatic push to resolve the Syrian conflict.
"I will be making the arguments and I hope as many members of parliament across all parties will support me as possible," he said ahead of the vote.
Military experts question how much difference Britain will make to the campaign, saying the move may be more about Britain wanting to stand shoulder-to-shoulder with allies like France and the United States.
"It will not make a big operational difference," Professor Malcolm Chalmers of military think-tank the Royal United Services Institute told AFP.
"It is important symbolically, useful operationally, but not transformative." Cameron "emotionally feels very strongly that he should support France in its time of need," added Ben Barry of the International Institute for Strategic Studies.
The motion up for debate stresses that Britain will not deploy ground combat troops while noting that allies had requested British assistance.
Britain already has eight Tornado fighter jets operating from its military base in Cyprus plus an unknown number of drones involved in strikes on IS targets in Iraq, an operation it joined last year.
The government has said it will deploy an unspecified number of additional jets if the bombing is approved and reports say Britain's Brimstone missiles will be especially in demand to carry out precision strikes.
Cameron announced the vote on Monday after Labour let its MPs have a free vote rather than trying to force them to oppose bombing in line with the views of its left-wing leader Corbyn.
Labour's decision means dozens of its MPs who want military action will now likely vote with Cameron, although there are deep divisions in the party.
Corbyn, a veteran anti-war campaigner, argues that only a negotiated settlement can bring peace to Syria.
"Since David Cameron made his case for extending UK bombing to Syria in the House of Commons last week, that case has been coming apart at the seams," Corbyn wrote in the Guardian on Wednesday.
In a blow to Cameron on the eve of the vote, parliament's foreign affairs committee said he had "not adequately addressed" its concerns.
The committee has cast doubt on the legality of the move, its effectiveness in the absence of reliable allies on the ground and its usefulness in the context of finding a diplomatic solution.
While Cameron is expected to win, he will likely face fresh questions from MPs about his claim that there are 70,000 moderate opposition fighters in Syria ready to help secure territory following air strikes.