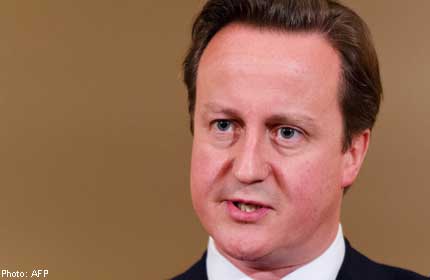 COLOMBO - Britain's David Cameron will become the first foreign leader to visit Sri Lanka's war-torn Tamil heartland during next month's Commonwealth summit when he will press Colombo on human rights.
The British premier is under pressure at home and abroad to boycott the summit over the bloody end to Sri Lanka's ethnic conflict but he vowed in a meeting with Nobel laureate Aung San Suu Kyi to have some "very tough conversations" with President Mahinda Rajapakse's government.
"My decision is the right thing for us to do... and have some very tough conversations with the Sri Lankan government," Cameron said after hosting Myanmar opposition leader Suu Kyi in London on Wednesday.
"I'm not happy with their human rights record. I'm not happy with what they've done following the conflict and we'll have some very frank conversations to make those points," he said according to a transcript of his comments made available to AFP Friday.
Suu Kyi appeared to endorse Cameron's decision, but noted that he should engage "all other stake holders and not just the government".
Added Cameron: "Very wise words. I'll be going to the north of the country as well, and I think what Aung Sun Suu Kyi has said is absolutely true."
If the visit goes ahead, Cameron would become the first foreign head of government to visit Jaffna, the capital of the war-battered north, since Sri Lanka was granted independence from Britain in 1948.
Colombo has come in for widespread criticism over its failure to probe allegations that 40,000 Tamil civilians were killed by its troops in the last stages of the war in 2009.
Britain's opposition Labour party has urged Cameron to boycott the summit while Canada has said the decision to allow Colombo to host the gathering was like "accommodating evil".