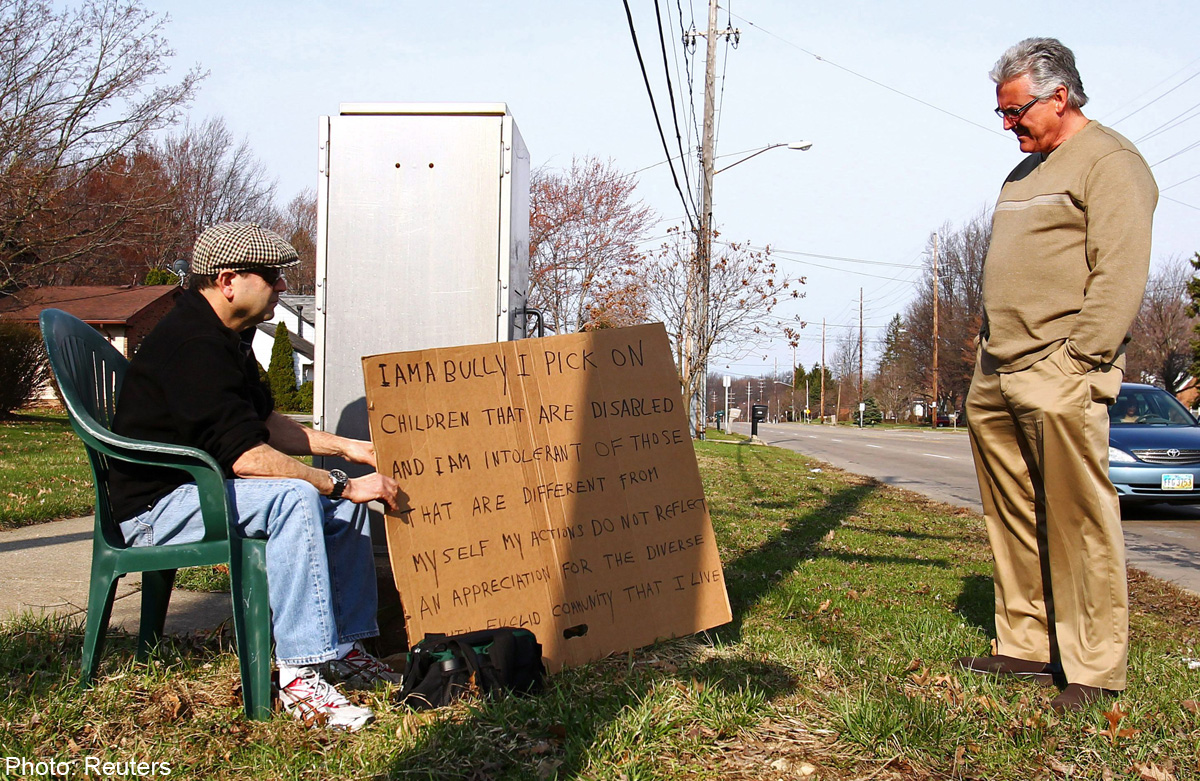 An Ohio man who bullied his neighbour was ordered by a judge to carry an "I am a bully" sign on a busy street last Sunday.
Edmond Aviv, 62, called his neighbour "Monkey Mama" as she held her adopted, disabled African-American children, and smeared dog faeces on their wheelchair ramp.
Aviv, who was accused of harassing his neighbour in the Cleveland suburb of South Euclid for more than 10 years, pleaded no-contest to fourth-degree disorderly conduct last month, Reuters reported.
Meting out his punishment, South Euclid Municipal Court Judge Gayle Williams-Byers sentenced Aviv to spend Sunday on a busy intersection with the placard, which must be "large enough for a normal person to see the sign from 25 feet (7.6m) away."
The judge also sentenced Aviv to 15 days in jail, seven months' probation, 100 hours of community service, anger management classes and mental-health counselling, according to court records.
He also had to publish an apology in a local newspaper to Ms Sandra Prugh, his neighbour of 15 years.
"I want to express my sincere apology for acting irrationally towards your house and the safety of your children," Aviv wrote.
"I understand my actions could have caused harm, but at that time I was not really thinking about it."
Over the years, Ms Prugh has raised seven children, four of them with developmental or physical disabilities or both, three of them adopted and African- American.
Ms Prugh, whose husband suffers from dementia, said the problems began in 1998 when Aviv spit on her twice on the street and also while she was planting flowers in her front yard.
Aviv has attempted to run down her wheelchair-bound daughters when they crossed front of his driveway.
He also directed spotlights at his neighbour's windows at night, blared music from his garage and spread dog faeces on her son's car windows, according to court documents.
DEADLINE
The judge had set a deadline last Friday for Aviv to submit to the city's probation department for approval a sign that read: "I am a bully! I pick on children that are disabled and I am intolerant of those that are different from myself. My actions do not reflect an appreciation for the diverse South Euclid community that I live in."
Aviv and his sign were on public view from 9am to 2pm on Sunday in South Euclid.
Aviv mostly ignored drivers tooting their horns and people who stopped by to talk to him, the Northeast Ohio Media Group reported.
Aviv later said that the punishment was unfair and that the judge who sentenced him had ruined his life.
This article was published on April 15 in The New Paper.
Get The New Paper for more stories.