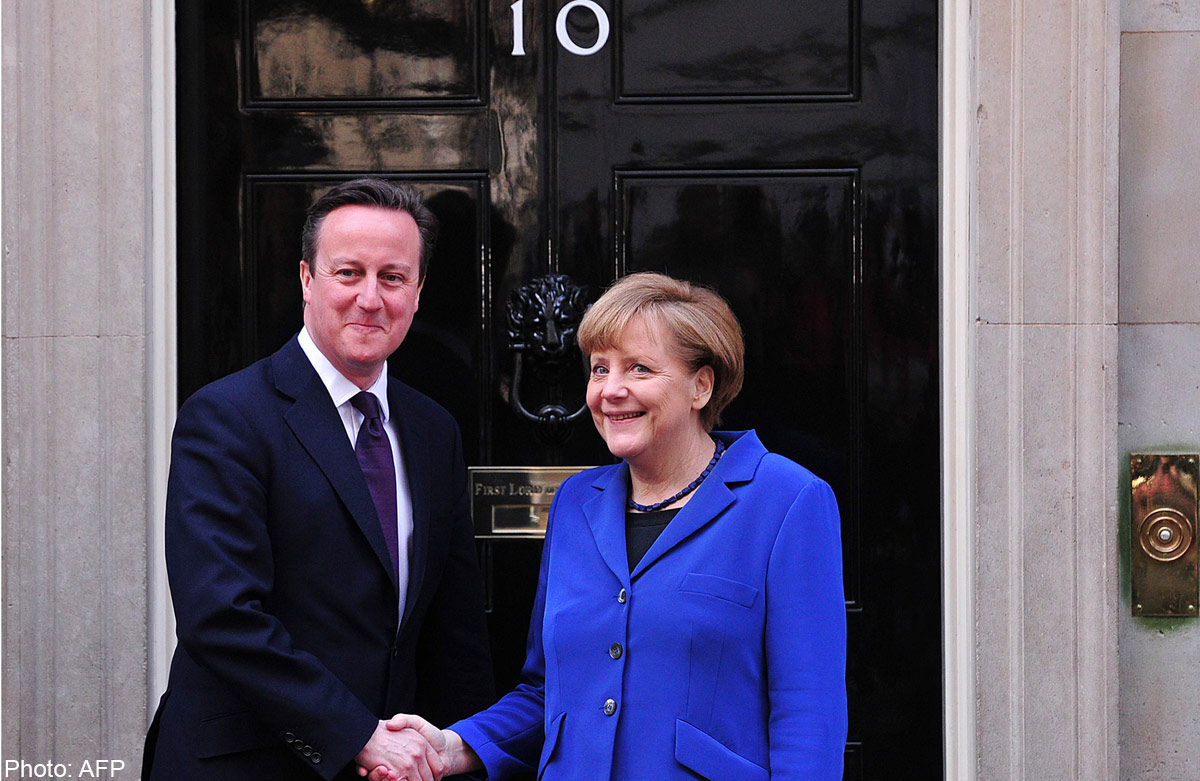 LONDON - British Prime Minister David Cameron and German Chancellor Angela Merkel are set to thrash out his plans for renegotiating Britain's relationship with the EU when they hold talks on Wednesday.
Merkel's visit to London is part of a series of trips to foreign capitals to pave the way for the G7 summit she is hosting on June 7 and 8 in Bavaria.
The two leaders will also discuss bilateral issues as well as the areas of European policy that have tested relations between the pair over recent months, according to Berlin.
These include Cameron's desire to limit the influx of immigrants from the EU into Britain, which he admitted in November would require a revision of European treaties.
Merkel has said she will oppose any challenge to the principle of free movement of labour within the bloc and is against treaty change, which would require huge upheaval and possible referendums in certain member states.
Cameron appears isolated in his battle, with the European Commission Jean-Claude Juncker in December warning him against "beating up" on poorer east Europeans working legally in Britain.
The visit comes four months before Britain's general election.
If he remains prime minister after the vote, Cameron intends to attempt a renegotiation of the terms of Britain's membership then seek consent for that settlement through a referendum by the end of 2017 at the latest.
While Cameron wants Britain to stay inside a reformed EU, "if I don't get what is needed, I rule nothing out", he told The Mail on Sunday newspaper.
"The key areas are safeguarding the single market, getting out of ever closer union, being able to veto regulation and a package of measures on welfare," Cameron said.
"If you look at the reaction to my welfare speech in Germany and one or two European capitals, you will see they gave it a broad welcome. Germany wants Britain to stay in Europe." Cameron's official spokesman played down reports that the European Commission is raising objections to a key plank of his renegotiation proposals, which would require EU jobseekers to have a job offer before coming to Britain.
Cameron's Conservatives risk losing votes to the anti-EU, anti-mass immigration United Kingdom Independence Party, who topped the May 2014 European elections.
UKIP leader Nigel Farage said Merkel was unlikely to help Cameron get his way.
"Germany is facing its own problems at the moment and would not want Britain to start turning away EU jobseekers, potentially redirecting them to seek work there," he said.
Cameron and Merkel were to visit the "Germany: Memories of a Nation" exhibition at the British Museum, dedicated to telling the story of the last 600 years of German history.