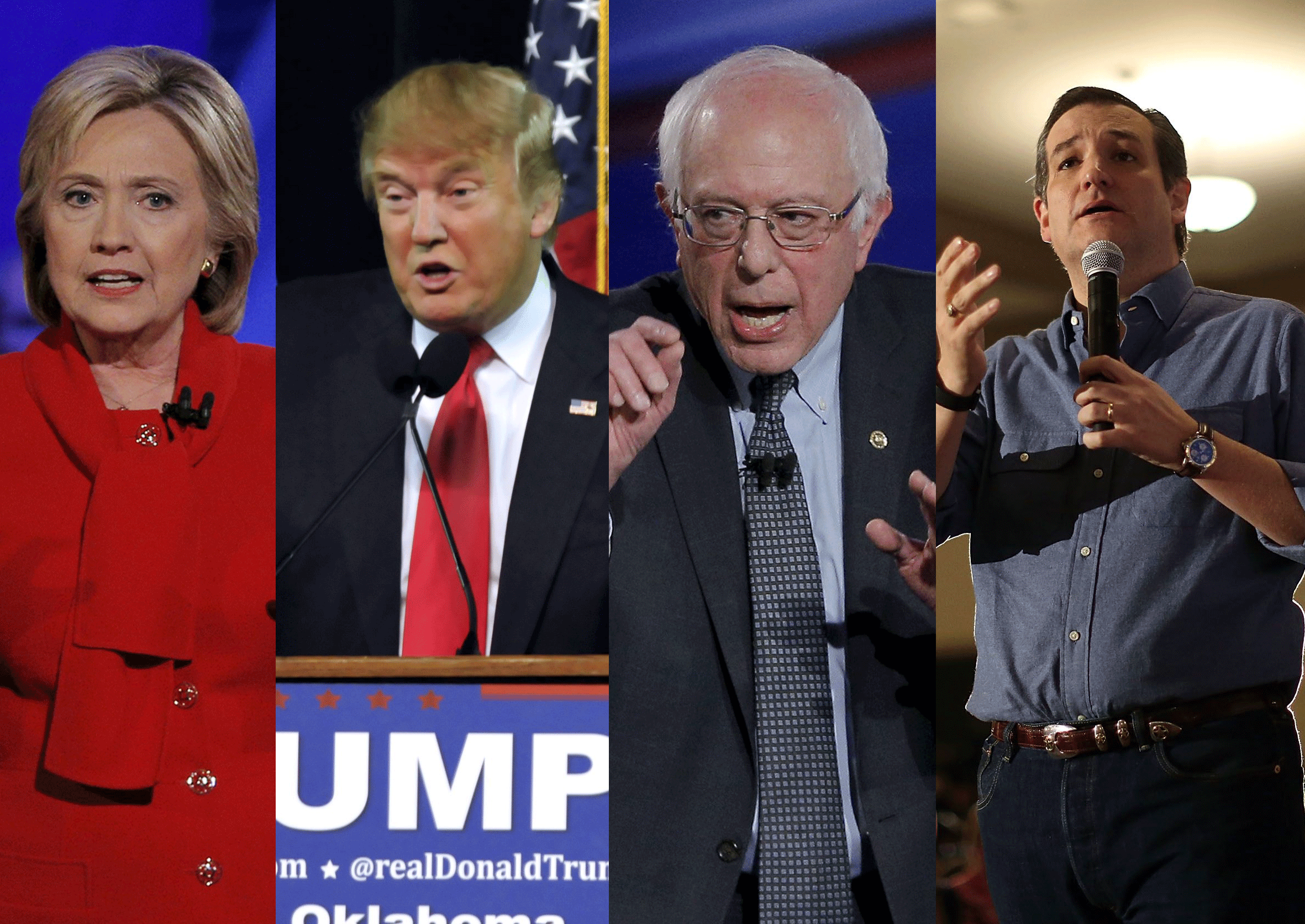 As the ink dried on the Iowa caucus results, presidential candidates stormed New Hampshire, pushing to either keep up the momentum gained in the first contest or banish some painful memories.
At the rallies in the so-called Granite State - which votes on Tuesday - it became clear how the Iowa contest had rejigged the equations for the campaigns.
The calculus is perhaps more straightforward on the Democratic Party side, with both former secretary of state Hillary Clinton and Vermont senator Bernie Sanders having something to celebrate from Monday's result.
After a night of uncertainty, the Democratic Party announced that Mrs Clinton had squeaked by Mr Sanders by 0.3 percentage point - the closest Iowa contest in history. In terms of delegates, Mrs Clinton would get 23 of the 44 on offer with Mr Sanders picking up the remaining 21. Both are chasing the 2,382 required to secure the Democratic nomination.
For observers, the close contest confirmed Mr Sanders as a competitive candidate while also avoiding the Clinton nightmare of losing the first two primaries.
"At least she won't face a week of news talking about her losing Iowa," said Dr Chris Galdieri of the New Hampshire Institute of Politics. And that leaves her still as the favourite to clinch the nomination.
The first two states, Iowa and New Hampshire, were considered the trickiest for Mrs Clinton as the Democratic bases in the two states feature a large proportion of white liberals. Mrs Clinton does best among moderates and non-white voters.
According to entrance polls in Iowa, she lost those who describe themselves as "very liberal" by 19 points to Mr Sanders, but won the "moderates" by 23 points.
The bad news for her is that New Hampshire has even more white liberals than Iowa. The good news is that they are a minority in nearly every other state in the rest of the race.
Mrs Clinton thus is under less pressure to win New Hampshire, where she currently trails by a large margin, knowing the map is about to get friendlier.
Mr Sanders, meanwhile, still needs to find a way to gain traction among minorities.
On Tuesday, the two clashed over where and when the next debate between them should take place. Each accused the other of trying to avoid a showdown.
"I sure hope - we're in Bernie Sanders' backyard here in New Hampshire - I sure hope he intends to show up in his neighbouring state," Mrs Clinton said on CNN.
On the Republican side, the clearest upshot of the Iowa results was to make Florida senator Marco Rubio a key target for other establishment hopefuls.
With Mr Rubio finishing a strong third in Iowa, he has become the de facto establishment pick over governors Chris Christie of New Jersey and John Kasich of Ohio and former Florida governor Jeb Bush. After their disastrous showings in Iowa, all three know the future of their campaigns depends on them stopping Mr Rubio in New Hampshire.
On Tuesday, Mr Christie accused Mr Rubio of not being authentic or accessible to voters.
"We know who the boy in the bubble is up here, who never answers questions, who's constantly scripted and controlled because he can't answer your questions," he said.
Mr Bush, meanwhile, sought to highlight the lack of accomplishments of both Mr Rubio and the Iowa caucus winner, Texas senator Ted Cruz.
"The two other candidates that are likely to emerge in Iowa are two people that are backbenchers, that have never done anything of consequence in their lives. They're gifted beyond belief, they can give a great speech. But I think it's time to recognise that maybe what we need is someone who can lead, someone who has a proven record," Mr Bush said, stressing that New Hampshire will be where he resets his campaign.
"Next Tuesday, we're going to surprise the world."
The governors have reason to be hopeful as the Republican voter base in New Hampshire is vastly different from Iowa's. There is no influential evangelical Christian bloc and those in the Granite State pride themselves on their independent streak.
Mr Cruz is thus not expected to do well there and is merely waiting for the contest to move on to South Carolina where Christian conservatives dominate again.
Thus perhaps the person with the most to lose in New Hampshire is businessman Donald Trump. Polls have put Mr Trump well ahead in recent weeks and a loss there would seriously dent his credentials.
Dr Galdieri said the next few days will be interesting for Mr Trump as observers look to see if the Iowa results have hurt his standing in New Hampshire.
"I think the danger for Trump personally is that so much of his campaign has been about him being a winner. Losing the Iowa caucus could thus damage him more than it would necessarily any other candidate."
jeremyau@sph.com.sg

This article was first published on February 04, 2016.
Get a copy of The Straits Times or go to straitstimes.com for more stories.