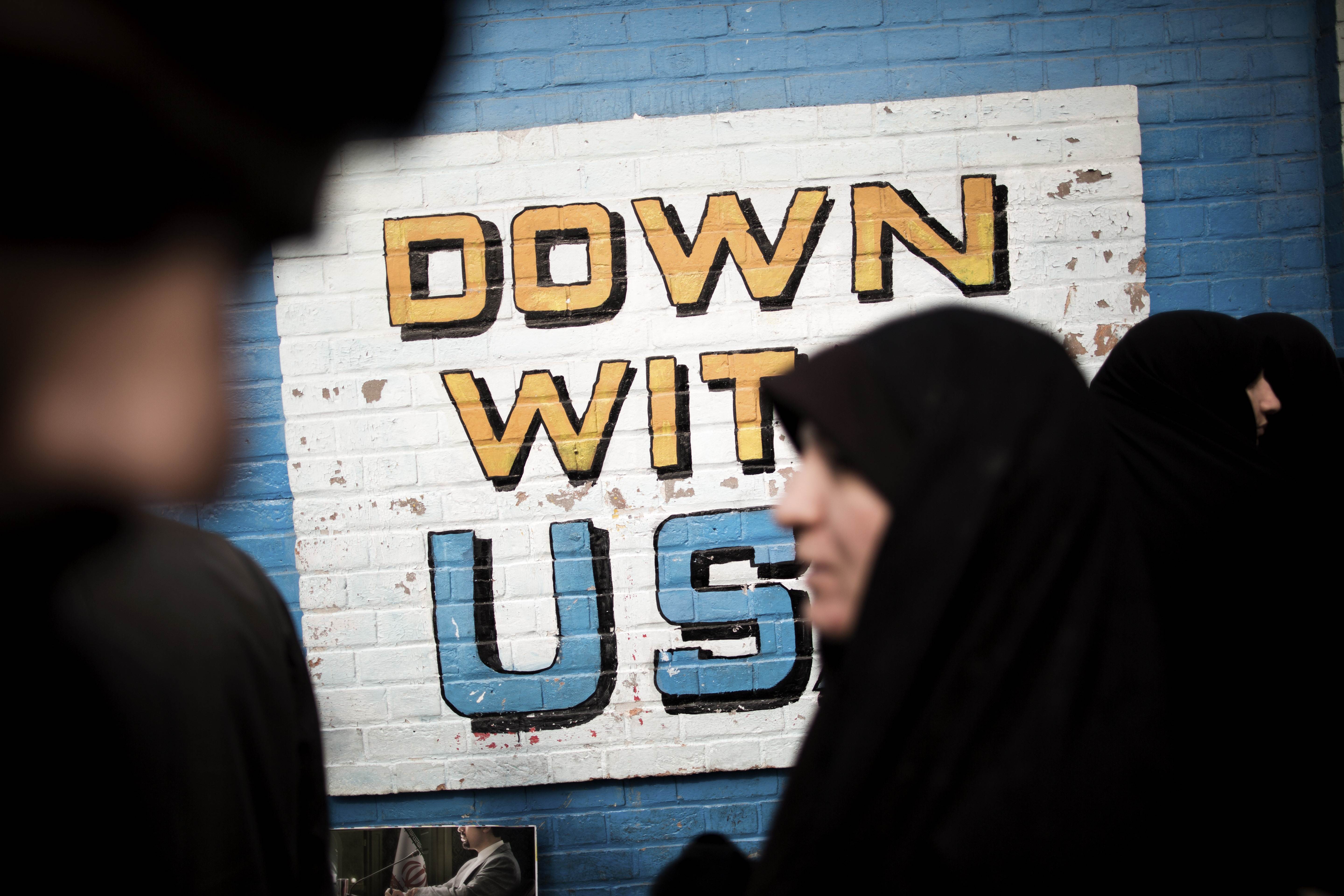 TEHRAN - Thousands of Iranians shouted "Death to America" as they rallied Monday on the anniversary of the 1979 US embassy takeover, in a setback to hopes for a thaw in relations.
Hardline and conservative factions had called for a massive demonstration 34 years after Islamist students stormed the embassy compound in Tehran, holding 52 American diplomats hostage for 444 days.
The crisis, which went on to become a turning-point for Iran's 1979 Islamic revolution, led to the severance of diplomatic ties with Washington and decades of hostility.
Calls for a high rally turnout went out on state television despite a recent taboo-breaking telephone chat between the Iranian and American presidents against a backdrop of growing signals of rapprochement between the arch foes.
The main demonstration was held in front of the former US embassy complex in central Tehran, with protesters waving anti-American banners, chanting "Death to America" and "Death to Israel," and burning the US and Israeli flags.
Effigies of US President Barack Obama, US Secretary of State John Kerry and Israeli Prime Minister Benjamin Netanyahu could be seen held aloft by protesters, a considerable portion of whom were students.
Similar gatherings were reported in other cities across the Islamic republic, according to footage broadcast on state television, in what appeared to be some of the largest November 4 rallies in years.
Hardline ex-nuclear negotiator Saeed Jalili, who has been sidelined since his unsuccessful bid for presidency in July, defended the seizure of the embassy in his keynote speech.
"The Iranian nation cried that the US embassy is home to espionage and sedition 34 years ago," he said in remarks broadcast live on state television.
"Today, friends of America admit to this fact and even protest it," he said referring to the ongoing row between row between Europe and Washington over alleged US spying, including on German Chancellor Angela Merkel's phone conversations.
A big poster was hung near the embassy showing a glum Merkel holding a cellphone adorned with the German Bundesadler, Federal Eagle, and bearing the phrase "Satan's betrayal".
Some protesters carried replicas of centrifuges, equipment used in enriching nuclear material, as a sign of "resistance against sanctions" amid ongoing negotiations with world powers over Iran's disputed nuclear programme.
The United States and Israel suspect Iran's nuclear drive masks military objectives, despite repeated denials by Tehran.
Jalili also defended the "Death to America" chants as an outcry against an "oppressive" US government, while urging support for Iranian nuclear negotiators who have come in for harsh criticism.
Basij militia head Mohammad Reza Naqdi and vice president for executive affairs Mohammad Shariatmadari were reported to be among conservative figures and government officials attending the Tehran rally.
A large number of Iranian lawmakers had issued a statement Sunday vowing to take part in the annual protest in front of the "Den of Spies" - the US embassy compound which under Basij control has turned into a museum showcasing American "crimes" against Iran.
This year's ceremony comes after President Hassan Rouhani, a reputedly moderate cleric who took office in August with a pledge to improve ties with the West, held a historic telephone conversation with Obama on the sidelines of the UN General Assembly in September.
It was the first direct contact between leaders of the two countries in more than three decades, raising hopes of a rapprochement while provoking criticism from hardliners at home against overtures towards the "Great Satan".