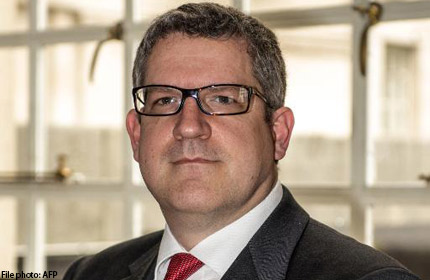 LONDON - The chiefs of Britain's three intelligence agencies were to face an unprecedented public grilling on Thursday, amid intense scrutiny of their work following the leaks from United States analyst Edward Snowden.
The hearing brings Mr Andrew Parker - director-general of domestic intelligence agency MI5 - together with the head of its foreign counterpart MI6 John Sawers, and Mr Iain Lobban, head of electronic eavesdropping agency GCHQ, together in public for the first time.
The questioning by parliament's Intelligence and Security Committee casts an unprecedented light on the British spymasters, who have until now given evidence in private because of the sensitive nature of their work.
The head of GCHQ faces particularly awkward questions because Snowden's leaks have suggested close collaboration between the British listening post and its US counterpart, the National Security Agency (NSA), to harvest vast quantities of data from ordinary citizens' communications.
MI5 boss Andrew Parker has previously accused Snowden of handing a "gift" to terrorists with his leaks.
But Mr Glenn Greenwald, the American journalist who worked with Snowden to publish some of his revelations in Britain's Guardian newspaper, denied that they had done anything to damage national security or to help terrorists.
Mr Greenwald told BBC radio ahead of the hearing: "The system has failed to exercise meaningful accountability up to this point, because there was a huge, suspicion-less system of mass spying that the British people and the American people had no idea had been built in their name and with their money."
But Mr David Omand, former director of GCHQ, accused Mr Greenwald of "dodging around the issue of damage to public security" and said the world was less safe as a result of the leaks.
He told the BBC that lawmakers would face as much scrutiny on Thursday as the spy chiefs themselves because of questions over whether politicians have exercised sufficient control over intelligence operations.
"They're on show this afternoon every bit as much as the three heads of agency," he said.
"They have to demonstrate that they can satisfy the need for oversight." Snowden's revelations have strained Washington's ties with its allies over suggestions that it has spied on dozens of foreign leaders, including by tapping the mobile phone of German Chancellor Angela Merkel.
Ahead of the hearing, the committee said the three spy chiefs would be questioned over terrorist threats to Britain, cyber security and espionage.
But it warned: "Since this is a public session, it will not cover details of intelligence capabilities or techniques, ongoing operations or sub judice matters."
Germany this week demanded answers from Britain's ambassador over a media report that London has been operating a secret listening post from its Berlin embassy.
Britain's Independent newspaper said it based the report in part on leaked documents from Snowden, who has exposed massive US surveillance programmes over the past few months.
Mr Tim Berners-Lee, the computer scientist who created the World Wide Web, said the system of checks and balances over GCHQ and the NSA had failed.
Speaking to the Guardian, he accused the agencies of making an "appalling and foolish" decision to crack the encryption used by millions of people to protect their online communications.
"We need powerful agencies to combat criminal activity online," he said.
"But any powerful agency needs checks and balances and, based on recent revelations, it seems the current system of checks and balances has failed."