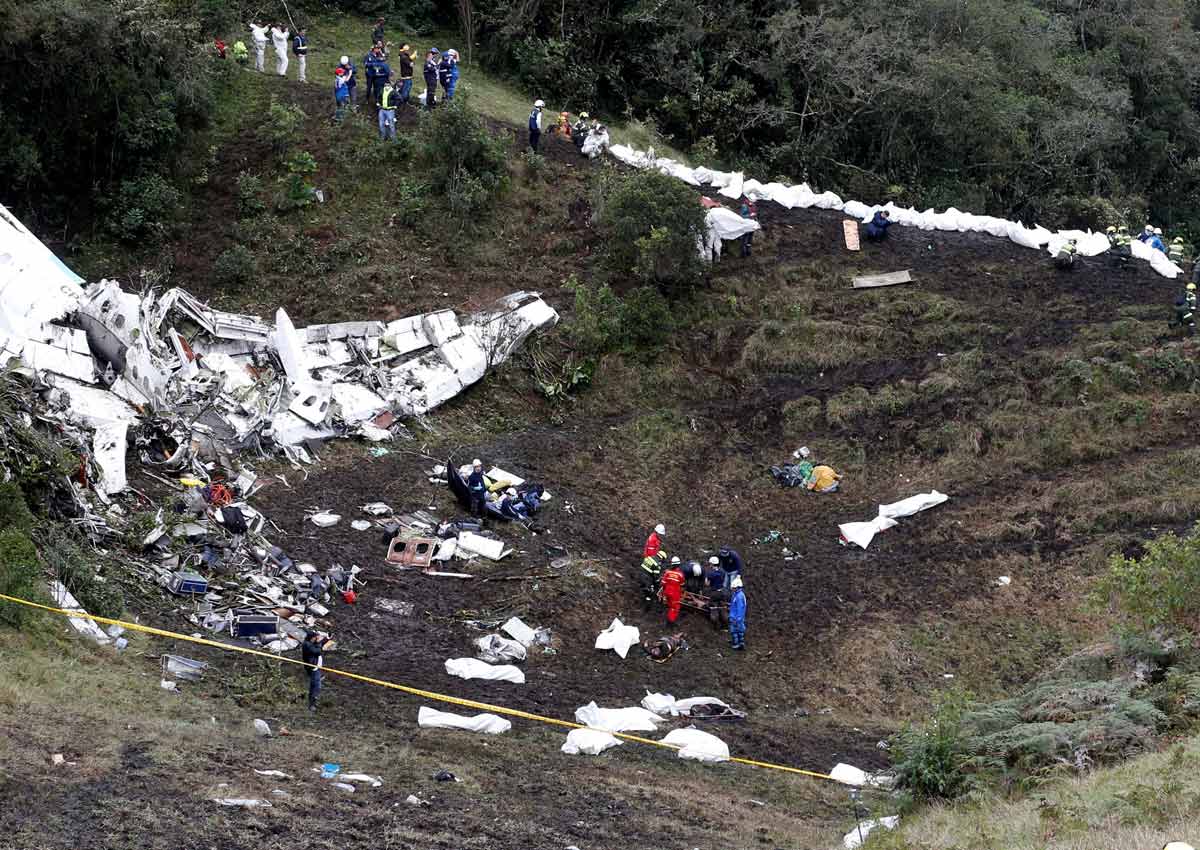 LA UNION, COLOMBIA - Here's what we know - and don't know - about flight LMI 2933, which crashed into the Colombian mountains Monday night with a Brazilian football team on board, killing 71 people.
The crash
The charter flight from the Bolivian city of Santa Cruz reported "electrical failures" around 10:00 pm Monday (0300 GMT Tuesday).
Soon after, the plane crashed just short of its destination, the Medellin international airport in northwestern Colombia.
The plane broke apart on impact in the remote mountains of Cerro Gordo, leaving the shattered white fuselage plastered on a hillside. The plane's two black boxes have been found.
Officials did not immediately say how long it would take to analyse their contents. The mountainous terrain is very difficult to access, a local official said. Rescuers had to hike for more than half an hour to reach the site.
The victims
Colombia's disaster management agency said 71 people were killed. It lowered an initial death toll of 75 given by the civil aviation authority after it emerged that four people on the passenger manifest had not in fact boarded the plane.
Six people survived: three players, two crew members and a journalist. They are being treated in hospital.
The regional governor, Luis Perez, said it was a "miracle" they survived.
The plane was carrying club team Chapecoense Real to the first game of a two-leg final to decide the Copa Sudamericana, South America's second-biggest club tournament. Based in the city of Chapeco in southern Brazil, the unsung team was having a Cinderella season after defying the odds to reach the Copa Sudamericana finals.
The team's goalkeeper Marcos Danilo Padilha, 31, died on the way to hospital after the crash, the civil aviation authority said.
His last-minute save in the semi-final had sealed the team's spot in the final.
There were 20 Brazilian journalists among the dead. They included six employees from the Brazilian affiliate of Fox Sports television. One of them, Mario Sergio, was a well-known announcer and former Brazilian international football player.
The charter plane
The British Aerospace 146 airliner entered into operation in 1999, said a spokesman for the manufacturer.
The four-engine jet had been used by two other airlines before being sold to Bolivian charter company LAMIA, which operated the flight.
Britain's Air Accidents Investigation Branch said it was sending investigators to Colombia along with representatives of the plane's manufacturer BAE Systems to help with investigations.
The same plane was used two weeks ago to fly the Argentine national football team - with superstar Lionel Messi on board - to San Juan, Argentina for a World Cup qualifying match, according to aviation specialist tracking sites.