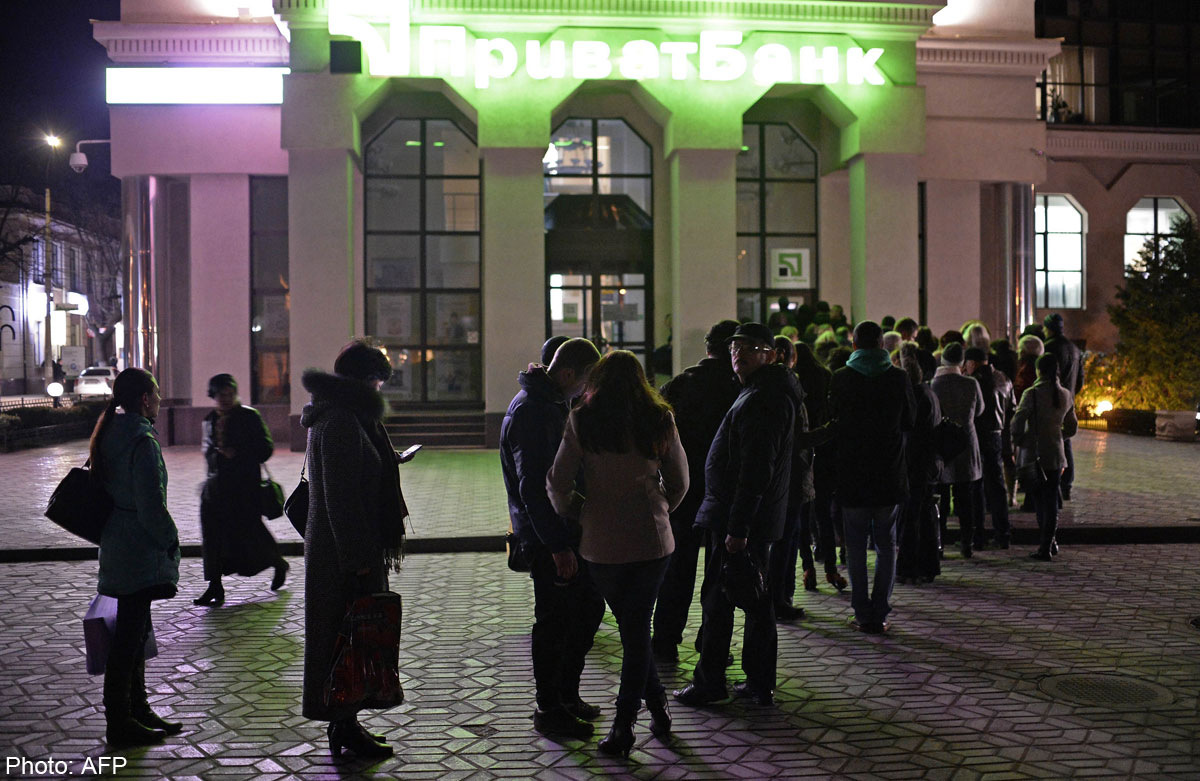 KIEV - Crowds in Crimea queued outside banks as the countdown to this weekend's referendum to break away from Ukraine and join Russia sowed panic, confusion and fear of a looming legal vacuum.
Local pro-Moscow officials have tried to reassure locals, saying there will be no problem with pensions or salaries and that the banks have sufficient cash for everyone.
But details on how the financial system will work if Crimea severs ties with mainland Ukraine were sketchy and officials said there were plans to use the Russian ruble alongside the Ukrainian hryvnia "for a period of time".
Rumours were spreading fast, including a report dismissed by the pro-Kremlin authorities as a "provocation" that all savings accounts were being frozen and withdrawals were being limited to just 300 hryvnia (S$39) per day.
"I couldn't get any money out in any of the cash machines of Oschadbank in Simferopol. They had no more cash. So I came here to their main branch," said one woman in a long queue outside the Ukrainian lender in the Crimean capital.
The limit on cash withdrawals in most banks in Crimea has been set at 1,500 hryvnia a day and some people have queued up day after day to take out as much money as possible in instalments.
Long queues also formed in Sevastopol, the historic port city that is home to Russia's Black Sea Fleet and where Ukrainian military bases are surrounded by Russian forces.
Signs outside branches of Morskoy bank said cash machines were out of order and employees said they were not receiving enough banknotes.
There have even been reports in the local press of locals quickly taking out large loans in the hope that they will not have to pay them back once Ukraine becomes a part of Russia.
Several bank press services contacted by AFP declined to speak on the record but an employee at one of Ukraine's biggest lenders, PrivatBank, in Simferopol said: "People are panicking because they want to keep their money at home." "When they see the cash, when they can touch it, they calm down. There are so many people coming now that we cannot cope with them all," she said, speaking on condition of anonymity because she was concerned about losing her job.
'The hryvnias are running out' 
At UniCredit Bank in Simferopol, one manager said: "People are closing their savings accounts and trying to get all their money out." "First there's political instability and secondly, people don't know what will happen from Monday" - the day after the referendum.
"People are afraid Ukrainian banks are going to close down branches here and since everyone is trying to take their money out at the same time, the hryvnias are running out," he said.
"Some people are taking money out and putting it under the mattress, others are stocking up on food," he added, blaming the local government for "assaulting the banks".
"They have taken a series of steps without any logic that is just sowing confusion".
Crimea's deputy premier Rustam Temirgaliyev has said that if the peninsula joins Russia, local lenders will fall under the country's law.
"Ukrainian banks working in Crimea will have to register as foreign banks in Russia," he said.
In Kiev meanwhile, central bank governor Stepan Kubiv said the security situation had hampered movements of cash and "we cannot ensure the transportation of cash even within Crimea".
In Simferopol, Aleksiy Yefremov, head of the student association "New People of Crimea" said he was concerned that bursaries for local students might not be paid out but added that there were also "a lot of rumours going around".
"Whether we stay with Ukraine or go with Russia, it's understandable that people are concerned," he said. "We do not have enough information. Do we listen to official Kiev or to the local authorities?"