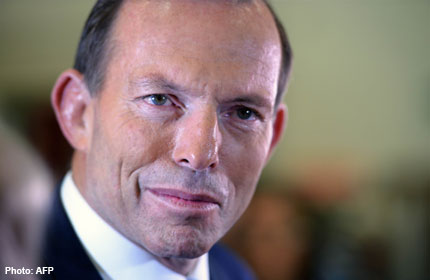 SYDNEY - Australia's conservative leader Tony Abbott was headed for a landslide victory on Saturday as voters punished Prime Minister Kevin Rudd's Labor government for six years of turbulent rule and for failing to maximise a now fading mining boom.
Abbott, a former boxer, Rhodes scholar and trainee priest, promised to restore political stability, cut taxes and crack down on asylum seekers arriving by boat.
But it was frustration with Labor's leadership turmoil that cost the government.
Labor dumped Rudd in 2010, for Australia's first female prime minister Julia Gillard, only to reinstate him as leader in June 2013 in a desperate bid to stay in power.
"This was an election that was lost by the government more than one that was won by the opposition," former Labor prime minister Bob Hawke told Sky News, as voting closed in the New South Wales, Queensland, Victoria and Tasmanian states.
A exit poll for the Nine television network found support for Abbott's Liberal-National Party coalition at 54.5 per cent, compared to 45.5 per cent for Labor.
That would give Abbott a majority of more than 40 seats in the 150-seat parliament, ending the country's first minority government since World War Two. Labor had relied upon independent and Greens support for the past three years.
Officials from Abbott's Liberal Party were confident of victory after a gruelling five week campaign.
"It's been a long campaign, but right now we are quietly confident that people have voted to turn things around and get the economy back on track," Liberal Party national director and Abbott's campaign director Brian Loughnane told Reuters.
The election has been pitched as a choice on who is best to lead the A$1.5 trillion ($1.4 trillion) economy as it adjusts to an end to a prolonged mining investment boom, fuelled by China's demand for its abundant natural resources.
Angry voters
Abbott, a fitness fanatic often photographed in his swimming costume at his local beach, voted early at a Sydney surf club on Saturday, accompanied by his wife and daughters.
"I sort of wish I was out there on the waves. It's a nice wave for an elderly long boarder this morning," quipped Abbott, 55, wearing a suit and tie.
Rudd's vote in his hometown of Brisbane in sub-tropical Queensland was disrupted by protests against tough new laws on asylum seekers arriving in Australia by boat, a hot button issue particularly in Labor's blue-collar suburban heartland.
Abbott has built up a strong opinion poll lead on the back of promises to rein in government spending, scrap an unpopular tax on carbon emissions, and stop the flow of refugee boats arriving in Australia's northwest.
His campaign has had support from media magnate Rupert Murdoch and his Australian newspapers, which have urged voters to reject Rudd's Labor government.
Australia's other major newspaper group Fairfax also called for a change of government.
"They (voters) wanted stability. What Tony Abbott did was put up a unified team. It was the accumulative effect of six years (of Labor disunity) that played into the idea it was time for change," said Labor candidate Peter Beattie.
Rudd had painted Abbott's planned spending cuts as dangerous European-style austerity and said his government was best placed to manage an economy that is slowing but remains the envy of much of the developed world.
A record 1,717 candidates are contesting the election, including colourful mining entrepreneur Clive Palmer, and Wikileaks founder Julian Assange, who is holed up in the Ecuadorean embassy in London.
While the exit polls point to an easy Abbott victory, much of the interest remains in the results in the upper house Senate, where the Greens, independents and fringe parties might hold the balance of power and frustrate Abbott's legislative agenda.