Covid-19 has spread to more than 140 countries, changing the everyday lives of people all around the world. Seven South China Morning Post journalists in seven cities across four continents share their experiences.
Keegan Elmer, from Beijing to Helsinki
When my children and I left Beijing for Helsinki in early February, case numbers in the Chinese capital were rising by the dozen daily, while Finland only had one confirmed case.
Beijing had closed the schools and my oldest daughter had just begun online classes as we left for Finland. To this day, her school and others have yet to resume classes on site.
Now, Finland's cases are rising by the dozen, and the Finnish government announced on Monday night that schools were to close and the nation's borders would shut as well.
All appeared calm when we arrived in the capital of Helsinki.
We had a scare later on, however, when my oldest daughter's former elementary school, just a few kilometres from our home in the Finnish capital, quarantined hundreds of students after their classmate came back from a skiing holiday in Italy, now host of the largest outbreak outside China.
Finland is known throughout Europe as home to its most composed, even stoical, people, but I did observe the first signs of panic buying last weekend.
In Beijing, most food is delivered to the door, but in Finland, we still rely on visits to the grocery store even as virus prevention measures intensify.
There have been no long queues, but toilet paper had disappeared from the shelves of our local shops from time to time.
Thankfully, toilet paper shortages are scarce now that the official border closure has begun, though my closest grocery store has run out of Corona brand beer.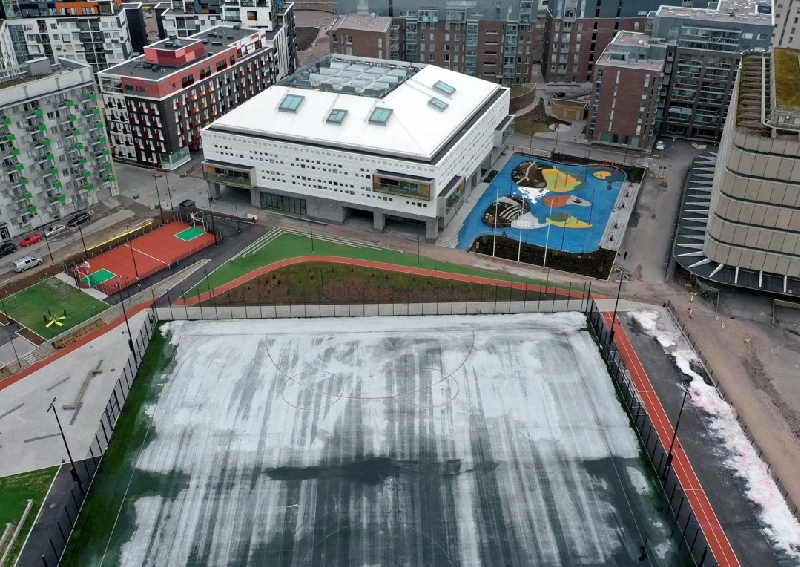 Empty streets and a school playground in Helsinki. PHOTO: Reuters
Our local pharmacy is completely sold out of protective masks - even though people don't wear masks in the streets here as they do in Asia - and sales of hand sanitiser are limited to one per person.
Life continues as normal, though that may change.
Children are still playing football on the nearby pitch, as schools are closed, even though we are all recommended to exercise "social distancing".
A friend offered to have beers via Skype, as we had plans to meet at a pub sometime during our visit.
As I write, there are 319 confirmed cases of the disease in Finland, and our flights home - booked for the end of March when we left - have been already been cancelled and rebooked as airlines scrap Asia-bound trips.
We hope to return to Beijing where we live soon, though I personally do not look forward to the mandatory quarantine of all foreign travellers returning to Beijing, a measure announced by the city government on Monday.
The measures allow for children to be in isolation at home with their mother, who has remained in Beijing.
Here, by contrast, we have free internet, and are free to leave our homes, while in Beijing it would be back to VPNs and isolation enforced by the local neighbourhood committee.
Even before we left Beijing, they came to our door to inquire whether anyone from outside Beijing had come to stay at our house.
China's total number of domestic cases is dropping, and imported cases in international hubs like Beijing are the main source of new infections.
I may be one of the many hundreds, or possibly thousands, placed in isolation for two weeks, at my own cost, though this will be the smallest price to pay among the billions of people around the world that have all been affected by the disease and prevention measures.
Thousands have already paid with their lives.
Hilary Clarke, London
When it first became apparent that Covid-19 was heading this way, I decided to take precautions - and made lots of tomato and ginger and chicken bone soup for the freezer - the kind of food you might need if you get sick.
I stockpiled a few cartons of fresh juice. I would be more careful visiting my 90-year-old mother and start laying some strict rules in the house for rigorous hand washing.
As a home-worker anyway, life could carry on more or less as usual, minus some of the friends and fun.
ALSO READ: Why are people hoarding toilet paper during the coronavirus outbreak? Experts explain
Little did I imagine the impact of Prime Minister Boris Johnson telling the country the government's strategy was to build herd immunity - and that the main cause of my anxiety would be the supermarket stampede.
The most dangerous activity in London right now is trying to do some shopping as panic buying grips the nation, with all those people jostling, touching shelves and checkout counters - no doubt also spreading the virus.
It started with toilet rolls but quickly became a frenzy, with videos across social media of people leaving, looking smug with trolley loads of goods like those trophy hunters you see in Africa.
The sight of the larger stores completely stripped of essential items was more frightening than the coronavirus and made me wonder what kind of selfish greedy country the UK had become.
The bigger the shop, the bigger the crowds of human locusts.
It is as if people in the UK believe they can consume their way out of any crisis.
I suspect there was also some profiteering involved, as reports come in of corner shops jacking up prices.
Those most vulnerable, the elderly and tired health care workers looking for food on their way home from a gruelling shift suffer most.
I've tried to resist as much as possible out of principal, I've got a hand shower by the loo so can survive without bog roll, but I am a bit worried I don't have much rice left.
There are now moves afoot to arrest the situation, with new laws planned to allow the larger supermarket chains to co-operate with each other in a waiver of usual competition laws.
Leon, a restaurant chain, has announced it is converting its premises into mini-supermarkets which could also set a new trend in the age of corona.
Mandy Zuo, Haining
I spent six weeks with my parents in my hometown this Lunar New Year because of the coronavirus outbreak, which is my longest stay since I left home and started living on my own.
I left Shanghai for Haining, a small city in Zhejiang province about 90 minutes' drive away, for the most important Chinese festival on January 22.
Like millions of other Chinese people who made this annual migration, I never expected I would have our longest-ever family reunion there - first the public holiday was extended and then the company asked staff to work from home.
Compared with densely populated Shanghai, Haining is a much safer place, with only four confirmed cases so far, all of whom have now recovered, among a population of 870,000.
But people were no less scared amid a rapidly growing number of new cases around the country and government restrictions on movement.
Between January 23 and 26, starting with Wuhan, then the epicentre of the epidemic, almost the entire province of Hubei was put under a strict lockdown.
Early in the morning of the 26th we had two unexpected visitors at my parents' house in the outskirts of the city - a couple who had driven all night to escape from Jingzhou in Hubei before it went into lockdown.
They have been our tenants in Haining for many years and working in a local factory, but we didn't expect them to return so early - it was only the second day of the Lunar New Year - from their visit to their hometown in Hubei.
Although they isolated themselves in their room upon arrival, they immediately became enemies of our neighbours, who described them as "time bombs" that could trigger an outbreak of the virus in the community any time.
My family became the centre of attention as well, receiving many complaints that we should have expelled them.
I tried to ease their worries, explaining that the risk of them carrying the virus was low - only three confirmed cases were reported in Jingzhou back then and they had avoided public transport.
I also tried to explain that even if they did carry the virus the risk of them infecting the neighbours was low, because every household lives in a separate house.
People line up to give blood in an otherwise empty street in Haining.  PHOTO: South China Morning Post
Sadly people simply refused to think. They asked: "Why would the authorities make such a fuss if the risk is low?"
The subdistrict government finally intervened after a day of arguments.
A surveillance camera was installed outside their door to make sure they stayed inside all the time for 14 days.
Probably because it didn't work properly, volunteer guards were later sent to watch them around the clock and eventually they were given the all-clear.
The husband later told me it had been a hard decision to leave their hometown earlier than planned.
"I knelt down in front of my mom before leaving in such a haste. I decided to do so because I was worried I wouldn't be able to go back to work in time once the lockdown was imposed," he said.
Lee Jeong-ho, Seoul
I've been in Seoul since February - and it's interesting to see how the national response is heavily based on "campaigning", which means minimising restrictive measures to safeguard core democratic values.
For example, the city is running a "social distancing" campaign, calling for people to "take a break from their social lives", to limit face-to-face interaction and slow down the spread of the deadly coronavirus.
Almost all of the measures are voluntary.
The social slowdown is taking place throughout the country with people moving and interacting less.
For example, outdoor gatherings have ended, with musical concerts and political protests being postponed. Bars and restaurants are also mostly empty - nevertheless, you can still see customers at one or two tables.
Most shops have hand sanitisers at their entrance, and provide services to sanitise your mobile phone.
Almost everyone is wearing masks on the streets - and some shops require their customers to wear masks if they want to enter.
My apartment block has put hand sanitisers in all of its lifts, public toilets and other shared facilities.
Most religious services have ceased here, being held over the internet instead. But churches that continue to ignore government advice and gather together to hold services are now one of the authorities' biggest challenges.
Some medical experts are advising the central government to take stronger measures in banning all group activities - but the government is reluctant to do so as it would compromise its democratic values.
Meanwhile, landlords here are also discounting rental prices to their tenants - which is also part of a social campaign taking place in South Korea right now.
I am also seeing various "new entertainment facilities" throughout Seoul.
As ordinary people's biggest challenge these days is the fight against boredom, some local authorities have introduced a "book drive-through system" where you can borrow books in your car without having to come into contact with others.
The authorities also installed "smart automatic libraries" throughout the city - gigantic vending machines where you can borrow books without having to deal with librarians.
No panic buying is taking place here. Toilet rolls are piled in stores and are on discount. Food supplies - including instant noodles, rice and canned foods - are in plentiful supply in supermarkets.
The government, however, made it compulsory for schools to be closed until mid-April.
Meanwhile, the media and opposition have been hammering the government when it implements inadequate and incomplete measures, which has spurred it to take more pre-emptive measures and improve its response.
Tashny Sukumaran, Kuala Lumpur
Malaysia has had a whirlwind of a month - in February, the government changed.
There was mass confusion for a week as we all waited to see who would be appointed as the new prime minister. Around the same time, the coronavirus hit our shores in earnest.
After weeks of hearing about just a few cases a day, the numbers climbed into the tens and now, the hundreds.
People started panic buying after weeks of criticising our neighbours, Singapore, for doing the same.
Everyone carries around hand sanitiser, and society is divided in half: Those who are taking the virus seriously, and those who have no interest in "flattening the curve", saying it's no worse than a flu and failing to take into account the wider and deeper ramifications of infection.
An empty street in front of the Petronas Twin Towers in Kuala Lumpur. PHOTO: Reuters
We are now in our third day of a partial lockdown, or what the government has called a "restricted movement order".
Although journalists are considered essential services during this period, many of us have still elected to stay home as much as possible, only emerging for important press conferences.
Tensions are high, with petty squabbles breaking out within WhatsApp groups and fake news spreading wildly. I told a friend I predicted a birth rate increase in nine months; he predicted a spike in divorce cases.
But, at the same time, the outbreak has shown me the best that Malaysia has to offer, like the Kita Jaga Kita (Malay for "we look after us") platform - a grass-roots movement that connects those who need help with those able to support them in one way or another.
Or individual Malaysians who have sent snacks and food to frontline medical staff, or organisations such as the Women's Aid Organisation which will continue to keep its domestic violence services available virtually during the two-week restricted movement period.
And most importantly, we haven't lost our sense of humour - and it's admittedly with some bias I say that I fully believe we are the funniest people in the world.
Malaysia, like the rest of the world, will pull through - and the cherry on the sundae will be watching Liverpool lift the trophy.
Meanwhile, as we ride out the partial lockdown, I intend to live by the sage advice of one of my dearest friends: Just chillax and don't get infected.
Jevans Nyabiage, Nairobi
In Nairobi, Kenya's capital city, businesses are slowly coming to a standstill.
Before March 13, when the country confirmed its first case of coronavirus, Kenyans only read about the deadly coronavirus and how it was ravaging China and Italy.
It has now hit home.
As I write this, the country has confirmed seven cases of the virus, which causes Covid-19.
I live in Nairobi, and on a normal morning business for the matatu - minivans that shuttle 5 million passengers around every day - would be booming. But now they take a long time to fill up.
Bus fares have also been slashed as passenger numbers continue dipping. Many people have opted to stay away from the city; either they have travelled to the countryside or prefer to stay indoors.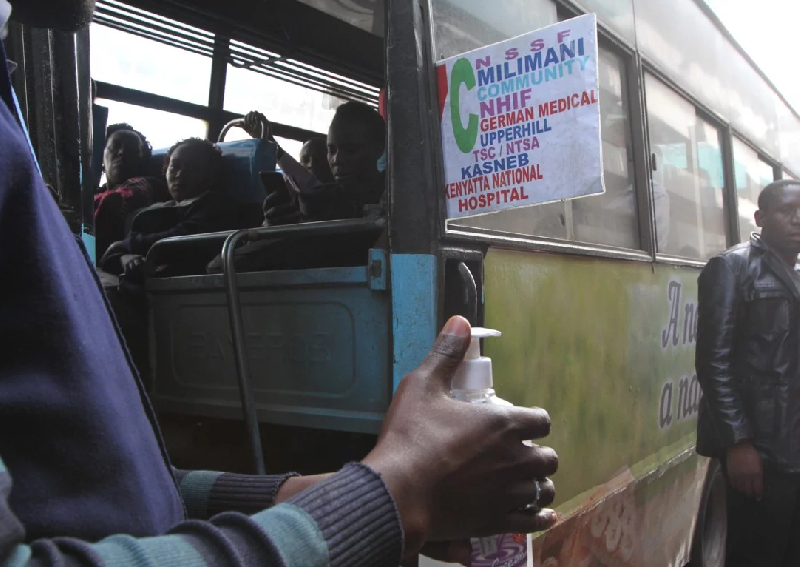 A bus conductor holds sanitiser which passengers use to clean their hands before entering the bus in the Kenyan capital. A handout photo. PHOTO: South China Morning Post
The traffic menace that is characteristic of the roads in Nairobi has eased following a directive to employers by President Uhuru Kenyatta to encourage some of their staff to work from home.
In the past few days, I have seen most public transport vehicles use sanitisers for their passengers to clean their hands before boarding.
Most buildings and malls also have sanitisers and hand-washing points. Most buildings in the city have been performing temperature checks for clients as a precautionary measure to enable them to detect suspected cases.
Everywhere you look, there is something that coronavirus has changed among the Nairobians.
If it is not handshakes, it is social gatherings. The small meetings that were common in everywhere around the city have disappeared.
Government services are not being offered and the authorities have suspended all large gatherings.
Conferences and sporting activities have stopped, while visits to tourist sites, including museums, have been banned. Churches and mosques across the country have suspended crowded services.
Justice will be delayed after court sessions were halted. Millions of school-going children are locked in their homes.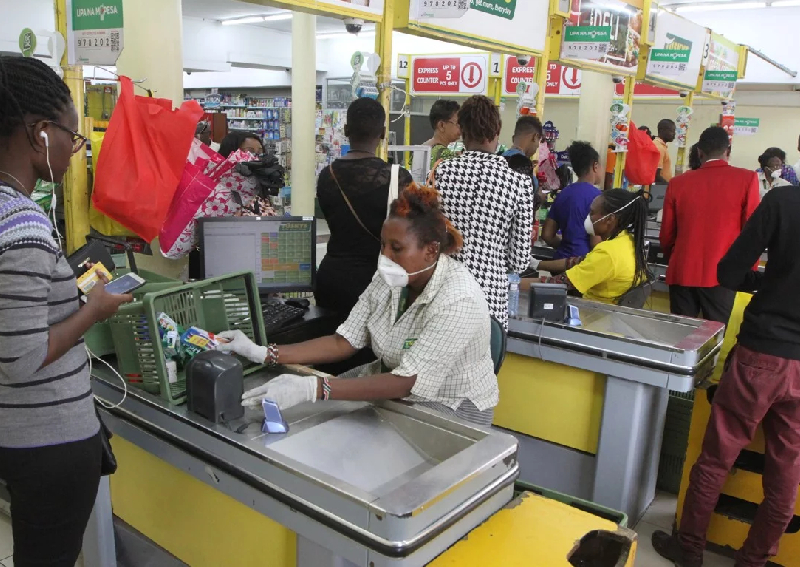 Shoppers inside a crowded supermarket in Nairobi. A handout photo PHOTO: South China Morning Post 
In the city, I have seen health officials fumigate public places, including bus stops and public sitting places.
Trading activities, especially in open-air markets, have been stopped by various county governments.
Since the first case was announced, panic buying has set in, with food and hygiene products flying off the shelves. A litre of sanitiser is now retailing at US$10 (S$14) or more.
But more seriously businesses are hurting. Small traders that depend on imports from China for sales say they are running low on merchandise.
Other business executives tell me the situation is dire and they need government bailouts or tax breaks to enable them to keep employees on the payroll, otherwise, they will be forced to lay them off.
For instance, cut flower companies have been worst-hit due to the coronavirus lockdown in many European countries, where potential buyers are holed up in their houses.
Kenya accounts for more than a third of the cut flowers or roses sold in the European Union, and the sector is the country's second-largest foreign exchange earner.
Hoteliers have also recorded massive cancellations after the government banned travellers from any country that has reported coronavirus cases.
Businesses can only hope no more cases are reported that would prompt a complete lockdown of the city.
Daniel M Gold, New York City
I have lived or worked in New York most of my life - been around for three blackouts (1964, 1977, 2003), two financial crashes (1987, 2008), a killer superstorm (Sandy, 2012) and, of course, September 11.
And I can confirm that the Great Social Distancing of 2020 is its own thing.
Those other New York events were far-reaching and consequential, but they were all just that - events - and you could see the other side of when they would end.
Not so today: The timeline of when we return to "normal" remains fuzzy, beyond the horizon. Until we're told otherwise, this is the normal we have.
Yes, a public health crisis is different. The only other one I recall hitting the city hard was the 1980s Aids crisis, when public baths, massage parlours and some bars were shuttered.
But Covid-19 cuts across all demographics, categories, sectors: Broadway is shut, so are museums and concert halls, comedy and jazz clubs, restaurants and cafes. OK, Katz's Delicatessen is still operating - but it's takeout only, and open just until 10pm.
My last night in Manhattan before I hunkered down, I walked through Times Square - and it was as empty as it had been on 9/11, maybe emptier.
I'm sure indie filmmakers are prowling the streets as I type, shooting b-roll for yet-to-be-written epics about the apocalypse.
I live now in Westchester County, just north of the city - a handful of miles from New Rochelle, where the first identified cluster of Covid-19 cases on the east coast was identified.
So I stopped getting gas or using the library or eating out there - and then most of those services were shut anyway. (On the plus side: The state set up its first drive-through coronavirus test centre there. Sweet.)
The city - and state - shutdown happened, as Hemingway wrote of someone going bankrupt: Slowly, then all at once.
One night last week, you could see how uneasy people were about going out.
My mother insisted we keep our date to see the New York Philharmonic, an orchestra whose primary, elderly audience is a target-rich environment for Covid-19.
Mom said that if it were dangerous, the performance would have been cancelled.
The hall was at least a third empty, though, and it was obvious that individual arts organisations were not going to make that decision; it would cost them too much. They needed someone else to order them to close.
Which governor Andrew Cuomo did, the next day - a brave, tough, and correct call.
First he closed gatherings of 500 or more; by the time we digested that, he was banning gatherings of more than 50 people.
By the weekend, he and Bill de Blasio, New York's mayor, were competing to see who could close more businesses. The city still never sleeps, it's just insomniacs with nowhere to go.
Social media has been filled with heart-warming clips from cities around the world of self-quarantined souls making connections: Impromptu singalongs from stacks of balconies, duets by random musicians living near one another.
My favourite, though, is a clip from Brooklyn, with folks in their walk-up flats or on their fire escapes calling out to passers-by on the streets below and urging them, shall we say quite strenuously and profanely, to get inside.
Now, that's community.
For the latest updates on the coronavirus, visit here.
This article was first published in South China Morning Post.