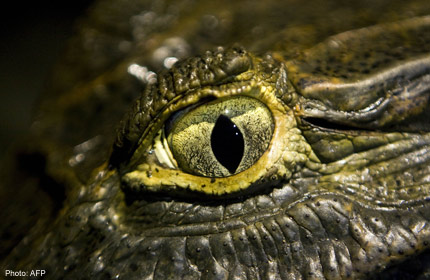 ATHENS - A Greek reptile expert on Friday began an operation to trap a two-metre long crocodile that mysteriously appeared in a man-made lake on the tourist island of Crete last weekend.
"We are placing our hopes on the crocodile's hunger," herpetologist Petros Liberakis, who works at the island's natural history museum, told Skai TV.
"The operation could take two days, or a couple of weeks, or it could fail altogether," he said.
Cages laden with meat will be placed near the artificial dam, some 15 kilometres (9.3 miles) from the city of Rethymno.
Crews had previously fenced off a one-kilometre stretch of coast around the lake to keep curious visitors away.
"We have opted for the safest method for both the animal and people involved," Liberakis said.
If captured, the local forestry department will decide whether to send the crocodile to an aquarium on Crete or a wildlife park near Athens, the animal expert added.
Local officials say the crocodile, spotted by fire officers on patrol last weekend, was likely abandoned by its owner in the area up to two years ago.
Locals have named the crocodile Sifis -- Cretan for Joseph -- and opinion is divided on the island over whether it should be removed.
"I've seen an unofficial poll in which 60 per cent of people said it should be left at the lake, and 10 per cent say we should even bring more of them," local public works official Vangelis Mamagakis told the station.
The Crete crocodile is not the first to make an unexpected appearance in European waters. In 2001, fire officers in Austria were called to rescue from the river Danube a South American crocodile, which was later taken to Vienna's Schoenbrunn zoo.