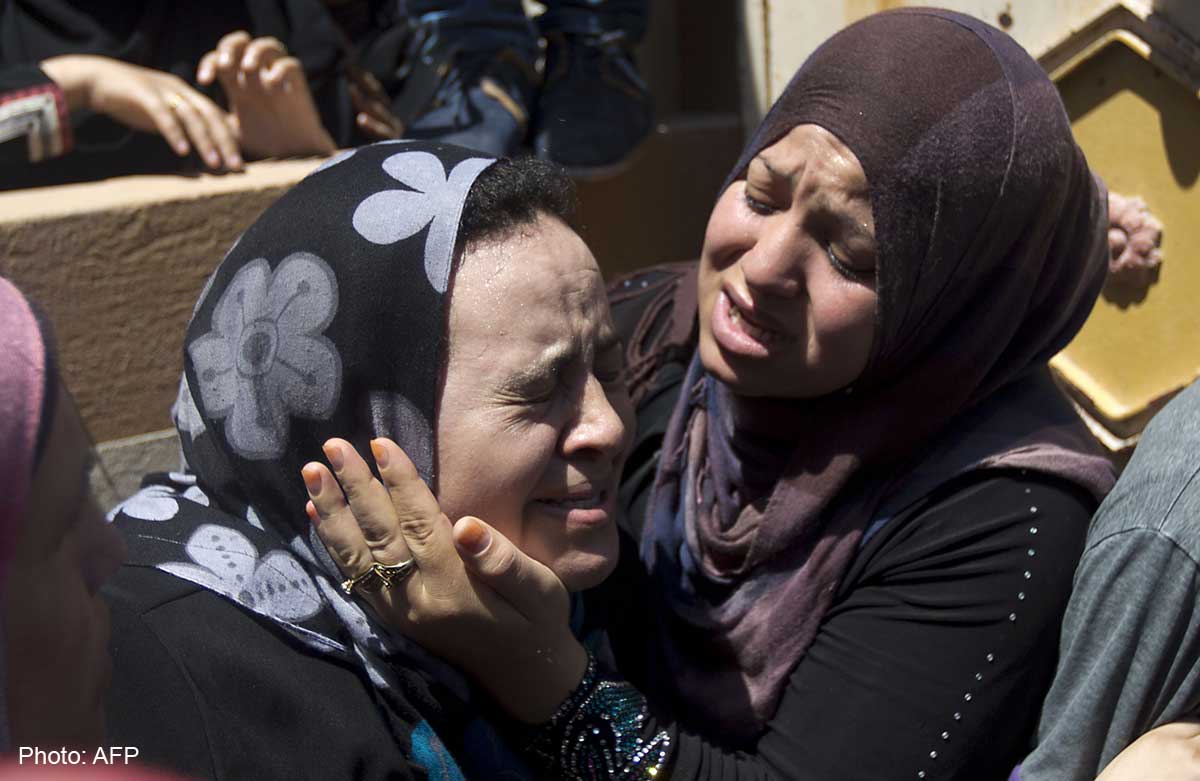 GAZA CITY, Palestinian Territories - Seventeen women and children were among 29 Palestinians killed in an Israeli military operation in Gaza Wednesday, hiking the overall toll to 50 in two days, the emergency services said.
Nearly 500 people have been wounded.
Among the dead were at least three militants as well as 10 children and seven women.
It was not immediately clear whether the other fatalities were civilians or militants.
In at least five of the strikes, the victims were all women and children, emergency services spokesman Ashraf al-Qudra said.
During the afternoon, a missile struck a house in Al-Maghazi, a beachside refugee camp near Deir al-Balah in central Gaza, killing a mother and her four children, Qudra said.
Earlier, another two women and four children died in a series of raids to the north and east of Gaza City.
A strike on Shejaiya, east of Gaza City killed two brothers aged 12 and 13, while another attack on the nearby nearby Zeitun neighbourhood killed a woman and her 18-month-old son.
Further north, another missile hit Beit Hanun, killing a 40-year-old mother and her son, 14.
Two separate strikes in the evening killed four people, including a woman and a child, Qudra said.
One in the southern city of Rafah, killed a 60-year-old woman and a 10-year-old girl; the other was in Beit Hanun and killed a 57-year-old man and his son, 20.
Late on Wednesday, a missile hit a car in western Gaza City killing a 37-year-old man working for Palestinian news agency Media 24.
And in a separate incident, Israeli troops killed two militants in a battle on the beach after they managed to infiltrate southern Israel by sea, public radio said.
Earlier, in an attack shortly after midnight, a missile slammed into a house in Beit Hanun, killing Hafez Hammad, a senior Islamic Jihad commander, and five relatives, including two women and a 16-year-old girl.
In Mughraqa in central Gaza, medics retrieved the body of 80-year-old Naifeh Farajallah from the rubble of her house damaged in an earlier air strike.
In the same area, an Israel missile killed two men in a field near Nusseirat refugee camp - a 60-year-old man and his son, 31.
Elsewhere, a 30-year-old man was killed in a pre-dawn strike on the southern city of Rafah.
In the northern town of Beit Lahiya, a missile struck a motorcycle leaving a 30-year-old man clinically dead and severely wounding a second person.
Since the start of Operation Protective Edge early Tuesday, Israeli warplanes have struck 550 targets in Gaza.
On Tuesday, 21 Palestinians were killed - 17 in strikes on Gaza, and four Hamas militants shot dead after infiltrating southern Israel by sea.
Israeli troops on Wednesday killed two more Palestinians who came ashore on dunes close to the Gaza border, near the scene of Tueday's foiled assault.
Since Tuesday, more than 170 rockets struck Israel, with 45 of them targeting major cities in the centre, among them Jerusalem and Tel Aviv, as well as Hadera, 116 kilometres (72 miles) to the north.
Another 57 missiles were shot down by the Iron Dome anti-missile system.