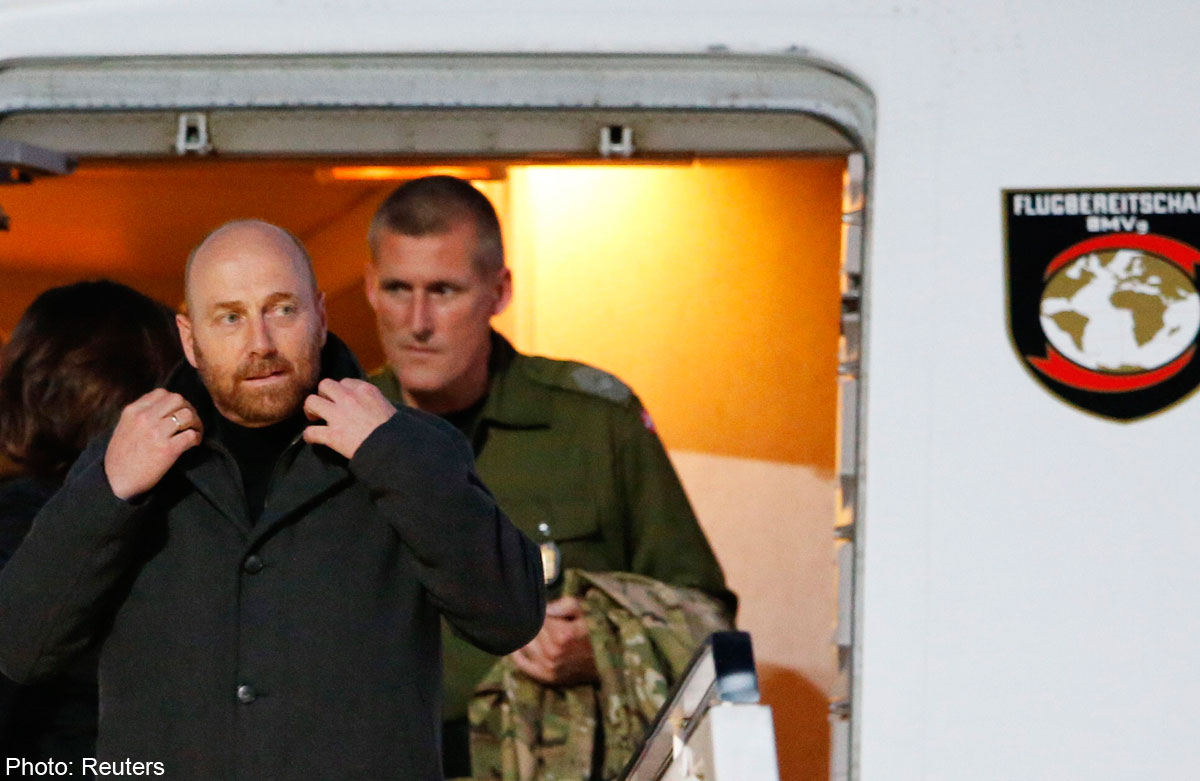 BERLIN - The head of an OSCE team released by pro-Russian rebels in east Ukraine on Saturday expressed his "deep relief" after an ordeal that lasted more than a week.
"It is happiness, a deep relief," German Colonel Axel Schneider told a small group of journalists on the road outside of the Ukrainian city of Donetsk.
He spoke as he and the rest of the freed members of the OSCE team were on their way to Donetsk, from where they flew to Kiev and then onwards to Berlin in a German government jet, where they landed late on Saturday night.
Visibly moved on his return to the German capital, Colonel Schneider told journalists: "Imagine, last night we were in the midst of gunfire, tonight we are with our families. We would never have thought it possible."
Germany's Defence Minister, Ursula von der Leyen, said she was "filled with relief" that the OSCE team had "landed unharmed and healthy".
The group, all men, consisted of seven Europeans - four Germans including Schneider, one Pole, one Dane and one Czech - as well as five Ukrainian military officers who had been accompanying them.
They were seized by pro-Russian rebels on April 25 and kept in Slavyansk, where the insurgents at one point made them give a news conference under armed guard. One inspector, a Swede, was released April 27 because he suffered from diabetes.
The rebels insisted that the prisoners - whom they called "guests" - would only be exchanged for militants taken prisoner by Ukrainian authorities.
The observers spent the first hours of their captivity in a basement with their hands tied and eyes blindfolded, the Czech observer, Lieutenant Colonel Josef Prerovsky, told Czech television in Donetsk.
"Those first eight hours were the worst," he said.
"We spent the first two days in a basement constantly under guard, accompanied even when we went to the bathroom," he said. "Then they untied our hands and allowed us to move in the basement."
The atmosphere became more tense on Friday, when the Ukrainian military launched an offensive on Slavyansk, with one of the aims to force the rebels to free the OSCE team.
"It was really tough the last two nights as we saw the situation developing then. Every minute gets longer," Schneider said.
In the end, after days of outrage from Western capitals over their captivity, direct intervention from a Kremlin envoy, Vladimir Lukin, resulted in their liberation.
No details of the terms of their release were given.
'Humanitarian' release
But Lukin later told a news conference in Donetsk that the pro-Russian rebels' decision "was motivated by humanitarian concerns".
He sought to distance himself from accusations that Russia had control over the rebels, saying: "I am a Russian citizen and am far from interfering in the internal affairs of Ukraine."
The Ukrainian officers, who were kept separate from the Europeans during their ordeal, in Slavyansk, arrived in Kiev late Saturday.
One of them, Colonel Igor Turovsky, told reporters "we weren't mistreated... they gave us food and drink and let us sleep".
He said they were seized "because we didn't get authorisation for our trip from representatives of the local population" - the same line used by their rebel captors, who are believed to hold up to 40 other people in Slavyansk, many of them Ukrainian servicemen.
Ukrainian Prime Minister Arseniy Yatsenyuk, who met the officers at the airport, reminded journalists that the rebels were holding three Ukrainian commandos, who were shown on Russian television savagely beaten and stripped to their underwear.
The OSCE team's release was greeted by the United States, and the European Union, which said it "should now be followed by the release of all other hostages held by illegally armed groups in east Ukraine".
The Organisation for Security and Cooperation in Europe has deployed scores of monitors across Ukraine to observe the effects of an April 17 Geneva peace deal that the rebels ended up ignoring.
The captured military inspectors were not part of that main mission, but of a smaller annex mission to verify the military situation on the ground. All OSCE members - including Russia - approved of their deployment.