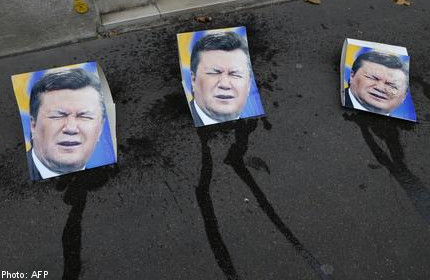 UNITED NATIONS, United States - Ukraine's deposed president asked Moscow to dispatch troops to re-establish law and order in his country, Russia told an acrimonious latest round of emergency UN Security Council talks Monday.
Western powers promptly rubbished the claim at a turbulent session that saw the US ambassador lock horns with her Russian counterpart and the French envoy draw comparisons with the Soviet invasion of Czechoslovakia at the height of the Cold War.
The third emergency talks in four days at the 15-member Security Council on the Ukrainian crisis broke up in hostility and finger-pointing.
The Ukrainian mission to the UN said that Russia had deployed approximately 16,000 troops in the Crimea since February 24 and that 10 Russian Navy vessels had blocked access to the Black Sea.
"Russian Special Forces continue to capture the military and border facilities in the Crimea, offering Ukranian army to voluntary surrender until 18:00 today," it added in a statement.
Russia's ambassador justified the military build-up by saying the ousted Viktor Yanukovych, who fled to Russia in the wake of deadly protests against his rule, had asked Moscow to act.
Quoting from a March 1 Yanukovych letter to President Vladimir Putin, Russian envoy Vitaly Churkin read: "Ukraine is on the brink of a civil war. In the country there is chaos and anarchy.
"Under the influence of Western countries there are open acts of terror and violence. People are being persecuted for language and political reasons.
"So in this regard I would call on the president of Russia, Mr Putin, asking him to use the armed forces of the Russian Federation to establish legitimacy, peace, law and order, stability and defending the people of Ukraine."
Russia had called Monday's emergency session to lay out its policy on Ukraine after the European Union and United States threatened to hit Moscow with sanctions for violating Ukrainian sovereignty.
But it faced stinging rebukes from Britain, France and the United States, whose envoys accused Moscow of fabricating excuses to justify its flagrant violations of international law.
US envoy Samantha Power said there was no evidence of violence against Russian or pro-Russian communities in Ukraine.
"Russian military action is not a human rights protection mission. It is a violation of international law," she said.
After Churkin lectured his Western counterparts on democracy, Power asked him: "Why not support international mediation?... Why not pull back your forces instead of sending more?"
'A false president'
Britain's representative, Mark Lyall Grant, asked Russia to accept international monitors in Ukraine.
Churkin was non-committal, saying that he supported Monday's visit by UN deputy chief Jan Eliasson to Kiev and that a separate mission by the OSCE would have to be discussed.
The British envoy said the Security Council would continue to monitor events in Ukraine carefully.
"We do not rule out presenting resolutions at the Security Council over the next few days," Grant told reporters after the session.
French ambassador Gerard Araud compared Russia's actions in the Crimea with the Soviet invasion of Czechoslovakia in 1968.
"I was 15 years old in August 1968 when Soviet troops entered Czechoslovakia. It was the same justification," he said.
Speaking afterwards, Araud said the session was "totally useless" and that he was disappointed to see Russia "wave a piece of paper from a deposed president to justify an invasion."
"It's not a false letter, it's a false president," he told reporters when asked if he thought the letter was made up.
On Saturday the UN Security Council was mired in similar disagreement when Western nations urged Moscow to pull back its military reinforcements from Crimea.