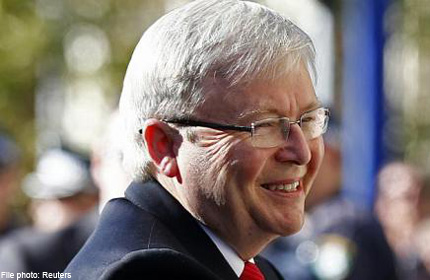 SYDNEY, New South Wales - Prime Minister Kevin Rudd was Sunday expected to focus on the economy in the much-anticipated first debate of Australia's election campaign, as another poll brought bad news for his government.
Rudd, who retook the Labor Party leadership in late June, has repeatedly said he is the underdog in the September 7 national poll against conservative opposition leader Tony Abbott.
The pair go head-to-head in an hour-long televised debate in the national capital Canberra at 0830 GMT Sunday after a full week of campaigning which has seen them criss-cross the country seeking votes.
Rudd said he was "delighted about the opportunity to debate Australia's future", and called on the opposition leader to reveal more details of his fiscal plans if elected to government.
The election comes as the decade-long resources boom is beginning to unwind, with the central bank this week scaling back its near-term forecasts for economic growth.
"Based on today's polls if there was an election yesterday Mr Abbott would be prime minister today and therefore he can't be evasive tonight about where his $70 billion in cuts in health, education and jobs will fall," Rudd told journalists.
Abbott hit back, saying every Australian will know "exactly what we are spending and exactly what we are saving" well before polling day, accusing the government of getting its figures wrong.
"They'll know exactly how the fiscal position will be different under the (Abbott-led Liberal/National) coalition but overall the budget bottom line will always be stronger under the coalition," Abbott said.
The latest Galaxy poll, published in The Sunday Telegraph, showed that while it remained a tight race, Labor's primary vote fell from 40 to 38 per cent while Abbott's Liberal/National coalition rose from 44 to 45 per cent.
In a two-party race between Labor and the conservative coalition, the government was trailing 49 per cent to 51 per cent, according to the poll of 1,002 voters taken at the end of last week.
"This election is very close," Rudd's colleague Treasurer Chris Bowen told the Australian Broadcasting Corporation on Sunday.
"It's very tight, we're the underdogs. But this election will be decided on the big picture, on who has the best economic plans for the future, who has the most positive plans for dealing with the challenges and transitions in the economy."
The debate comes as Labor has lost two candidates in embarrassing circumstances.
Rudd dumped Geoff Lake from the safe Victorian seat of Hotham after revelations that he had abused a disabled woman more than a decade ago during a heated local council meeting.
And in the key election state of Queensland, Labor candidate Ken Robertson resigned as a prospective representative for Kennedy for reportedly calling Abbott a "very, very bigoted person".
Rudd led Labor to a 2007 election victory which ended more than a decade of conservative rule but he was ousted by his Labor colleagues within his first term and replaced by Julia Gillard, the nation's first female leader.
The popular former diplomat Rudd was reinstalled in June after dismal polling indicated Labor would be wiped out in this year's election if Gillard remained as leader.