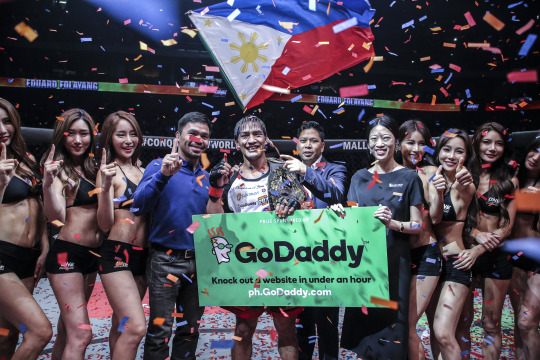 Eduard "Landslide" Folayang impressed fans and judges alike at the Mall Of Asia Arena in Manila, Philippines, as he earned a unanimous decision victory over Ev Ting to retain the ONE Lightweight World Championship at ONE: KINGS OF DESTINY on Friday Night, 21 April.
The blockbuster main event went all five rounds, and was closely contested, with both men having their moments in a battle fought at almost every range.In the opening round, both champion and challenger let loose with big strikes on the feet. 
Folayang, the crown jewel of Mark Sangiao's Baguio City-based Team Lakay, found success with thudding leg kicks, while Ting, a Malaysian contender of Auckland MMA fame, moved forward almost the entire time, though failing to secure much sought-after takedowns.
Ting went digging for more takedowns early in the second frame, even pressing the 33-year-old titleholder against the cage. Folayang defended the attempts well, and then tried a number of side and spinning kicks on the feet seemingly at will. 
"E.T." missed with his own high kick attempt and tripped, briefly giving up his back on the ground to his Filipino rival. The challenger defended, however, and got back up rather quickly. The round concluded with Ting pressing Folayang against the cage and looking for the takedown yet again, with the champ defending deftly and landing a hard knee to Ting's body at the horn.
The third round began with a firefight before the two lightweights ended in the clinch, exchanging positions before a separation by referee Yuji Shimada. Predictably, the two skilled clinch-fighters went right back into the position after a flying knee to the body from Ting closed the distance between them.
This would turn out to be the story of the fight, with the Team Lakay wushu warrior landing long-range strikes and close-range knees, while Ting worked for takedowns. Both fighters had flashes of brilliance, but in the end, the five-round tilt ended, and seemed likely hard to judge. 
Still, all of the judges saw it for the champion, giving him the victory in his first ever title defense. Boxing living legend and Folayang's personal hero Manny Pacquiao handed him the belt, which was a nice touch.
The win improves Folayang's record to 18-5, and he is now on the hunt for his next challenger. Ting, though impressive in defeat, takes his first loss in five bouts, and drops to 13-4.