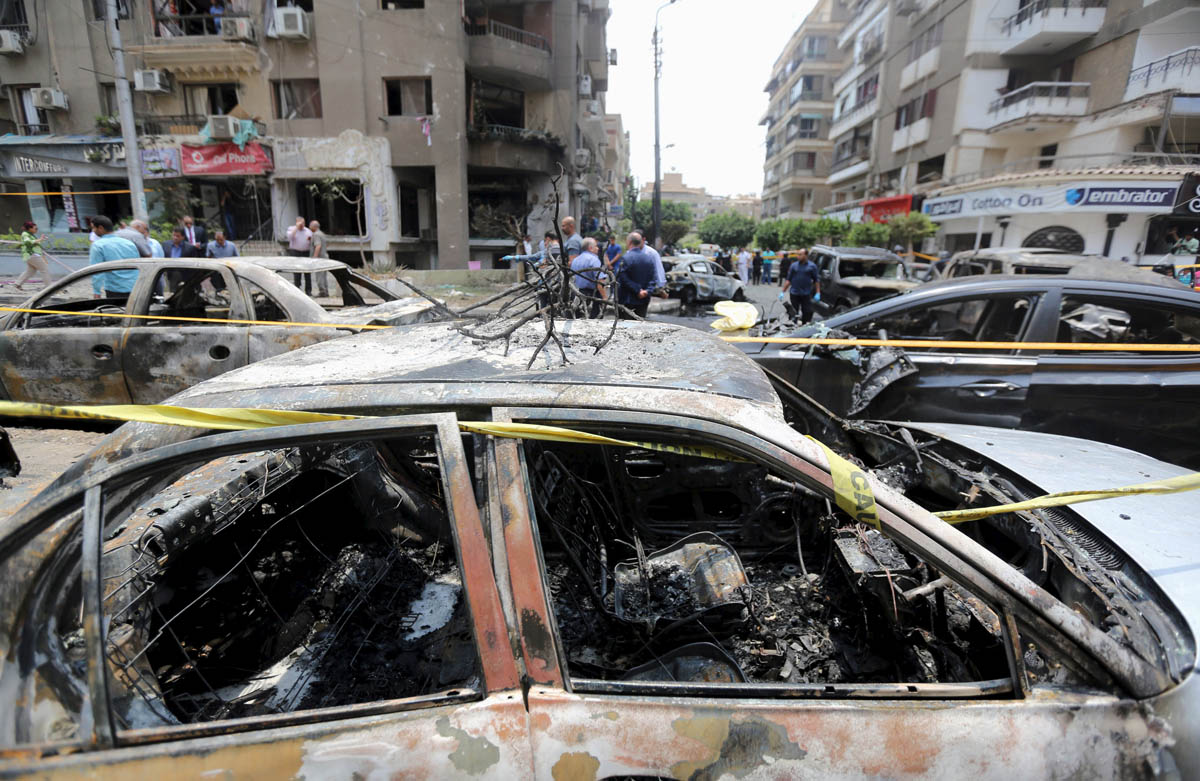 CAIRO - Egypt's state prosecutor has died hours after a powerful bomb hit his convoy in Cairo on Monday, officials said, following jihadist calls for attacks on the judiciary to punish a crackdown on Islamists.
"He has passed away," Justice Minister Ahmed al-Zind told AFP at the hospital where Hisham Barakat had been taken following the morning bombing.
Investment Minister Ashraf Salman confirmed that Barakat was dead.
He was the most senior government official killed since jihadists launched an insurgency following the military overthrow of Islamist president Mohamed Morsi in 2013.
Barakat's assassination will come as a blow to President Abdel Fattah al-Sisi, the former army chief who overthrew Morsi and won elections pledging to wipe out Islamist militants.
The bomb destroyed several cars and blew out storefront windows in the upscale district of Heliopolis. At least five vehicles were completely gutted in the explosion.
At the hospital, a bruised bodyguard recounted to prosecutors how the blast hit Barakat's convoy as it headed to his office.
"There was a massive blast all of a sudden," he said, in the presence of an AFP journalist. "There was glass flying everywhere. It was as if there was an earthquake." Witnesses at the scene of the blast said one of the charred vehicles had belonged to prosecutor.
"I heard a loud explosion and ran to the site. Barakat's car was on fire," said one, Shaama Abdel Fattah.
Bomb squad chief General Mohamed Gamal told AFP it was either a car bomb or a bomb concealed underneath a vehicle.
Barakat died of organ failure caused by his severe wounds, a doctor who had treated him told AFP.
The bombing came after the Islamic State group's affiliate in Egypt called for attacks on the judiciary following the hanging of six alleged militants.
Jihadists claim judge shooting
Gunmen in the Sinai peninsula, where the jihadists are based, had shot dead two judges and a prosecutor in May.
The group released a video on Sunday purporting to show that attack in the north Sinai city of El-Arish. Gunmen in a car pulled up to the van transporting the judges and sprayed it with rifle fire.
Barakat has referred thousands of Islamists to trial since the military's overthrow of Islamist president Mohamed Morsi in 2013, with hundreds then sentenced to death.
Monday's attack was the most brazen against a senior official in Cairo since jihadists tried to assassinate the then interior minister in a suicide car bombing in late 2013.
Ansar Beit al-Maqdis, the Sinai-based organisation that later pledged allegiance to IS, claimed responsibility for that attack.
In May, the group called for attacks on judges in an audio message posted online.
The recording came after authorities hanged six men convicted of participating in militant attacks.
"By God, we will seek vengeance for our brothers and others like them, from the party that sentenced them, and the party that implemented the sentence," the jihadist group said in the recording.
The militants have killed scores of policemen and soldiers in attacks since Morsi's overthrow, mostly in the Sinai peninsula.
The group carried out several high-profile attacks in Cairo and the Nile valley in 2013 and 2014 before police killed or arrested its members in those areas.
Sisi's government has blamed Morsi's Muslim Brotherhood for the violence and pledged to eradicate the group, once the largest political movement in Egypt.
At least 1,400 people, mostly Islamist supporters, have been killed in a police crackdown on protests, and much of the Brotherhood's leadership has been arrested.
Courts have sentenced hundreds to death, including Morsi himself, who was convicted of involvement in attacks on police stations.
Morsi's sentence is being appealed.