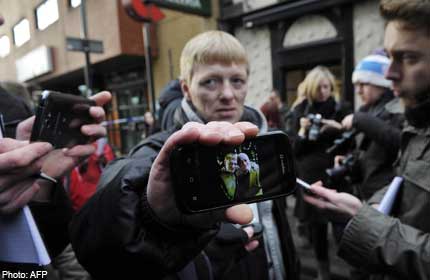 GLASGOW - Eight people were killed when a police helicopter crashed through the roof of a packed Glasgow pub, police said on Saturday, plunging Scotland into mourning on its national day.
Fourteen people lay seriously injured in hospitals across Scotland's biggest city after the chopper smashed into The Clutha pub, where over 100 people had been watching a band play on Friday night.
Scottish First Minister Alex Salmond called it a "black day" and ordered flags to fly at half-mast, while a minute's silence was held ahead of a football match between Falkirk and Rangers.
While Scotland should have been celebrating St Andrew's Day emergency services were combing through the rubble and friends and relatives were praying their loved ones were not among the dead.
Police later named the first victim as Gary Arthur, 48, from Glasgow.
Scotland Chief Constable Stephen House said the two officers and the civilian pilot aboard the police helicopter were killed along with five people inside the pub.
"You can imagine the terror of the situation when a helicopter came through the top of the building," he said.
House said the rescue mission was complex and would take time, adding that he did not know if there were more people trapped inside.
"We are dealing with a very sensitive investigation and operation here. It will go on for many days yet," Scotland's police chief told reporters at the scene.
Police later appealed for anyone with video footage of the crash to send it to them, saying it "may be of help to the team as they investigate the cause of the crash."
Thirty-two people were taken by ambulance to three hospitals following the 10:25 pm (2225 GMT) crash.
Witnesses said the helicopter dropped like a stone, while people inside the bar heard a heavy thud before the roof caved in and the air filled with dust and screams.
After pubgoers and passers-by did what they could to get the wounded to safety, emergency services worked through the night in a bid to recover people from the wreckage.
Now covered by a tarpaulin, one of the Eurocopter EC135 T2's rotor blades could be seen jutting out of the roof at a jagged angle.
People stood at the cordon 30 metres (32 yards) back, their hopes fading by the hour for missing friends and loved ones.
'I've checked every hospital and there's no sign'
John McGarrigle was desperately waiting for news of his father.
"I think he was in there when it crashed," the 38-year-old said, showing journalists a picture on his mobile phone of him standing with his 59-year-old father who had been in the pub.
"I've checked every hospital and there's no sign of him," said his son.
Eighteen people have been discharged from hospital so far, said Jennifer Armstrong, medical director of the Greater Glasgow Health Board.
"The main injuries we have seen include chest injuries, head injuries, long-bone fractures and lacerations," she said.
A sombre Salmond - who just days ago was celebrating the release of a legal blueprint for Scottish independence - said it was "a black day for Glasgow and for Scotland".
"But it's also St. Andrew's Day and it's a day we can take pride and courage in how we respond to adversity and tragedy," the nationalist leader said.
Witnesses spoke of confusion, terror and then bravery after the accident.
Drinkers were listening to a ska band when a heavy thud rocked the bar.
"There was some smoke, what seemed like smoke," said Grace MacLean, who was inside the pub.
The band carried on playing "and then it started to come down more and someone started screaming and then the whole pub just filled with dust," she told the BBC.
Pubgoers and passers-by formed a human chain to help drag the wounded out of the wreckage before the emergency services raced to the scene.
Queen Elizabeth II said her prayers were with the victims while British Prime Minister David Cameron praised the "bravery of the ordinary Glaswegians" who rushed to help.