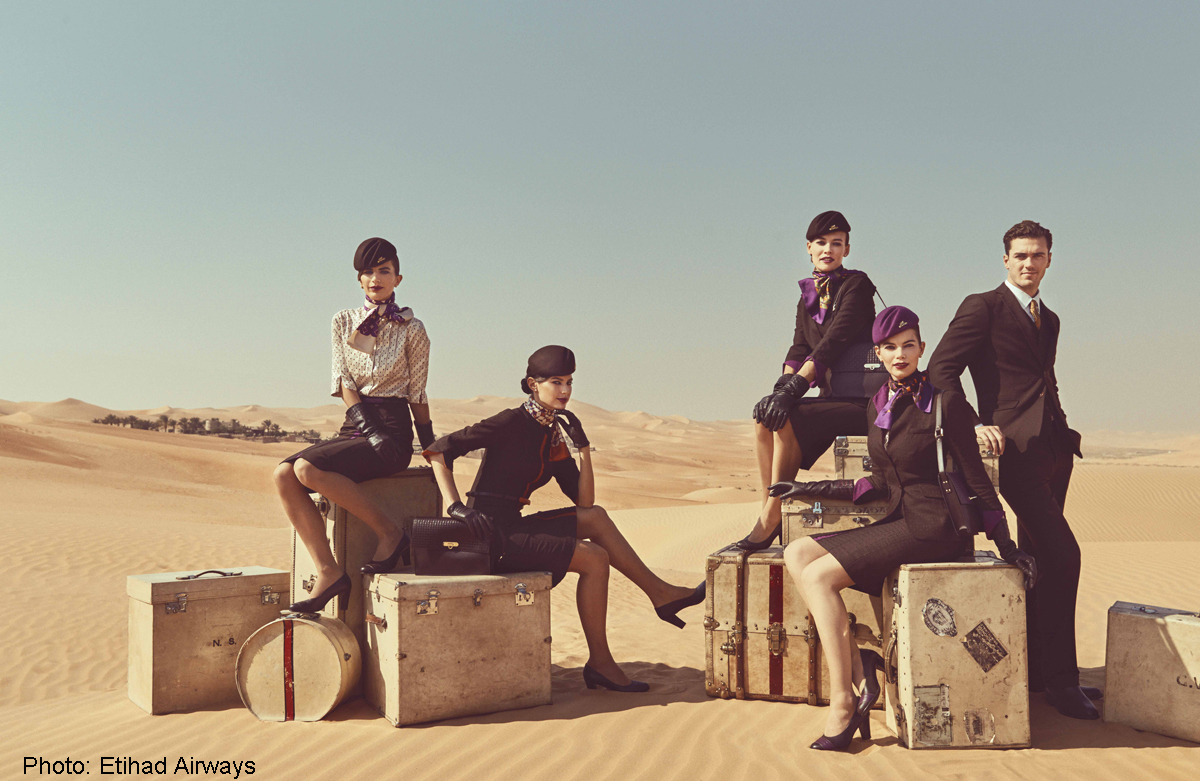 Etihad Airways revealed last week a brand new set of uniforms together with the arrival of Etihad Airways' fleet of Airbus A380 and Boeing 787-9 aircraft.
Created by Italian Haute Couturier Ettore Bilotta at his atelier in Milan, the new uniform merges dramatic elements of old-world haute couture from 1960s Paris and Rome with contemporary runway looks of London, New York, Milan and Tokyo to create "timeless sophistication", which was part of the brief he was given.
The new uniforms will be making their debut from Dec 27.
Made from 100 per cent Italian wool and in Italy, the uniforms feature an intricate jacquard design - some 30 per cent of the outfits were handmade.
Colours-wise, the uniforms incorporate almost all the brand colours of Etihad Airway: a warm chocolate brown as the base colour, deep purple accent for cabin crew and lounge teams, and a burnt orange accent for ground crews and Special Services teams.
Each ensemble is created to be practical, allowing cabin and ground personnel to move with ease while carrying out their duties, said Etihad in its statement.
Female cabin crew, ground and lounge teams will wear a skirt suit, accessorised with fitted gloves, belt, hat and scarf that feature intricate geometric patterns and fretwork.
As for the male cabin crew, they will be wearing a three-piece suit, while male ground crew will wear a two-piece suit. Accessories include belts and gloves.
For Etihad Airways' butlers, the airline has combined historic British butler attire with new-world design to reflect Etihad Airway's modern and globally-recognised style. Warm brown was used for the long-tailed jackets and ties, ivory for the trousers and waistcoats, and white for shirts and gloves.
Aubrey Tiedt, Vice President Guest Services at Etihad Airways said: "This is not just a uniform. This is a pret-a-porter concept - a future lifestyle statement and homage to the golden age of glamorous flight.
ashiqins@sph.com.sg