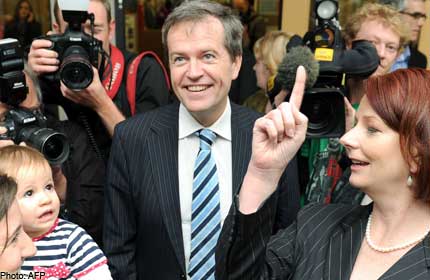 SYDNEY, Sept 12, 2013 (AFP) - Australia's former education minister Bill Shorten announced his candidacy for the Labor leadership Thursday, vowing to rebuild the party after years of infighting saw it toppled from power last week.
Shorten, a powerful and highly ambitious right-wing factional leader, said Labor could take back the government "if we are the party of ideas, not just personalities".
Even as he announced his bid to lead the party, a senior Labor figure said former leader Kevin Rudd, who was ousted as prime minister in national elections on Saturday and is facing pressure to quit politics entirely, was planning a comeback.
Ex-trade minister Craig Emerson, a staunch supporter of Rudd's predecessor Julia Gillard, said he had been told the 55-year-old wants to be prime minister again.
"Historians will note that Andrew Fisher served as a Labor prime minister on three separate occasions," he said Thursday in a column for The Australian newspaper titled: "Rudd wants to be leader again".
"Rudd has told three journalists at this newspaper that he wants to emulate Fisher and become a three-time Labor prime minister. He has described himself as a 'determined bastard'," Emerson wrote.
Rudd's popularity with the Australian public came crashing down on Saturday when he was soundly defeated in national elections by conservative Tony Abbott, as voters punished Labor at the ballot box for years of infighting.
He announced his resignation as Labor chief and pressure has been building on him to quit politics altogether amid concerns he would be a destabilising influence on the party and whoever takes over the top job.
Former deputy prime minister Anthony Albanese is considered to be the only other serious candidate for the leadership, and is yet to publicly say whether he wants the job.
While having plenty of allies, some in the party will be wary over Shorten's backroom role in toppling Rudd as prime minister in 2010, and his part in the downfall of Gillard earlier this year.
Shorten admitted he had "some responsibility" for the Labor infighting, but said he always had the party's best interests at heart.
"I believe that Labor can win the battle of ideas and put our party back into serious contention for the next election," the 46-year-old former solicitor and national secretary of the Australian Workers Union said Thursday.
"I bring energy, I bring optimism, I'm hungry for victory, and these are qualities which are important to make Labor competitive to win the next election."
Nominations for the leadership are expected to be called at a Labor caucus meeting on Friday.
Rudd has kept a low profile since his defeat, although close colleague Kim Carr said he intended to remain in parliament as an MP for a full three-year term.
In his concession speech on Saturday night, Rudd stoked speculation of a comeback down the track by saying his voice would vanish from public life "for some time".
Shorten, who is married to Chloe Bryce, the daughter of Australia's Governor-General Quentin Bryce, would not be drawn on whether Rudd should leave parliament.
"What Kevin Rudd... does, is entirely up to him," he said. "His efforts in the last election helped ensure that more Labor MPs have returned to parliament than otherwise would, and I will acknowledge that forever."