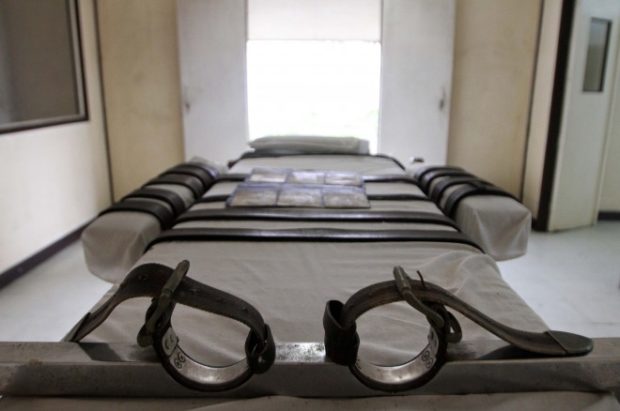 The Ohio government called off the execution of a 69-year-old convicted murderer while it was under way on Wednesday because officials could not find a suitable vein in the inmate, who is sick with cancer and other diseases, state officials said.
Alva Campbell Jr., who also suffers from lung disease, asthma and heart problems and uses a walker and a colostomy bag, had argued through his lawyer he was too sick for a lethal injection, but lost a bid to be killed by firing squad instead.
"We had warned them for months that they were going to have this problem," said David Stebbins, Campbell's lawyer.
It was the fifth mishandled execution in Ohio in recent years and the second time an attempted execution was abandoned, according to the American Civil Liberties Union of Ohio. The advocacy group, which opposes the death penalty, called for an immediate moratorium on executions in the state.
"This is not justice, and this is not humane," Mike Brickner, the group's policy director, said in a statement.
Since the 1940s, only three execution attempts have been halted after they began and the prisoner returned to death row, said Austin Sarat, an Amherst College professor who has studied botched executions. US courts have ruled states can make more than one attempt.
Ohio's Department of Rehabilitation and Correction said Ohio Governor John Kasich agreed to a temporary reprieve. Campbell's execution was rescheduled for June 5, 2019, Stebbins said.
"Attempts by the medical team this morning to gain intravenous access were unsuccessful," JoEllen Smith, a department spokeswoman, said in a statement.
Journalists who witnessed the execution attempt said medical staff tried to inject Campbell twice in each arm and once in his right leg, the Columbus Dispatch newspaper reported. Campbell appeared to cry at one point.
On Tuesday, the US Supreme Court rejected a final appeal by Campbell to stop the execution at the Southern Ohio Correctional Facility in Lucasville.
Stebbins had argued Campbell's medical conditions could make it hard to find suitable veins to inject. Stebbins wasn't certain if Campbell, shaken by the failed attempt, would seek a different execution method.
Kasich, the Republican governor, earlier rejected clemency for Campbell, who has said he was abused as a child.
Campbell served 20 years of a life sentence for killing a man in Cleveland before being released by a parole board in 1992. Five years later, he was arrested and jailed for robbery in Columbus, Ohio, and was awaiting a court date when he faked paralysis, according to court documents.
As a deputy was transporting Campbell in a wheelchair to the courthouse, he suddenly beat the deputy, stole her pistol and fled, according to court records. He then car-jacked and fatally shot 18-year-old Charles Dials. Campbell was convicted in 1997 on robbery and murder charges.
Dials' brother, Joseph Dials, his sister, Kayela Dials, and an uncle, Michael Brewer, were present to witness the attempted execution, the Dispatch reported.
Campbell was the latest inmate to challenge Ohio's lethal injection methods. In September, Ohio put to death a double murderer, Gary Otte, in its second execution after a three-year hiatus because of legal challenges and difficulties obtaining lethal injection drugs.
Otte was put to death after he lost an appeal challenging the use of midazolam as a sedative in that protocol. Several US states have used midazolam in executions in which witnesses said inmates appeared to twist in pain.
Twenty-four more inmates after Campbell are slated for execution in Ohio through 2022. Among them is Romell Broom, a convicted murderer who left the execution chamber alive in 2009 after officials could not find a suitable vein. Broom is scheduled to return to the chamber in 2020.