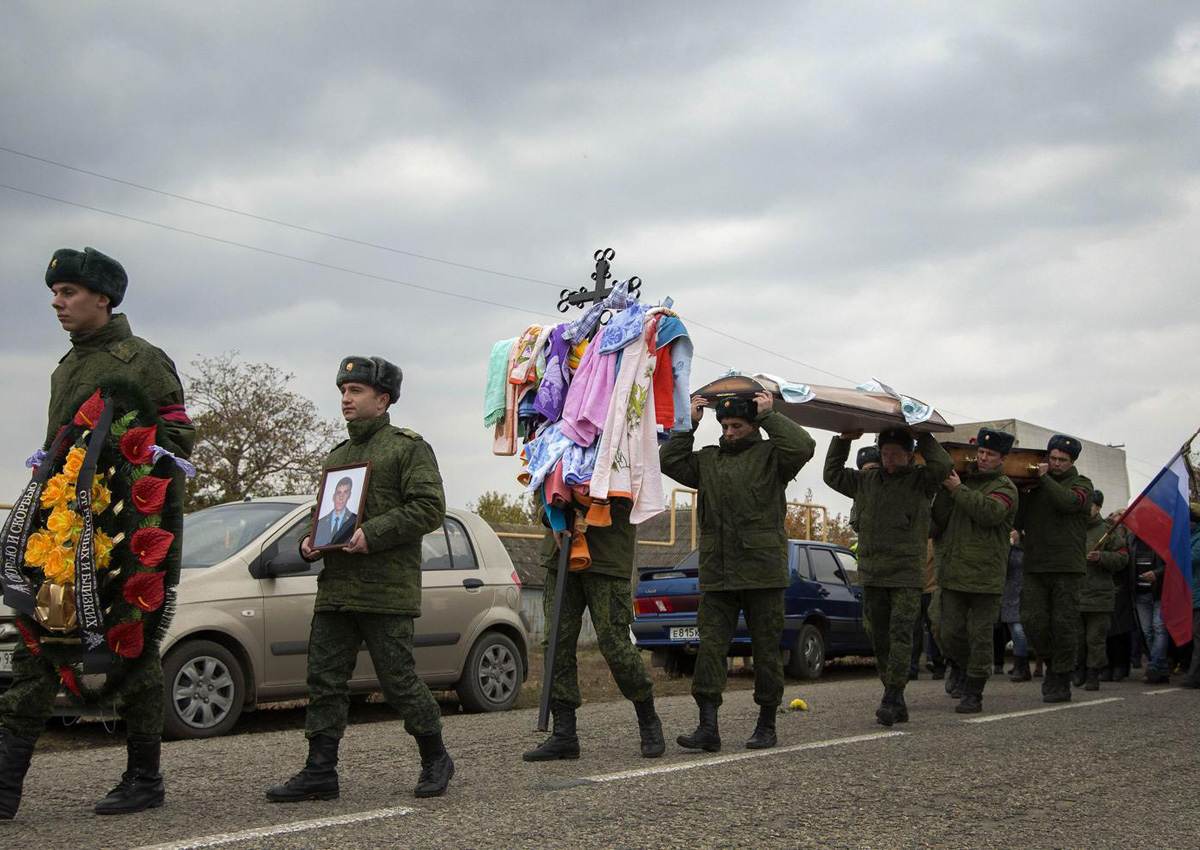 GRECHANAYA BALKA, Russia - The first Russian serviceman confirmed dead in Syria was laid to rest on Wednesday as his family and friends disputed the official explanation that his death was caused by suicide.
Authorities said 19-year-old soldier Vadim Kostenko hanged himself at Russia's airbase in the Syrian province of Latakia due to relationship trouble but his loved ones said they would never believe he had taken his own life.
Several hundred people attended the funeral ceremony at the small village of Grechanaya Balka in southern Russia, including soldiers and several journalists as international attention has focused on Moscow's bombing campaign in Syria.
Friends and family wept as a wooden coffin was lowered into the ground with a three-shot gun salute at a local cemetery after being carried slowly through the village by four servicemen as part of the funeral procession.
Afterwards locals laid wreaths and flowers at the grave as Kostenko's distraught mother clutched a framed picture of her son.
'Not a suicide'
The defence ministry announced on Tuesday that a Russian serviceman serving as a technical specialist at the Hmeimim airbase in Latakia had committed suicide due to problems with his girlfriend.
On Wednesday, the main military prosecutor's office said the first autopsy results showed the cause of death as "suicide by hanging while off duty due to problematic personal circumstances outside the base." But family and friends said they did not believe this version of events.
The soldier's mother was too distraught to comment so it fell upon his 14-year-old sister to brief the media.
"His body arrived last night. We saw his nose and jaw were broken, he had marks on his neck," Yekaterina Kostenko told AFP inside the family home, a brick house at 102 Soviet Street, before the funeral.
"This was not a suicide," said Kostenko, a blue-eyed girl with freckles and a long brown braid.
Svetlana Shpag, 42, a former colleague of Kostenko's mother, said: "No one believes the suicide story. He couldn't have killed himself for a girl. He wasn't one of those suicidal kids." "The only reason he could have killed himself is if someone was about to take his life." A defence ministry source said a priest had come earlier in the day but could not lead a service as per Orthodox tradition because the death was being treated as a suicide.
Two people, including a person close to Kostenko's family, had earlier told AFP the soldier had died from unknown causes.
Some experts say the defence ministry in Moscow often cite a suicide to conceal the true reason of a soldier's death.
Genuine suicides are rare, with servicemen instead coming under "physical and psychological pressure" in most of the cases, Anna Kashirtseva, spokeswoman for the Mother's Right group, told AFP.
Defence ministry spokesman Igor Konashenkov told reporters that any suggestions pointing to possible foul play were "insinuations."
'In his blood'
One person close to Kostenko's family said that some people had encouraged the young man not to go to Syria.
"But he said he couldn't not go," said Nadezhda, who did not give her last name. "He had it in his blood." On September 30, Russia launched its bombing campaign in Syria, with President Vladimir Putin saying Moscow needed to target Islamic State militants before they crossed into Russia.
After the intervention - Moscow's first military foray outside the Soviet Union since the ill-fated Afghanistan occupation in 1979 - Putin saw his approval rating climb to 89.9 percent, an all-time high, according to a state pollster.
Russian warplanes have carried out sorties from the Hmeimim airbase and Russian servicemen are based there to help service the aircraft, among other tasks.
Russia says its ground troops are not taking part in combat operations in Syria and there have been no official reports of any servicemen dying in fighting in the war-torn country.