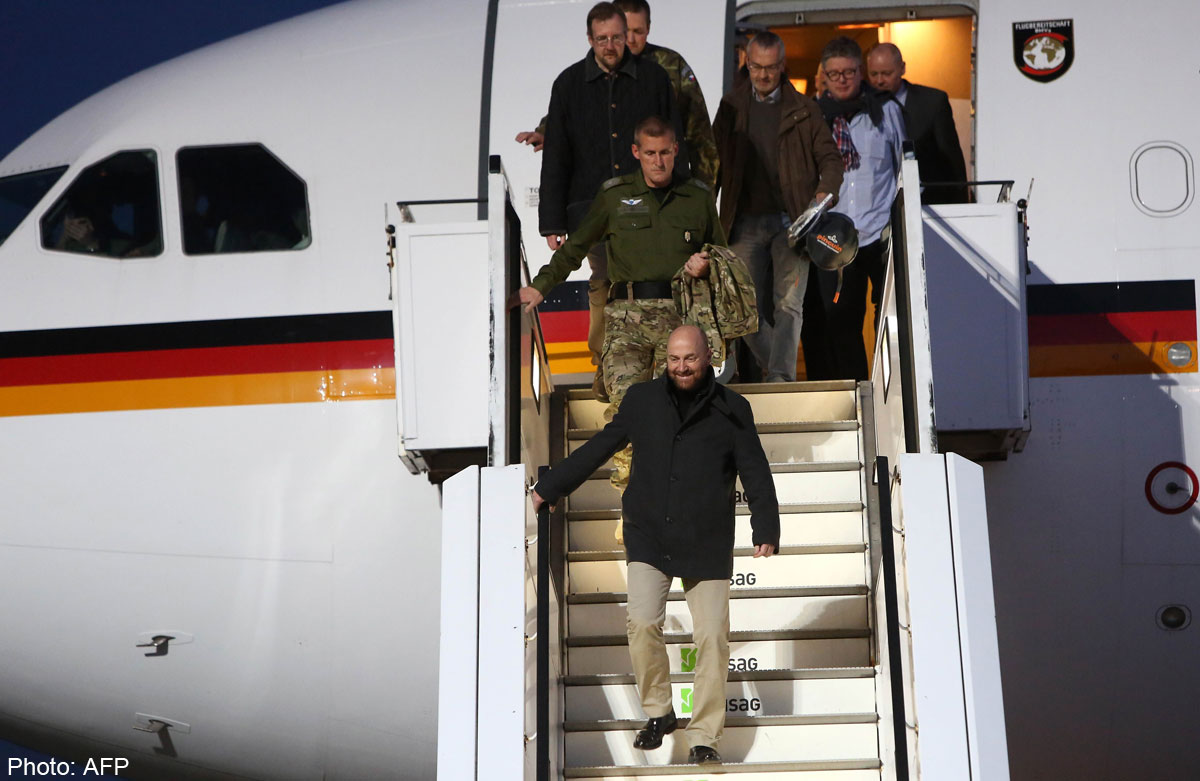 SLAVYANSK, Ukraine - Ukrainian soldiers and pro-Russian rebels fought fierce battles around a flashpoint town, with only a small reprieve to allow passage of a freed team of OSCE inspectors.
More than 50 people have died in two days of clashes nationwide - most of them in a horrific inferno amid street clashes in the southern port city of Odessa.
In the east, the military stepped up its assault on rebels in the flashpoint town of Slavyansk on Saturday.
The bloodshed was plunging the international crisis over the ex-Soviet republic into dangerous new territory.
Russia said it would now be "absurd" for the country - whose Crimea peninsula it annexed in March - to hold a planned May 25 presidential election.
That opened the risk of sweeping US sanctions against Russia after President Barack Obama warned of punishment if perceived Moscow meddling scuppered the poll.
US Secretary of State John Kerry underlined that threat in a call to his Russian counterpart, saying: "If those supported by Russia continue to interfere with the election, regrettably there will have to be different sanctions including the possibility or the reality of sectoral sanctions."
In his call to Foreign Minister Sergei Lavrov, Kerry called the Russian-mediated release of the OSCE observers as "a step" toward de-escalating the crisis but urged Moscow to do more and "withdraw support for the separatists".
Lavrov responded by calling on "the United States to use all of its influence to force the Kiev regime... to immediately halt military operations".
On the ground, however, there was no sign of combat subsiding.
On the outskirts of Slavyansk, the main town under attack by the army, AFP journalists witnessed a ferocious firefight between Kalashnikov-armed insurgents and soldiers outflanking their checkpoint.
At least nine people have died in clashes around the town.
Late Saturday, Ukraine's interior ministry reported that two soldiers were injured after an assault from a pro-Russian militia in the town of Lugansk, also in eastern Ukraine.
Deaths in Odessa
All of Ukraine was reeling at news of 42 deaths the day before in Odessa, where pro-Russian and pro-Kiev militants clashed savagely and repeatedly.
Most of the deaths - many believed to be pro-Russians - occurred in a trade union building set alight as each side lobbed Molotov cocktails at the other.
Before Friday, the city of one million on Ukraine's Black Sea coast had been spared the unrest raging in the east.
Acting president Oleksandr Turchynov declared two days of mourning over the loss of lives across the country.
"The EU urges everyone to exercise utmost restraint and not to exploit this (Odessa) tragedy to fuel more hatred, division and senseless violence," EU foreign affairs chief Catherine Ashton said in a statement.
Ashton also called for an "independent investigation" into the fire.
Russia slammed the violence and blamed it on ultranationalists it says make up Ukraine's new Western-backed government.
The Kremlin said Russia no longer had any influence over the armed separatists, and that it had received "thousands of calls" from eastern Ukraine requesting "active help".
Russian President Vladimir Putin - whom the West sees as masterminding Ukraine's insurgency despite his denials - has kept an estimated 40,000 of his troops massed on Ukraine's border for the past two months. He has said he "very much hopes" he will not have to order them to invade.
'Never forgive them'
The OSCE inspectors, who had been detained in Slavyansk for over a week, were freed shortly after a Kremlin envoy arrived in east Ukraine to speak with the rebels holding them.
"It is happiness, a deep relief" to be free, their leader, German Colonel Axel Schneider, told a small group of journalists just after leaving the town.
Schneider later told journalists in Berlin: "Imagine, last night we were in the midst of gunfire, tonight we are with our families. We would never have thought it possible."
"It was really tough the last two nights as we saw the situation developing then. Every minute gets longer," Schneider said.
Germany's Defence Minister, Ursula von der Leyen, said she was "filled with relief" that the OSCE team had "landed unharmed and healthy".
One of the inspectors voiced bitterness towards his captors, who had at one point led them out under armed guard to speak to a media conference.
"I will never forgive them," he told reporters.
Czech observer, Lieutenant Colonel Josef Prerovsky, told television reporters they spent the first hours of their captivity in a basement with their hands tied and eyes blindfolded.
"We spent the first two days in a basement constantly under guard, accompanied even when we went to the bathroom," he said.
The OSCE team's release was greeted by the United States, and the European Union, which said it "should now be followed by the release of all other hostages held by illegally armed groups in east Ukraine".
The men, who arrived in Berlin late Saturday, said the recent fighting going on around Slavyansk had been deeply unsettling.
The bloodshed was the worst the Kiev government has faced since taking charge in late February, after months of street protests forced the ouster of Kremlin-friendly president Viktor Yanukovych.
The acting president has reintroduced conscription and put the country's armed forces on "full combat alert" as he turned to the military to keep order.
Interior Minister Arsen Avakov, who went to the east to supervise the operation against the rebels, declared: "We will not stop."
Fighting was continuing on the outskirts of Slavyansk, but there appeared to be no push to take the town itself, which has a population of 160,000 broadly sympathetic to the pro-Russian rebels.
In nearby Kramatorsk, soldiers overran a security services building and a television station the rebels had taken, officials said.
Meanwhile in Crimea, annexed by Russia in March, there were clashes between police and 2,000 pro-Kiev Tatars demonstrating against the Russian refusal to allow their leader Mustafa Dzhemilev into the peninsula.