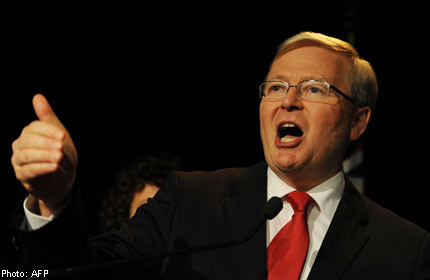 SYDNEY - Former Australian prime minister Kevin Rudd announced Wednesday he was quitting politics, two months after being ousted from office by Tony Abbott.
The 55-year-old Labor stalwart, who led Australia twice and was foreign minister in Julia Gillard's government, said he would leave parliament at the end of the week.
"This has been the product of much soul-searching for us as a family over the last few months," he told parliament in an emotional evening speech . "The decision that I have made has not been taken lightly.
"But for me, my family is everything, always has been, always will be, which is why I will not be continuing as a member of this parliament beyond this week."
Since being soundly defeated by Abbott in September 7 elections, senior figures within Labor have urged him to quit, saying he would be a destabilising influence after three years of bitter infighting within the party.
Rudd was elected prime minister in the 2007 general election, defeating John Howard, but within his first term he was dumped by colleagues fed up with his style of management and demoted to foreign minister.
His sudden downfall mystified the Australian public who had elected him, and this, coupled with the unpopularity of his predecessor Julia Gillard, prompted Labor to return to Rudd's leadership in June to try and salvage the party vote in 2013 polls.