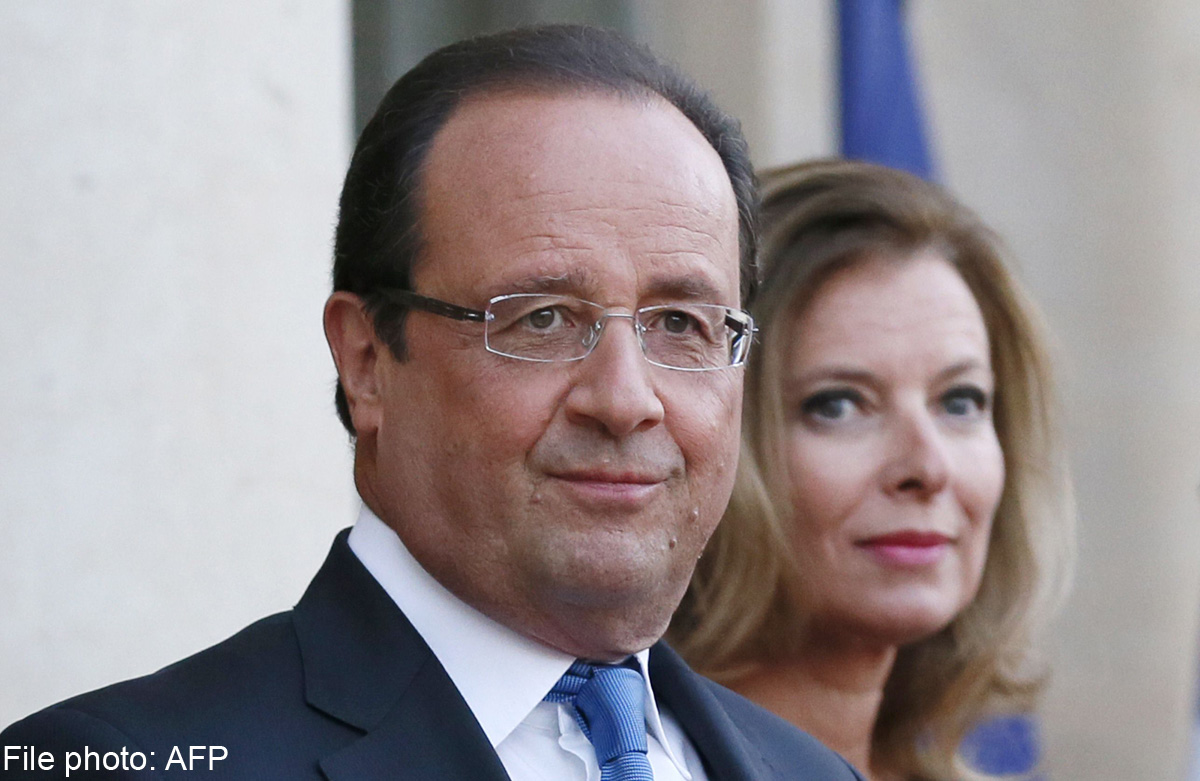 PARIS - French leader Francois Hollande on Sunday began a new chapter in his presidency after splitting from his partner of eight years following an affair with a younger actress.
Under intense media scrutiny since the revelation of the affair two weeks ago, Hollande - who had pledged a "normal" presidency after the domestically turbulent stint of his 'bling bling' predecessor Nicolas Sarkozy - on Saturday formally announced his split from Valerie Trierweiler.
"A Bachelor at the Elysee," said the Journal du Dimanche weekly, adding that Trierweiler's departure as first lady was "the end of an epoch".
Saying he was speaking as a private individual, Hollande, in a terse statement to AFP over the phone, said: "I wish to make it known that I have ended my partnership with Valerie Trierweiler."
Trierweiler, 48, had been convalescing at a presidential residence in Versailles outside Paris after leaving hospital last Saturday, where she was treated for what was described as fatigue brought on by press revelations of Hollande's affair with 41-year-old actress Julie Gayet.
According to media reports, Trierweiler had been ready to forgive Hollande but the president, who has not denied the affair but refused to comment on it saying it was his personal life, wanted to pull the plug.
Trierweiler left for Mumbai on Sunday on a charity trip in her first public appearance since the scandal broke.
Her entourage said she was accompanied by a presidential bodyguard. A source close to her said: "She is on good terms with the president and she is better."
But 59-year-old Hollande, who has been attacked by the opposition for political dithering, came under fire from opponents for cheating in his personal life and for procrastinating.
'Valerie, the new Diana'
 "Valerie, the new Diana," tweeted Roselyne Bachelot, a former minister in ex-president Sarkozy's government.
Jean-Marie Le Pen, the founder of the far-right National Front party, added: "'Perfect' president? Not in private life: four children outside marriage and a mistress who is not divorced and to whom he could not remain faithful!"
The Journal du Dimanche quoted Hollande as telling people close to him that "women have cost me dearly," referring to his splits with Trierweiler and her predecessor Segolene Royal, the mother of his four children.
Citing sources, the weekly said Trierweiler would keep an apartment the couple shared in Paris's middle-class 15th district and also receive "financial compensation".
After Hollande's announcement of their separation, Trierweiler tweeted: "I extend all my gratitude to the fantastic Elysee staff. I will never forget their dedication nor the emotional farewell."
Labour Minister Michel Sapin, who is close to Hollande, said the "decision was necessary for the sake of clarity. Now it's done."
Gayet meanwhile has kept a low profile since the scandal broke on January 10 when French glossy Closer splashed photos of Hollande arriving for alleged secret trysts at a flat near the Elysee Palace on a scooter.
Hollande had announced his separation from Segolene Royal, a senior member of his Socialist party and a presidential candidate in 2007, just after she lost the election to Sarkozy.
He then started living openly with Trierweiler, with whom he was understood to have begun a relationship in 2005. Trierweiler assumed the role of first lady at official functions after Hollande's election in 2012.
Sources said the couple worked out the terms of their split at a lunch on Thursday.
Hollande had promised at a news conference earlier this month that he would publicly define what relationship, if any, he and Trierweiler had before a February 11 state visit to Washington.
Trierweiler is a glamorous, twice-married career journalist who has three children of her own.
She emerged into the spotlight before Hollande was elected president, and warned that she would not be a wallflower, saying in April 2012: "I have character, they cannot muzzle me."
That was quickly proven when Trierweiler tweeted her support in legislative elections for an independent rival of Royal, with whom the first lady did not have a warm relationship.
The tweet went down badly in France, and Trierweiler's reputation suffered, with many deeming her arrogant. A recent poll said she was the least-liked French first lady in modern history.
After Hollande's election, Trierweiler cut down on her work at the French magazine Paris-Match and engaged in charitable activities.
Hollande is the second French president to split from his partner while in office. In 2007, Sarkozy divorced his wife Cecilia and married former supermodel and singer Carla Bruni the following year.
A poll published by Le Parisien daily on Friday showed that 54 percent of French people wanted no official role or status for the first lady or presidential partner.