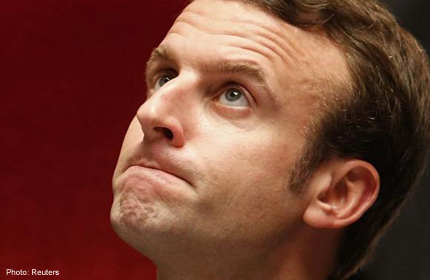 PARIS - The head of France's Socialist party rejected any change to the country's 35-hour work week and criticised plans to let shops open more often on Sunday, a sign the government could face an uphill battle to get more labour reforms through parliament.
Economy Minister Emmanuel Macron, whose planned deregulation bill is meant to show France's commitment to reform, has said that the 35-hour week should not be sacrosanct and that it could be tweaked to allow firms to strike their own deals with unions.
But for the ruling Socialist Party's secretary-general Jean-Francois Cambadelis, the answer is: "non". "It's not just a question of taboo," he told RTL radio on Sunday. "This is not what we are talking about today."
Macron has said he wants to keep the 35-hour work week, an iconic Socialist reform introduced in 2000. But he told lawmakers earlier this week that the law had given off a "negative signal" and pragmatism meant it should be tweaked.
Cambadelis warned the Socialist government in a joint interview with LCI television and Le Figaro newspaper that it needed to have its own lawmakers on board to pass reforms in parliament. So-called rebel lawmakers have strongly criticised budget bills and labour reforms over the past months and refused to vote for them.
Macron's deregulation bill aims to speed up disputes over firings and open up closed professions to try to help to revive France's flagging economy. It does not include the 35-hour week.
Macron, a youthful ex-banker who became minister in August, also wants to make it easier for businesses to implement short-time work schemes and pay cuts during a downturn to fight rampant unemployment of more than 10 per cent.
Cambadelis said he disagreed with Macron's plan to allow shops to open up to 12 Sundays a year from five currently was excessive. "We will discuss this with the minister, it's too much," he said.