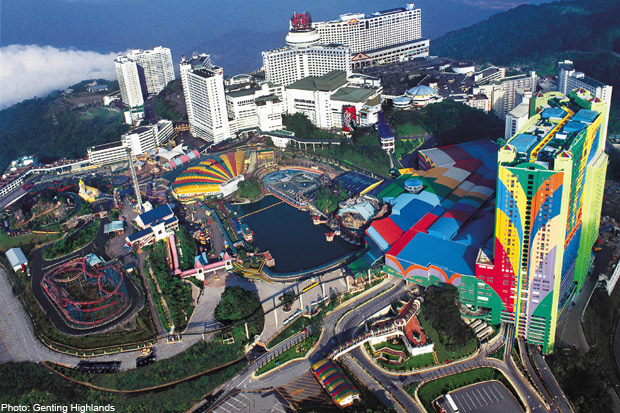 PETALING JAYA - Genting Malaysia Bhd is keeping its options open to further increase its presence in New York, the United States.
This follows a US$1 million (S$1.26 million) application fee that Genting Malaysia submitted to the New York State Gaming Commission on Wednesday, which marks its interest to establish a casino in less-fancied upstate New York. If its application eventually conceptualises, then it would be the Genting group's third casino in the United States.
It will complement the Aqueduct Casino that is located in the heart of New York and an integrated casino-resort that the group is planning to build in Las Vegas.
The new facility that the Genting group is looking at in New York will be a full-fledged casino, unlike the Aqueduct Casino that essentially is a racing track with a casino, or racino.
Genting Malaysia announced yesterday that its indirect wholly-owned subsidiary, RW Orange County LLC, had submitted a US$1 million application fee to the New York State Gaming Commission on Wednesday.
"This payment allows RW Orange County to participate in the selection process to develop and operate a gaming facility in New York," said Genting Malaysia.
RW Orange County is currently evaluating the project and has until June 30, 2014 to decide if it wishes to formally submit a bid.
In a Bursa Malaysia filing, Genting Malaysia said that RW Orange County was established to develop hospitality-related enterprises.
In yesterday's trading, Genting Malaysia ended one sen lower at RM4.20 (S$1.62) on a volume of 6.19 million shares.
Analysts are neutral on the move, as the gaming facility will be in upstate New York, which is deemed less attractive and, hence, the revenue enhancement and investment value are expected to be relatively small.
Last November, New York governor Andrew Cuomo signed the New York Gaming Economic Development Act of 2013, authorising the licensing and development of four new casino resorts in Catskills near Albany and along the New York and Pennsylvania border and two new video gaming facilities on Long Island.
The proposal got the approval of voters on Nov 5, 2013, and the Act became effective on Jan 1, 2014, paving the way for the establishment of full-fledged casino-resorts.
Genting's global ambition is definitely a known fact and the prime mover is Tan Sri Lim Kok Thay who is the chairman and chief executive of the Genting group.
"New York is one of the main gateways to be in. However, I don't see going upstate as being particularly lucrative. It definitely won't be a game-changer for Genting," said one gaming analyst.
"You cannot compare this to their Aqueduct Racetrack, which is the most profitable racino in New York. First of all, that location is very prime. It's just next to the John F Kennedy International Airport.
"The Catskills area is considered rural New York. Even though they can operate as a full-fledged casino unlike in New York City where there are regulations, I don't see the big spenders going there," said the analyst.
Another analyst added that Genting Malaysia was also only just submitting an application fee.
"They are still evaluating. I am sure Genting would have done its homework. I hear that internally, they will only invest if the project gives them an internal rate of return of 12 per cent," said one gaming analyst.
The Resorts World Casino New York City, which is called the Aqueduct Racetrack, is a racing track with video lottery facilities.
As for the casino-resort which is being planned in Las Vegas, the approval only came late last year.
It is being undertaken by Genting Bhd which plans to build a facility with 3,500 hotel rooms and 175,000 sq ft of total gaming space.
Towards this end, the gaming group bought 35.2ha of freehold land in Las Vegas from Boyd Gaming Corp, a US-based casino entertainment company, for US$350 million cash, to house the project.
After its success in Singapore, the Genting group is currently engraving its global mark in every major gateway, looking for opportunities in the United Kingdom, New York, Miami, Las Vegas, Japan and Sydney.
For the fourth quarter to Dec 31, 2013, Genting Malaysia's net profit was down 10.14 per cent to RM400.52 million (S$154.2 million) on the back of a 10.05 per cent increase in revenue to RM2.12 billion. For the full year, net profit was up 14.3 per cent to RM1.6bil on the back of a 5.51 per cent increase in revenue to RM8.33 billion.
For the leisure and hospitality division, Genting Malaysia's revenue contribution mainly comes from Malaysia, the United Kingdom, the United States and Bahamas.
The United States and Bahamas contribute some 11 per cent to the group's top line quarterly and yearly.