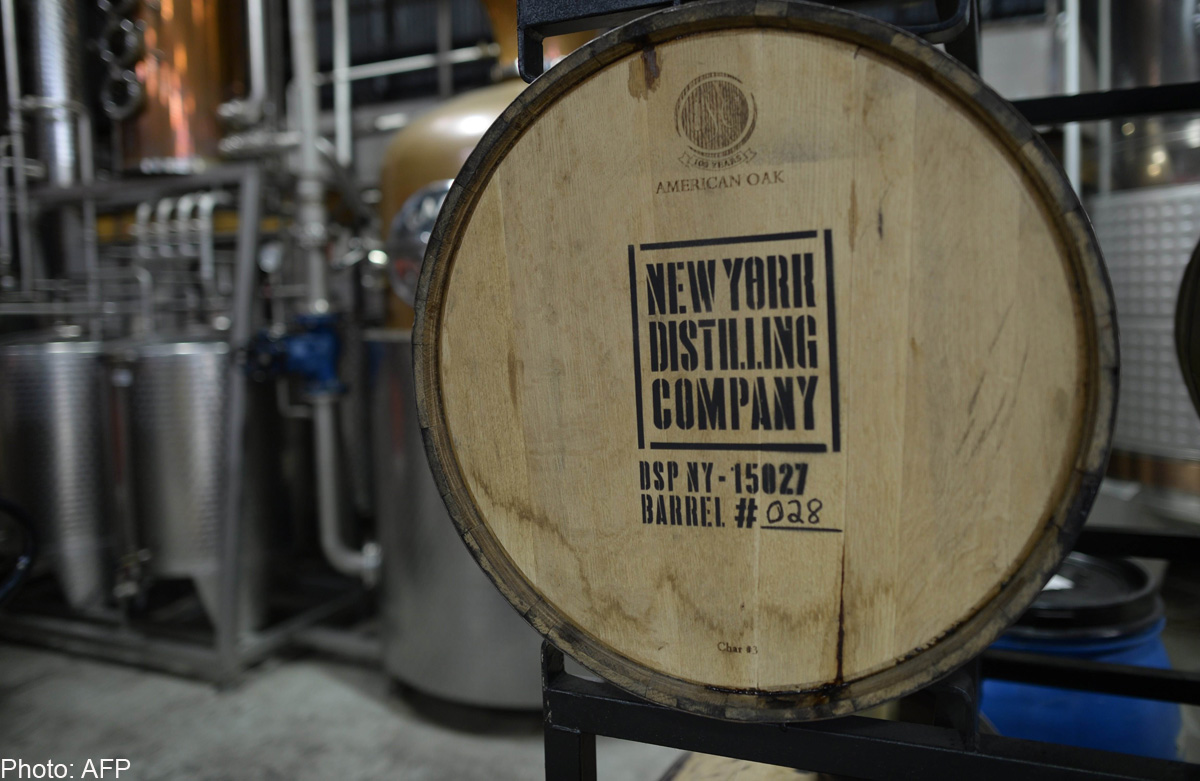 NEW YORK - Nearly a century after the United States imposed prohibition, small distilleries are finally making a comeback in Brooklyn and the Bronx, crafting batches of gin, rum, rye, bourbon and vodka.
The "made in New York" spirits trend is part of a boom in the popularity of locally grown food, farm-to-table dining and craft products.
Kings County Distillery in the Brooklyn Navy Yard was founded in 2010 by two friends who had been making moonshine in an apartment.
It is the first whisky distillery to be licensed in New York since prohibition, a 1920 to 1933 nationwide ban on alcohol.
When the ban was lifted the industry revived quickly, but many small players were lost as large groups consolidated and promoted national and international brands.
Now, a dozen or more small spirits-makers have been launched since Kings County blazed the trail, helped by an evolution in New York state law.
Brooklyn also drew the New York Distilling Company, which set up shop in a former textile plant in the hip Williamsburg neighborhood.
In the middle of the warehouse sit several stills holding American rye, which must be made from at least 51 per cent rye, as opposed to bourbon, which is mainly corn.
The first batches should be ready to drink in around eight months.
On one side, four workers fill and label bottles. On the other, a clear liquid runs from a copper pipe into a large, gray vat.
A taste confirms, without a doubt, that it is gin - powerful and fragrant with a mix of juniper, citrus zest and spices.
New York Distilling co-founder and guru Allen Katz said the company "wanted to be making products that would have a sense in the world of cocktails." Another co-founder, Tom Potter, was also part of the Brooklyn Brewery in 1988, capitalizing on Americans' growing thirst for craft beers. The firm now ships beer to more than 20 countries.
While Katz insists the quality of New York Distilling rye and gin speaks for itself, he also admitted "the Brooklyn brand is selling well. It is easy for people to know where we are from." The boom in small-batch distilleries is not limited to the Big Apple.
The Distilled Spirits Council of the United States, a national trade association, counted 400 distilleries across the country in early 2014, compared with just 92 in 2010.
'All by myself'
In New York's urban jungle, the headwinds are tough. High property and operating costs can be daunting.
But Brooklyn-born, Queens-raised and Manhattan-schooled Bridget Firtle cannot imagine working anywhere else.
The 29-year-old abandoned her career as an analyst in a hedge fund to start a craft rum distillery, The Noble Experiment, in 2011.
She converted a building in a graffiti-covered Brooklyn industrial zone into a distillery, using imported German equipment to make small batches of rum. Its first product is called Owney's NYC Rum.
"When it's time to label the bottles, I ask friends and family to come and help me. The rest of the time, it's all by myself," Firtle said.
She hopes to make a profit by year-end but remains cautious because of heavy competition.
The product, she explained, "has to be more than just 'made In New York' because we are so many and there are not that many shelf spaces." Rafael Barbosa is trying to carve out his own niche in an increasingly crowded market.
With his brother and a business partner, he had his uncle from Puerto Rico come to New York, bringing the family's secret recipe for Pitorro, a full-bodied rum.
Most of the ingredients they use are made in New York state and they put their Port Morris Distillery in the Bronx, which Barbosa admitted "has a stigma compared to other boroughs." His firm has had to work hard to educate clients about its rum, but is getting good feedback from drinkers in the city and beyond.
A new nonprofit organisation, the New York Distillers Guild, was launched in October to promote New York state craft spirits.
"No two producers are making something that tastes alike," said Nicole Austin, president of the fledgling group.