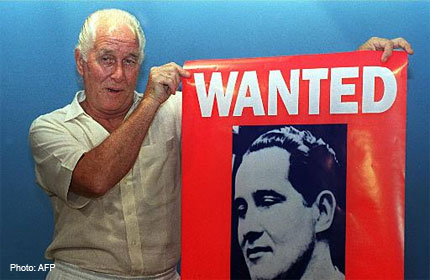 LONDON - Great Train Robber Ronnie Biggs, whose escape from jail and decades spent on the run made him one of Britain's most notorious criminals, died on Wednesday at the age of 84, media reports said.
Biggs had suffered a series of strokes in recent years and was at the time of his death being cared for in a home in north London, according to the Press Association and Sky News, who reported his death quoting unnamed sources.
Biggs was part of a gang that robbed the mail train from Glasgow to London on August 8, 1963, seizing £2.6 million (S$5.3m) -- the equivalent of £46 million today.
Although they initially seemed to get away with it, 11 of the robbers were rounded up and sent to jail, with Biggs sentenced to 30 years.
If he had served his full sentence his name might have been forgotten, but after 15 months Biggs broke out of his London jail in an audacious escape which ultimately led him to Rio.
There he had a son, Michael, by a Brazilian girlfriend which ensured him immunity from extradition back to Britain.
But he suffered several strokes and in 2001 returned voluntarily to Britain to get the better healthcare available in prison and on the state-funded National Health Service.
He was returned to jail but in 2009 was released on compassionate grounds.
Biggs was last seen in public in March at the London funeral of fellow Great Train Robber Bruce Reynolds.