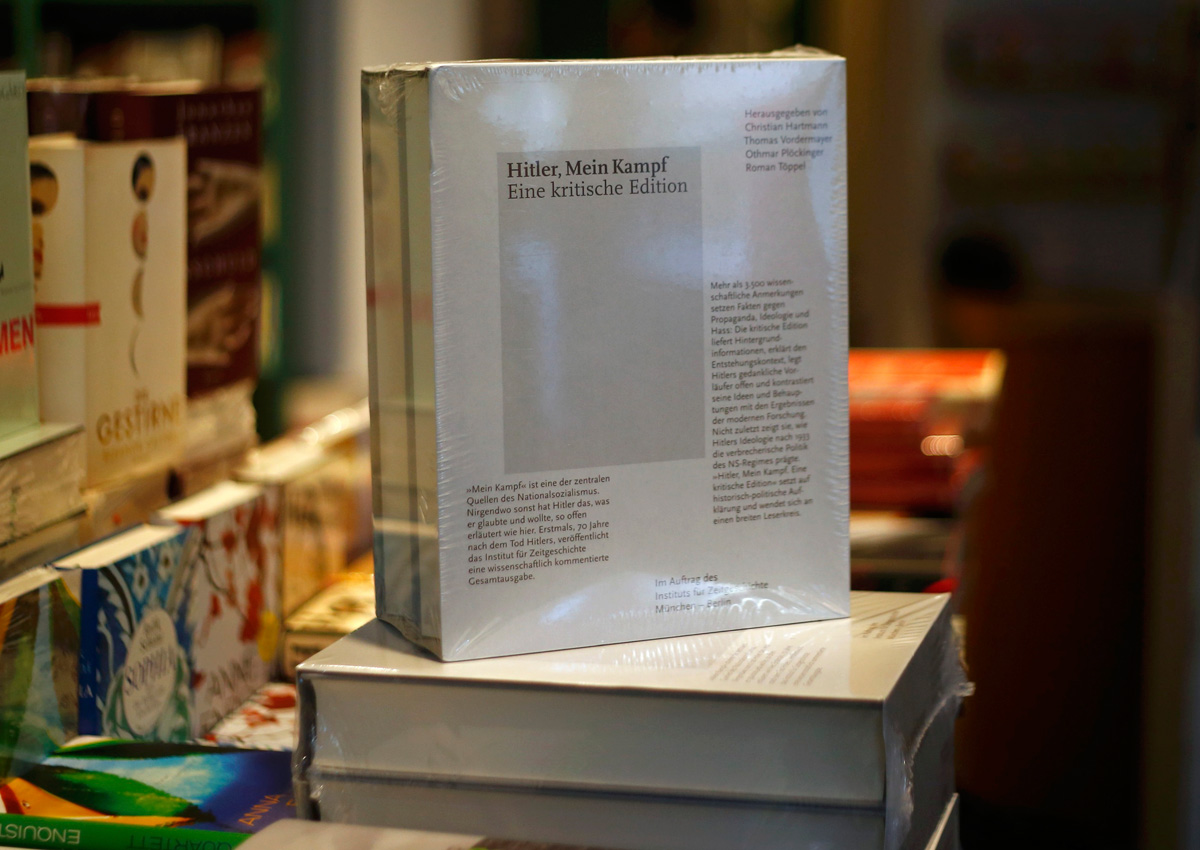 BERLIN - The first reprint of Hitler's "Mein Kampf" in Germany since World War II has proved more popular than expected, its publisher said Thursday, with pre-orders almost four times above its first print-run.
The Institute of Contemporary History of Munich (IFZ) had been planning to print only 4,000 copies of its annotated version of Adolf Hitler's anti-Semitic diatribe.
But already on the first day of its sale Friday, "15,000 copies had been pre-ordered" by bookstores, said Simone Paulmichl, IFZ spokeswoman.
Those who have placed orders must "expect some delay" before receiving their copies, she said, adding however that she was unable to say how many of the books, which are retailing at 59 euros (S$92) each, have actually been sold.
"The bookstores are telling us that there are many historians or scientists" buying the book for educational purposes.
"But it also appeals to a wider public of people who are interested in politics and history in general" and who want to read what Hitler actually wrote, said Paulmichl.
She said however that there is no indication that the strong demand came from neo-Nazis, pointing out that the edition contains 3,500 commentaries criticising Hitler's argument.
New copies of "Mein Kampf" hit bookstores in Germany Friday after the copyright of the anti-Semitic manifesto expired.
Bavaria was handed the copyright of the book in 1945, when the Allies gave it control of the main Nazi publishing house following Hitler's defeat.
For 70 years, it refused to allow the inflammatory tract to be republished out of respect for victims of the Nazis and to prevent incitement of hatred.
But "Mein Kampf" - which means "My Struggle" - fell into the public domain on January 1.
Partly autobiographical, "Mein Kampf" outlines Hitler's ideology that formed the basis for Nazism. He wrote it in 1924 while he was imprisoned in Bavaria for treason after his failed Beer Hall Putsch.
The book set out two ideas that he put into practice as Germany's leader going into World War II: annexing neighbouring countries to gain "Lebensraum", or "living space", for Germans, and his hatred of Jews, which led to the Holocaust.
Some 12.4 million copies were published in Germany until 1945, some of which can be found in academic libraries.