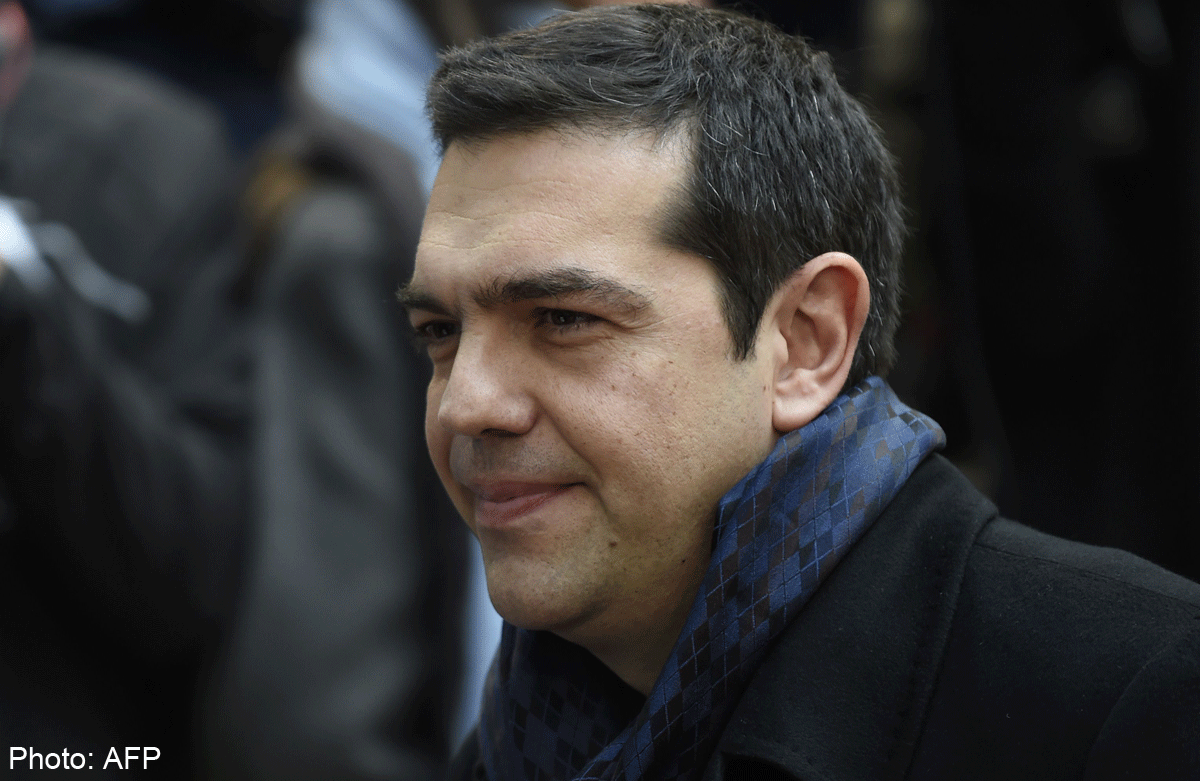 ATHENS - Greek Prime Minister Alexis Tsipras has requested a meeting with top European leaders including German Chancellor Angela Merkel at this week's EU summit, a Greek official said on Tuesday, as his cash-strapped government scrambles to stave off bankruptcy.
As well as Merkel, Tsipras also wants European Central Bank chief Mario Draghi, European Commission head Jean-Claude Juncker and French President Francois Hollande to take part in the meeting on the sidelines of the summit, which takes place in Brussels on Thursday and Friday.
The request appears to be the latest effort by Tsipras to hammer out with EU leaders a "political solution" to resolve Greece's funding problems, which are worsening as the country remains shut out of debt markets.
Athens could run out of cash within weeks but its EU partners, angered by the new government's fiery anti-bailout rhetoric, have frozen financial aid until it shows evidence it is implementing reforms.
Greece's funding issues have so far been the domain of the Eurogoup of euro zone finance ministers - who have extended the country's bailout by four months to the end of June - but Tsipras has long called for a more comprehensive decision on the country's future by European political leaders.
The Greek official said Tsipras had personally made his appeal for a meeting this week in a phone call to Donald Tusk, president of the European Council, who organises EU summits and coordinates business between the EU's 28 national governments.
Tusk's spokesman Preben Aamann confirmed on Tuesday that Tusk was in contact with Tsipras and other EU leaders about organising a meeting on the margins of the summit.
Merkel spoke with Tsipras on Monday amid simmering tensions between Berlin and Athens over his government's economic plans and invited him for talks in the German capital on March 23.
At that meeting Tsipras plans to reiterate Greece's commitment to implementing reforms and to raise Athens' cash problems, the Greek government spokesman said.
"MEETING OF SUBSTANCE"
"It will be a meeting of substance, not a meeting for communication purposes or a 'photo opportunity' in Berlin," government spokesman Gabriel Sakellaridis said.
Just before the appeal for this week's meeting, a Greek government official announced that Tsipras had accepted an invitation to meet Russian President Vladimir Putin in Moscow on April 8, a month earlier than originally expected.
Tsipras's government has rejected talk of turning to Moscow for financial aid, though it ruffled feathers among EU leaders in its early days in power by suggesting Athens might not support EU policy towards Russia over the Ukraine crisis.