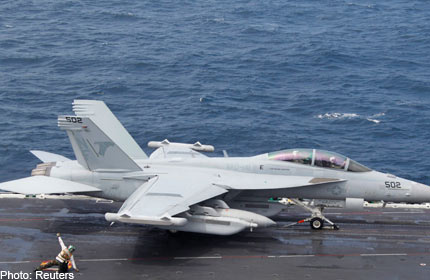 MANILA - Pentagon chief Chuck Hagel said he and President Benigno Aquino discussed expanding the US military's presence in the Philippines on Friday as the Asian ally looks to defend its territorial claims in disputed waters.
The US defence chief went ahead with his overnight visit to Manila despite a tense showdown over Syria, with US forces prepared to launch punitive strikes against the Damascus regime if ordered by President Barack Obama.
Hagel said he and Aquino "reaffirmed the progress being made" in talks begun earlier this month to allow a bigger US military footprint in the Philippines, which had hosted large US military bases until 1992.
"This progress is welcome and encouraging. I noted that our negotiating teams are working hard to finish the framework agreement in the near future," he told reporters.
The discussions, which resumed in Washington on Thursday, would allow more US troops, aircraft and ships to temporarily pass through the Philippines at a time when Washington is refocusing its attention in Asia after wars in the Middle East.
Hagel sought to reassure Filipinos, whose senate had voted out the American presence amid anti-US sentiment two decades earlier, that Washington would not seek permanent outposts in the Philippines.
"The United States does not seek permanent bases in the Philippines - that would represent a return to an outdated Cold War mentality," he said at a joint news conference with his Filipino counterpart.
"Instead, we are using a new model of military-to-military cooperation befitting two great allies and partners," he said.
Hagel was in Manila at the end of a week-long Asian tour amid fresh strains between the Philippines and China over overlapping territorial claims in the South China Sea.
The tensions have forced Aquino to call off a planned visit on September 3 to the Chinese city of Nanning to attend an exposition and business conference.
The Philippines accuses China of aggressively asserting its territorial claims over most of the South China Sea, including waters close to Philippine shores.
Hagel endorsed efforts by China's smaller neighbours in the Association of Southeast Asian Nations (ASEAN) to negotiate a South China Sea "code of conduct", as well as Philippine efforts to solve its disputes through peaceful means.
Without mentioning China, he said that Washington wanted nations to peacefully resolve their disputes through international law "without coercion or militarised attempts to alter the status quo".
Despite turmoil in the Middle East, Hagel said the US remained committed to a strategic focus towards Asia, as well as its 1951 mutual defence pact with Manila.
"As the United States' rebalance to the Asia-Pacific makes clear, this region is very important to America's economic, strategic, and security interests - both now and in years to come," he said.
Hagel later held separate talks with Defence Secretary Voltaire Gazmin and Foreign Secretary Albert del Rosario, and visited the US military cemetery in Manila before flying back to Washington.