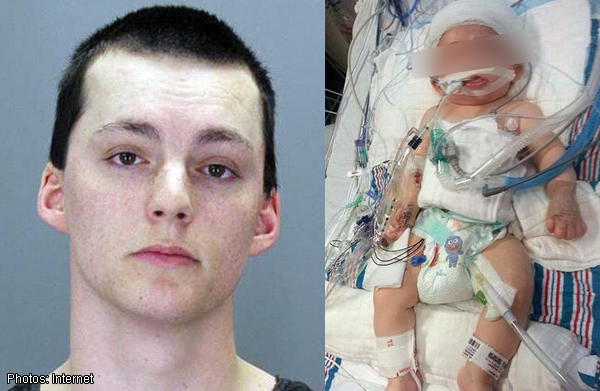 The attack on the six-month-old baby boy was so savage that doctors had to remove a bone from the skull to reduce the pressure on his swollen brain.
According to a Facebook page created to provide updates on Jesse's condition, the toddler has been given a 20 per cent chance of survival.
And the suspect behind this vicious attack last week is the boy's father, Nicholas Spiridione, 23.
Ironically, he was hired as an emergency medical technician by a Detroit hospital less than three weeks ago, Mail Online reported.
It is not clear what triggered the attack.
Spiridione could be sentenced to life in prison if convicted of first-degree child abuse charges.
The baby's mother, Ms Corie Stahl, who is hearing impaired, first realised that something was wrong when she found the baby unresponsive and struggling to breathe. She called the police.
Ms Stahl, a veterinary student who works as a dog groomer, said she did not hear her child's screams from the other room.
She also alleged that her fiance drugged her with a cocktail of medications before allegedly attacking their son.
"I wasn't there to protect him," the 24-year-old tearfully told MyFox Detroit. "He's my baby. That's what I'm supposed to do."
She said that when Spiridione was questioned by the police, he admitted to punching or dropping their infant son the night before and that afternoon.
ADDITIONAL CHARGES
Besides the child abuse charge, Ohio newspaper The News Herald reported that Spiridione also faces one count each of torture, assault with intent to do great bodily harm, and domestic violence.
Said Ms Stahl: "I would have never known that he would do something like that."
As jail officials took him away from court, Spiridione cried: "I'm sorry, Corie. I'm sorry."
This article was published on May 1 in The New Paper.


Get The New Paper for more stories.