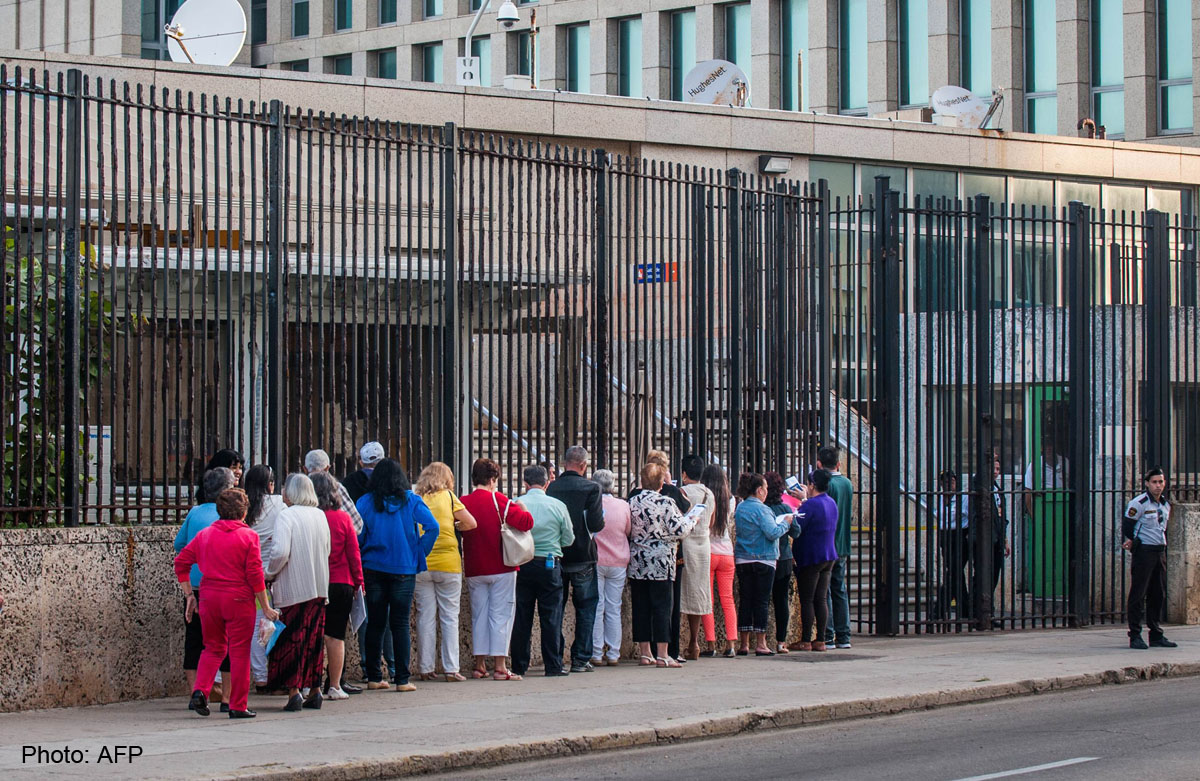 HAVANA - Hundreds of Cubans congregate each morning outside the US interests section in Havana, hoping to get an elusive visa to visit their relatives in the united States.
This office, set up to partially restore the diplomatic contact the United States severed in 1961, was long the rallying point for anti-American protests spurred on by fiery speeches from communist leader Fidel Castro.
But it is also the spot where Cubans hope against all odds to get a US visa, a symbol of the complicated relations between the United States and the communist island 140 kilometers (90 miles) off its coast.
"I'm sure this time I'm going to pass the interview because I've prayed for it so much. I hope he'll grant me that miracle this time," said Elena Perez, 83, as she waited in a nearby square nicknamed the "Park of Sighs."
Cubans pay a non-refundable $160 (S$211.1) to apply for a visa, eight times the average monthly salary here.
Many paced up and down the park or smoked cigarettes as they waited for their interviews, but Perez, who travelled 650 kilometers (404 miles) from the eastern province of Las Tunas, sat on a bench exhausted.
"I've been to the United States three times and I've always come back. I don't see any reason why they would deny me a visa this time," she said, explaining that it had been three years since she had seen her son and four grandchildren in Miami.
She has been luckier than 78-year-old Yolanda Perez (no relation) who has been denied a visa three times.
Her son-in-law Luis Garcia, who has lived in Miami for 20 years, was at the interests section to help her apply.
"I guarantee Yolanda's not going to stay there. She has Parkinson's disease. Leaving her in a country where catching a cold costs you $10,000 would be crazy," he said.
As they weaved their way through the six different lines involved in the process, which can take up to five hours, many voiced hope that last week's announcement of a renewal in ties between the United States and Cuba would mean more visas.
But for now the sentence "You do not qualify to travel" is still heard often inside.
Since President Raul Castro took over from his older brother Fidel, the father of the Cuban Revolution, in 2006, he has loosened travel restrictions for Cubans.
The United States has also made it easier for Cuban-Americans to visit the island and began issuing more visas for Cubans -up 27 per cent to 19,500 between November 2013 and April 2014.
Thanks to the reforms, a record 327,600 people travelled between the two countries in the first half of the year.
Most travel to Miami, home to the largest Cuban diaspora worldwide.
Despite the increase, however, the number of Cubans who made the treacherous boat crossing to Florida rose sharply to 3,722 in the 12 months to September - up 75 per cent from the year before, according to Washington.
Epicenter of protest
The interests section has also been the scene of bitter hostility between the two countries.
The imposing six-storey glass-and-concrete building was the American embassy until the United States cut ties with the island two years after the revolution.
Reopened as an interests section in 1977, it is guarded by Cuban police officers and officially sits on Swiss diplomatic territory.
Known as "SINA" in Cuba - its Spanish acronym - it looks out over the famous Malecon, Havana's seaside boulevard, toward Florida.
The esplanade in front bears a sprawling Fidel Castro quote: "Fatherland or death, we shall overcome!"
This was the site where Cubans staged angry protests in 1999 and 2000 demanding the return of Elian Gonzalez, the five-year-old boy who sparked an international custody battle when he was plucked from an inner tube off the Florida coast after his mother died trying to bring him to the United States.
The United States has used the building to stage protests of its own, placing a sparkling "75" - in reference to the 75 Cuban dissidents arrested the year before - at the centre of its Christmas decorations in 2004.
The Cubans responded by installing an enormous poster out front with pictures of the abuses committed by US soldiers at Abu Ghraib prison in Iraq.
And in 2006, when the United States posted political messages on a giant display screen, Fidel responded by hoisting 138 black flags to block them.