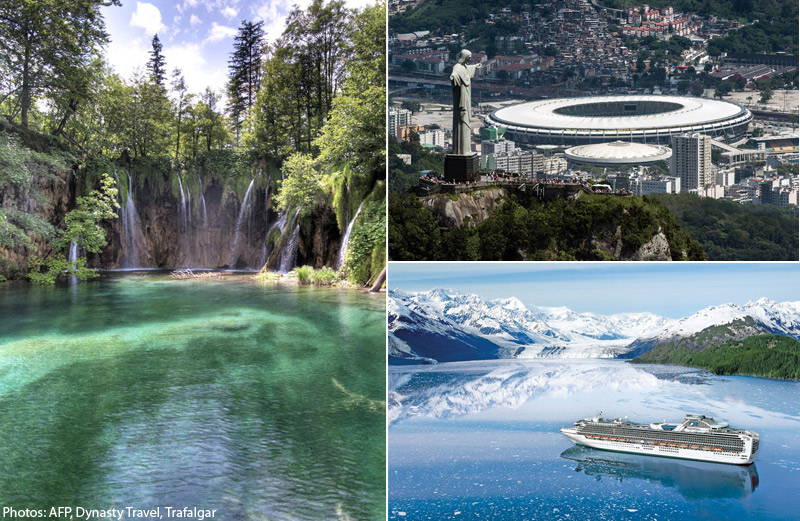 Get ready to do the Samba. It's no secret that Singaporeans love to travel, and not even thoughts of a 30-hour flight crammed into economy class will dampen their enthusiasm. No surprises for guessing the next hot destination for 2014 then - travel agents are already betting on South America as the top destination for adventure seekers this year. "South America is definitely a big one for 2014 especially in the run-up and aftermath of the World Cup," says Nikki Pang, regional marketing manager at Lightfoot Travel, a luxury tour operator.
She adds that while people may not travel specifically for the tournament which takes place from June 12 to July 13, "it's definitely on people's radar a lot more due to all the hype, and we've seen our enquiries to South America increase significantly in the past six months." Peru and the Galapagos Islands in Ecuador are the two most popular destinations, with Brazil a close third.
Hotels.com's managing director Abhiram Chowdhry notes that the recent World Cup match draw has prompted an increase in accommodation searches for many of the host cities such as Rio de Janeiro, Sao Paulo and Brasilia. "As we draw closer to the event, we can expect an even bigger booking boom," he adds.
But South America isn't the only hot destination for next year. Kathmandu, Sapporo, Hanoi and Siem Reap top the list of TripAdvisor's 2013 Travellers' Choice Awards for Destinations on the Rise in Asia.
TripAdvisor's spokesman Jean Ow-Yeong explains that these travel spots have seen the greatest increase in positive traveller feedback and interest in the past year. "They provide inspiration for travellers planning their 2014 trips," says Ms Ow-Yeong.
Currency and travel patterns
Travel experts also say that countries which have always been a favourite with Singaporeans will still continue to be popular. Australia is one such example, especially with the Aussie dollar at an all-time low since 2010. Japan is another hot spot, again because of the weakening yen. But rather than the usual Tokyo, Kyoto or Hokkaido, travellers are heading out to lesser-known islands such as Shikoku and Okinawa. Mr Chowdhry says, "In 2014, we can expect currency fluctuations to continue to have an impact on travel patterns."
Travel insiders also expect film locations such as New Zealand to be popular again, now that The Hobbit: The Desolation of Smaug is in theatres.
Mr Rufus Tan, director of product development at Quotient Travelplanner has been getting enquiries about travel to Iceland. He admits he isn't completely sure why Iceland is gaining in popularity, but "I think that exposure in recent films could have played a part." The more prominent movies featuring Iceland include Thor: The Dark World, the Game of Thrones series, which was partially filmed in Iceland and also the upcoming movie Noah, starring Russell Crowe. "Even though Noah has not been released, shots of the filming have already been tweeted by filmmaker Darren Aronofsky, which would have generated interest in the country," says Mr Tan.
Going around in a country on a coach bus may be the easiest way to get around, but Buck Low, chief executive of Prime Touch and Feel, the online arm of Prime Travel & Tour, believes self-drive tours will be even more popular next year.
"With cars being so expensive in Singapore, the urge to get behind the wheel takes on a more entertaining form with self-drive holidays. For first-time holiday drivers, it is good to start with a drive in Japan, and move on to Australia, the US and Europe where the transport networks, courteous drivers and relatively shorter distance between towns will make anyone feel it is even easier driving there than in Singapore," says Mr Low.
Self-drive tours allow you to pick the stops and more importantly have control of your time. There's no need to wake up at 6am to hop onto the coach - you can even sleep in till 10am if you wish. Perhaps this desire for leisurely travel is also what's fuelling the new-found popularity of train travel and cruises.
Hajar Ali, founder of luxury travel company Urbane Nomads says train travel is becoming more fashionable as it represents the golden age of travel when it was a glamourous affair. "There is a greater interest in slow travel, which includes cruises," she adds. "Luxury trains, steamships and traditional ships offer the romance of the old style of travel with contemporary luxury."
Chan Brothers' marketing communications manager Jane Chang notes that rail holidays are "definitely up and coming with an average 20 per cent year-on-year increase in demand". The agency's rail holidays in Europe feature high-speed trains conveniently operating from one city centre to another, allowing travellers to make the most of their trip with the flexibility of extension in each city.
Regional appeal
On the cruise front, fly/cruise travel to Alaska, as well as river cruising along European rivers, such as the Danube, Seine and Rhine will continue to be popular next year, says Kelly Toh, marketing manager at CTC Travel.
Closer to home, "regional cruises will take off even more now that the new Marina Bay Cruise Centre can berth larger ships," says Alicia Seah, marketing communications director for Dynasty Travel.
For some travellers it is not the destination that matters but the experiences and, naturally, the more exotic the greater the bragging rights.
Next year, Urbane Nomads' Ms Hajar will launch heli-skiing trips in Kamchatka Peninsula in eastern Russia, Greenland and Iceland. Heli-skiing is off-trail, downhill skiing that is accessed by a helicopter, versus a ski lift. "For those new to heli-skiing, there will be lessons and their first heli-ski runs in Canada," says Ms Hajar.
She is also planning for gourmet-skiing trips to Japan, Italy and Switzerland. "These trips will combine skiing with meals at some of the best restaurants and private ski chalets," she says.
While hotels remain the main accommodation choice for most travellers, others are picking more unusual ones.
Alan Chang, managing director for Airbnb Northeast Asia says, in 2014, he expects travellers not just to be making their holiday choices by destination, but by accommodation type, too.
"At Airbnb, we've been seeing a growing trend of travellers opting for more unusual spaces, like castles, boats and igloos," he says. Airbnb's most popular property is a treehouse in California, and the site now has about 300 treehouses listed globally.
"This shift is ultimately changing the way that people travel. As people get more adventurous, they search out an authentic local experience where they can really immerse themselves in a culture and feel the soul of a place," says Mr Chang.
With hot destinations and new travel experiences lined up, all that is left is to decide what to pack.
taysc@sph.com.sg
Get The Business Times for more stories.