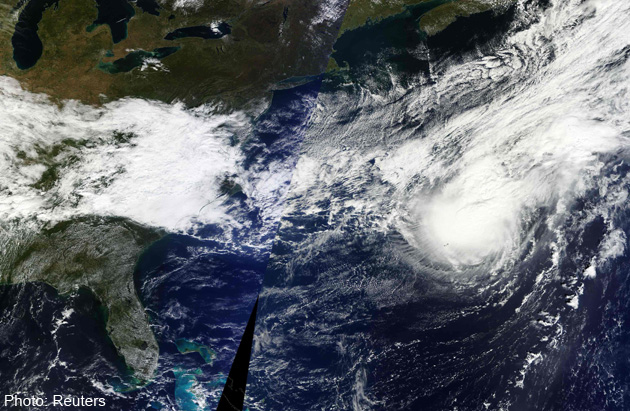 SAN JUAN, Puerto Rico - Hurricane Gonzalo strengthened as it churned through the Caribbean on Monday headed for the British Virgin Islands, the US National Hurricane Center said.
Gonzalo was about 5 miles (8 km) north of St. Maarten, the half-French, half-Dutch island, with maximum sustained winds of 80 miles per hour (130 km per hour), the centre said.
A hurricane warning was in effect for the British Virgin Islands, St. Maarten and Anguilla. Hurricane watches were in place for Puerto Rico and the US Virgin Islands.
Gonzalo was forecast to continue gaining strength and become a major hurricane on Wednesday with sustained winds of 115 mph (185 kph).
Most forecasts showed Gonzalo posing no threat to the mainland United States and moving north over the Atlantic after passing Puerto Rico and the Virgin Islands.
In Antigua and Barbuda several fishing vessels were destroyed, roofs blown off and power lines downed, the government said in a statement.
The Prime Minister of Antigua and Barbuda, Gaston Browne, ordered schools closed for a national cleanup effort on Tuesday to get the nation "fully back in business" by Wednesday.
In Puerto Rico, consumers stocked up on water, batteries and other emergency supplies. Government officials urged residents to take precautions against a possible strike by Gonzalo, which was forecast to pass to the northeast of the island. "My call to the people is to err on the side of caution,"Governor Alejandro Garcia Padilla said at a press conference as he urged people to stay indoors.
Extra ferry service was provided to the Puerto Rican islands of Vieques and Culebra on Sunday and Monday to ensure that tourists could leave before the storm.
Emergency personnel were placed on alert and storm shelters were being set up at public schools and other facilities. The Explorer of the Seas cruise ship changed schedule to arrive early and spend the night in port.
Gonzalo is the sixth hurricane of the 2014 Atlantic hurricane season. In August, forecasters downgraded their outlook for the season, predicting below-normal activity with seven to 12 named storms and no more than two reaching major hurricane status.
A major hurricane is considered to be Category 3 or above with winds hitting at least 111 mph (178 kph).