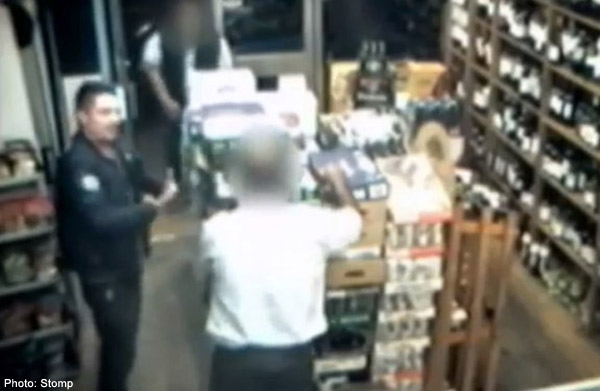 A man in London was robbed -- after a thief apparently hypnotised him.
According to Brietbart, security footage shows the man, wearing black bomber jacket, gently tapping shop owner Aftab Haideron the arm, before making a stabbing gesture with his hand at eye level that appears to leave Mr Haider in a trance.
The man then reaches inside the shopkeeper's trouser pocket, pulling out his wallet.
He then squeezes his shoulder before miming the gesture of a pregnant woman's belly before Mr Haider turns to face him, at which point he reaches into his other pocket and takes hundreds of pounds in cash.
He then quickly walks out the shop before Mr Haider realises what has happened.
Detective Sergeant Dave Bullock of London's Metropolitan Police said:
"The victim remained motionless and unable to stop the robbery taking place. He said that he was momentarily unaware of what had happened to him.
"The suspect's distraction tactics appeared to have worked as he robbed the victim of cash from his pocket."
Hypnotherapist Jack Raymond said that there is little doubt the man is a "very slick, competent and practiced" hypnotist.
"This is someone who could have learnt it from a book or on the internet," he said.
"But he would have practiced considerably. He would have done this before. It could have taken him weeks but likely months to perfect. It takes some people many years."
Police said the suspect is 30-35 years old, of Eastern European appearance, around 5ft 8in tall, slim and with short black hair. He wore dark jeans, a grey polo shirt and a black bomber jacket.

Visit STOMP for more stories.